America's Test Kitchen is a real 2,500 square foot test kitchen located just outside of Boston that is home to more than three dozen full-­time cooks and product testers. Our mission is simple: to develop the absolute best recipes for all of your favorite foods. To do this, we test each recipe 30, 40, sometimes as many as 70 times, until we arrive at the combination of ingredients, technique, temperature, cooking time, and equipment that yields the best, most­ foolproof recipe. America's Test Kitchen's online cooking school is based on nearly 20 years of test kitchen work in our own facility, on the recipes created for Cook's Illustrated and Cook's Country magazines, and on our two public television cooking shows.
Eggs Benedict relies on two tricky egg-based components—poached eggs and hollandaise sauce. If you follow our method for poaching eggs, the first part is easy. Adding vinegar to the water helps to set the whites and prevents feathery whites. Cracking the eggs into the teacups and gently sliding the eggs into the salted, acidulated water ensures they all go into the water at the same time—so they all are done at the same time.
Water temperature is key when poaching eggs. We bring the water to a boil and turn off the heat. We add the eggs and then quickly cover the pan. The gentle residual heat produces restaurant-worthy poached eggs with soft, runny yolks and perfectly formed, round whites.

But don't just take our word for it: Let Bridget Lancaster and Mari Levine of our online cooking school teach you the ins and outs of egg-poaching in this new video.
[youtube https://www.youtube.com/watch?v=9V7FaLDRbFI&w=560&h=315%5D
As for the hollandaise, many newer recipes call for making hollandaise in a blender or food processor to ensure an emulsified sauce without the tedious whisking. These methods work, but only if the sauce is served immediately. We developed an unconventional technique that requires whisking softened (rather than usual melted) butter and egg yolks on the stovetop in a double boiler. We use a lot of water in this sauce and add the lemon juice off heat. The sauce is foamier than a classic hollandaise, but it holds without breaking for as long as an hour. It can also be refrigerated for up to three days and reheated in the microwave without breaking.
If you like, you can toast the English muffins and warm the bacon 20 minutes in advance. Reheat them in a 200-degree oven just before serving.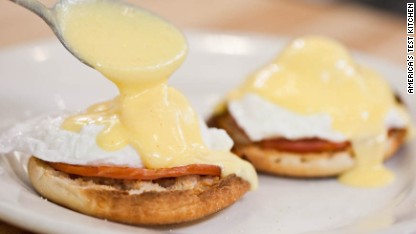 Eggs Benedict
(Serves 6)
Ingredients:
12 Tablespoons unsalted butter , softened
6 Large egg yolks
1/2 Cup boiling water
2 Teaspoons lemon juice
salt
2 Tablespoons white vinegar
12 Large eggs
6 English muffins, split
12 Slices Canadian bacon
Instructions:
1. For hollandaise: Bring water to boil in kettle.
2. Fill medium saucepan with about ½ inch of water and bring to bare simmer.
3. Place 12 tablespoons softened unsalted butter and 6 large egg yolks in large heat-resistant bowl.
4. Set bowl over barely simmering water (don't let bowl touch water).
5. Whisk eggs and butter together.
6. Pour 1/2 cup boiling water from kettle into liquid measuring cup.
7. Whisk 1/2 cup boiling water into bowl with butter and eggs.
8. Cook, whisking constantly, until thickened and sauce registers 160 degrees, 7 to 10 minutes.
9. Carefully remove bowl from saucepan. Stir in 2 teaspoons lemon juice and 1/8 teaspoon cayenne pepper. Season sauce with salt.
10. Transfer sauce to liquid measuring cup and cover cup with plastic wrap. (Sauce can be refrigerated for 3 days.)
11. For poached eggs: Adjust oven rack to upper-middle position and heat broiler.
12. Fill 12-inch nonstick skillet nearly to rim with water. Add 2 tablespoons white vinegar and 1 teaspoon salt and bring to boil over high heat.
13. Crack 3 large eggs each into 4 teacups (12 eggs total).
14. Turn off heat and slide pan to cool burner.
15. All at once, lower lips of cups into water and tip eggs into water.
16. Cover pan and poach eggs until whites are set but yolks are still slightly runny, about 6 minutes.
17. Using slotted spoon, transfer eggs to paper towel-lined plate.
18. To assemble and serve: While eggs are poaching, arrange 6 split English muffins, split side-up, on rimmed baking sheet.
19. Broil English muffins until golden brown, 2 to 4 minutes.
20. Place 1 slice of Canadian bacon (12 slices total) on each English muffin and broil until beginning to brown, about 1 minute.
21. Remove baking sheet from oven.
22. Place 2 English muffins on each serving plate. Arrange 1 poached egg on top of each English muffin.
23. If necessary, reheat hollandaise in microwave on 50 percent power, stirring every 10 seconds, until heated through.
24. Spoon 1 to 2 tablespoons hollandaise over each egg. Serve, passing remaining hollandaise at table.
More from America's Test Kitchen:
Watch other core technique videos from our online cooking school here
Follow the steps for making Eggs Benedict with this tutorial from our online cooking school
How to cook the most perfect bacon ever
Want to add some sweetness to brunch? Try our Sticky Buns with Pecans
Tasting different brands of supermarket bacon
Previously:
Keep the home fries roasting
Perfectly poached eggs
No yolk! The best scrambled eggs ever