America's Test Kitchen is a real 2,500 square foot test kitchen located just outside of Boston that is home to more than three dozen full-­time cooks and product testers. Our mission is simple: to develop the absolute best recipes for all of your favorite foods. To do this, we test each recipe 30, 40, sometimes as many as 70 times, until we arrive at the combination of ingredients, technique, temperature, cooking time, and equipment that yields the best, most­ foolproof recipe. America's Test Kitchen's online cooking school is based on nearly 20 years of test kitchen work in our own facility, on the recipes created for Cook's Illustrated and Cook's Country magazines, and on our two public television cooking shows.
Despite the cozy image conjured by the name, few people actually make home fries at home, probably because the dish calls for more time, elbow grease, and stovetop space than most cooks care to devote. We wanted nicely crisped home fries with tender interiors that would serve six to eight hungry people—and wouldn't chain the cook to the stove for an hour. Because if you're making a beautiful batch of perfectly scrambled eggs, you probably need some equally good potatoes to go alongside.
Since time was a priority, we decided to parcook the spuds before roasting them in the oven. Parcooking would dramatically cut down on roasting time, while finishing them in the oven would allow us to make a big batch.

We chose to parboil russets, whose high starch content would aid in our goal of a crisp exterior.
But parcooking was tricky. In order for the potatoes to stay moist on the inside while they browned on the outside in the oven, we'd have to parboil them until the outsides were blown out and starchy—but the middles were still completely raw. In short, we needed a method for making really bad boiled potatoes. The solution was just the right amount of alkaline baking soda, which produced floury outsides and uncooked insides. Two more small changes also helped: starting the potatoes in boiling water and tossing the drained spuds with salt (which roughed up their edges, leading to better browning).
The final challenge was incorporating onions into our home fries. We found something that worked perfectly: placing oiled and salted onions in the center of the potato-filled baking sheet partway through cooking and then mixing the two components together after a few more minutes of cooking.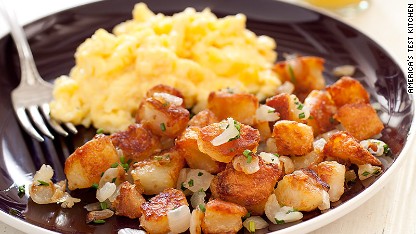 Home Fries
(Serves 6 to 8)
Ingredients:
3 1/2 pounds russet potatoes
1/2 teaspoon baking soda *
3 Tablespoons unsalted butter
Kosher salt
Ground black pepper
Pinch cayenne pepper
3 Tablespoons vegetable oil
2 onions
3 Tablespoons fresh chives
* Baking soda provides an alkaline environment so the exterior of the potatoes soften quicker. The result is a more crisp crust.
Instructions:
1. Adjust oven rack to lowest position, place rimmed baking sheet on rack, and heat oven to 500 degrees.
2. Bring 10 cups water to boil in Dutch oven over high heat.
3. Peel 3 1/2 pounds russet potatoes and cut into ¾-inch dice.
4. Cut 2 onions into 1/2 inch dice.
5. Mince 3 tablespoons fresh chives.
6. Add potatoes and 1/2 teaspoon baking soda to boiling water.
7. Return to boil and cook for 1 minute.
8. Drain potatoes.
9. Return potatoes to Dutch oven and place over low heat.
10. Cook, shaking pot occasionally, until any surface moisture has evaporated, about 2 minutes. Remove from heat.
11. Add 3 tablespoons unsalted butter, cut into 12 pieces, 1 1/2 teaspoons kosher salt, and pinch cayenne pepper.
12. Mix with rubber spatula until potatoes are coated with thick, starchy paste, about 30 seconds.
13. Remove baking sheet from oven and drizzle with 2 tablespoons vegetable oil.
14. Transfer potatoes to baking sheet and spread into even layer.
15. Roast for 15 minutes.
16. While potatoes roast, combine onions, remaining 1 tablespoon vegetable oil, and ½ teaspoon kosher salt in bowl.
17. Remove baking sheet from oven.
18. Using thin, sharp metal spatula, scrape and turn potatoes.
19. Clear about 8 by 5-inch space in center of baking sheet and add onion mixture. Roast for 15 minutes.
20. Scrape and turn again, mixing onions into potatoes.
21. Continue to roast until potatoes are well browned and onions are softened and beginning to brown, 5 to 10 minutes.
22. Stir in chives and season with salt and pepper to taste. Serve immediately.
More from America's Test Kitchen:
Our favorite Dutch oven
Testing spatulas
Perfect Scrambled Eggs
Scrambled Eggs with Sausage, Sweet Peppers, and Cheddar
Perfect Fried Eggs
Follow our online cooking school tutorial for Home Fries
Previously:
Great potato salad for (waaayyyy) less than $40,000
Americans just don't understand the potato. Colombians do.
Growing potatoes on the roof