America's Test Kitchen is a real 2,500 square foot test kitchen located just outside of Boston that is home to more than three dozen full¬time cooks and product testers. Our mission is simple: to develop the absolute best recipes for all of your favorite foods. To do this, we test each recipe 30, 40, sometimes as many as 70 times, until we arrive at the combination of ingredients, technique, temperature, cooking time, and equipment that yields the best, most¬foolproof recipe. America's Test Kitchen's online cooking school is based on nearly 20 years of test kitchen work in our own facility, on the recipes created for Cook's Illustrated magazine, and on our two public television cooking shows.
Grilling bone-in chicken breasts is trickier than it seems. You want well-browned, crisp skin, and tender, moist meat. The challenge is the thick part of the breast: It's quite slow to cook, while the tapered end cooks quickly. Adding a glaze to that equation makes the situation even a little thornier.
Here's how we ensure success: First, we brine the chicken breasts to boost their moistness and to season them. Second, we set the grill up with a modified two-level fire; the hot side is used for browning and crisping, and the cooler side for the bulk of the cooking time. Finally, we apply the glaze to the chicken breasts only in the final minutes of grilling, so that the sugars won't burn.
Once you master this basic technique for grilling chicken breasts, you can apply any number of glazes or sauces, even barbecue sauce, if you like.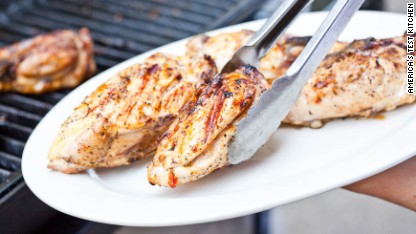 Grilled Bone-In Chicken Breasts with Chipotle-Orange Glaze
Ingredients:
Glaze
2 oranges
1 small shallot
1 chipotle chile in adobo sauce
2 Teaspoons minced fresh thyme leaves
1 Tablespoon molasses
3/4 Teaspoon cornstarch
Table salt
Chicken
1/3 Cup table salt
6 bone-in, skin-on chicken breast halves (about 12 ounces each) *
Ground black pepper
Vegetable oil for cooking grate
* To help ensure that all the chicken breasts finish cooking at approximately the same time, try to buy pieces of similar size. Don't use boneless, skinless chicken breasts—the bone and skin protects the easily overcooked breast meat from becoming dry and chalky, and the skin gives the glaze a surface to cling to. If you purchase kosher chicken, omit the brining step.
Instructions:
Prepare Glaze
1. Grate 1 teaspoon zest from 1 orange.
2. Squeeze 2/3 cup juice from 1 or 2 oranges (use zested orange first).
3. Peel and mince 1 small shallot. You should have about 1 tablespoon.
4. Mince 1 or 2 chipotle chiles in adobo sauce. You should have 1 to 2 tablespoons.
5. Mince enough thyme leaves to yield 2 teaspoons.
6. Combine zest, juice, shallot, chile, and thyme in small saucepan.
7. Whisk in 1 tablespoon molasses and 3/4 teaspoon cornstarch.
8. Simmer mixture over medium heat until thickened, about 5 minutes.
9. Season with salt.
10. Reserve half of glaze for serving and use other half for brushing on chicken while grilling.
Prepare and Brine Chicken
11. Trim ribs off 6 bone-in, skin-on chicken breasts.
12. Trim excess fat from each chicken breast
13. Dissolve 1/3 cup table salt in 2 quarts cold water in large container.
14. Submerge chicken in brine, cover with plastic wrap, and refrigerate 1 hour.
15. Rinse chicken under cold water.
16. Dry thoroughly with paper towels.
17. Season chicken with pepper. (If using gas grill, proceed to step 25.)
Prepare Charcoal Grill
18. Light large chimney starter filled with charcoal (6 quarts, or about 100 briquettes).
19. Allow to burn until coals are fully ignited and partially covered with thin layer of ash, about 20 minutes.
20. Build modified two-level fire by arranging all coals over one half of grill, leaving other half empty.
21. Position cooking grate over coals, cover grill, and let grate heat up, about 5 minutes.
22. Scrape grate clean with grill brush.
23. Dip wad of paper towels in oil; holding wad with tongs, wipe cooking grate.
24. Grill is ready when coals are medium-hot (you can hold your hand 5 inches above grate for 3 to 4 seconds). (Proceed to step 29.)
Prepare Gas Grill
25. Turn all burners to high and heat with lid down until very hot, about 15 minutes.
26. Scrape grate clean with grill brush.
27. Dip wad of paper towels in oil; holding wad with tongs, wipe cooking grate.
28. Leave primary burner on high and turn off other burner(s).
Grill Chicken
29. Cook chicken over hotter part of grill until lightly browned all both sides, 6 to 8 minutes for charcoal grill or 10 to 14 minutes for gas grill.
30. If constant flare-ups occur, slide chicken to cooler side of grill and mist fire with water from spray bottle.
31. Move chicken, skin side down, to cooler side of grill, with thicker side of breast facing hotter side.
32. Cover loosely with aluminum foil.
33. Cover grill and continue to cook until instant-read thermometer inserted into thickest part of breast registers 150 degrees, 15 to 25 minutes longer.
34. Brush bone side of chicken with glaze.
35. Move chicken, bone side down, to hotter side of grill and cook until browned, 4 to 6 minutes.
36. Brush skin side of chicken with glaze.
37. Turn chicken over and continue to cook until browned and instant-read thermometer inserted into thickest part registers 160 degrees, 2 to 3 minutes longer.
38. Transfer chicken to plate.
Let Chicken Rest and Serve
39. Tent chicken with foil.
40. Let rest 5 minutes.
41. Serve, passing remaining glaze separately.
More from America's Test Kitchen:
Grilled Chicken Souvlaki
Grilled Glazed Baby-Back Ribs
Peach-Glazed Grilled Chicken
Our Favorite Gas Grill
Equipment Review: Best Charcoal Grill (Video)
Previously:
Grill foolproof fish
Make a brilliant pork butt
Five slices of barbecue wisdom
Five tips for hot dog success
How to smoke a brisket in your backyard
Rack up on rib pointers