Can a person learn the art of hospitality?
That's the question the organizers of the first Welcome Conference want to pose to participants both within and outside the restaurant industry. This sold-out, service-focused event will be held in New York City on June 17, and the team behind it hopes their message will spread.
"Service is black and white, hospitality is color," says Will Guidara, one of the organizers. He's the co-owner and restaurateur of Eleven Madison Park and The NoMad in New York; the former most recently earned the No. 4 spot on San Pellegrino's notably buzzworthy World's 50 Best Restaurants List.
What he's talking about is the somewhat recent trend of restaurants extending beyond traditional service and taking extra measures - like Googling guests or handling special occasions - to make their diners feel like active and unique participants in their own experience.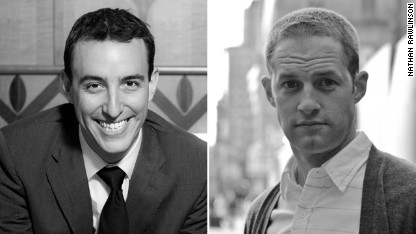 Will Guidara, left, and Anthony Rudolf
For the event, Guidara teamed up with Anthony Rudolf, the former director of operations for Thomas Keller Restaurant Group and former general manager of Per Se, also in New York.
The message Guidara hopes to convey through the conference is simple. "By saying that hospitality is a learnable or teachable thing and taking it out of the restaurant world, you're saying: 'Can we teach other people to be nice to each other?'"
Teach? No, says Rudolf. Learn? "Unequivocally yes." A teacher isn't anything without a receptive learner.
A quick glance through some Internet comments can teach you enough about that, but both his and Rudolf's glasses are half-full.
"The service aspects aside, it (hospitality) is about emotion, and connecting with human emotion," Rudolf says. "I can't teach you what care feels like for another human, or the visceral response you get when you make someone else happy."
But, what they want to teach: the ability to take a beat, chill out and respond graciously.
The duo say they devised the event after noticing a wave of educational conferences for chefs like the MAD Symposium in Copenhagen - deemed the "food world's G-20 summit" by the Wall Street Journal - that put emphasis on the mindfulness of cooking, rather than just the hottest new trends and techniques.
But for the people who actually bring that thoughtful food to the table and act as liaison between the kitchen and dining room, there was no forum to share new thinking about hospitality, except by getting together informally, (for, say, a post-shift drink) with their peers from other restaurants.
It might sound a little trite, Rudolf says, but being on the vulnerable side of an interaction is a "very humbling experience."
This re-framing of the customer-server interaction is a business concept that one of the indisputable OGs of hospitality, Danny Meyer, is often credited with.
Meyer, who owns Union Square Hospitality Group and institutions of varying degrees of formality from the casual Shake Shack to fine dining stalwart Gramercy Tavern, touched on it in his book, "Setting the Table: The Transforming Power of Hospitality in Business."
He says hospitality "is how the delivery of that product makes its recipient feel."
Guidara, who considers Meyer a mentor, says service industry professionals should ask themselves a simple question: "What's your reason for being here and doing what you're doing? Is it to teach someone or make them feel good? I do enjoy educating people, but that is secondary to making them feel good."
What's not part of their role is deciding if customers are "right" – a sentiment some restaurateurs are reconsidering.
"I think the word 'right' is a dangerous word," Guidara says. It's about understanding what they need (i.e. fireworks for a date, deal), he says.
And if service workers are hung up on who is right and who is wrong, Guidara says they are "focusing on the wrong things."
The conference comes at an interesting time, as conversations around tipping are tallying up nationwide. Cities like Seattle and states like Michigan recently voted to raise the minimum wage. Some restaurants, like Packhouse Meats in Newport, Kentucky, and New York's Sushi Yasuda and Restaurant Riki, have opted out of merit-based wages all together.
According to a 2013 report on minimum wage workers by the Bureau of Labor Statistics, more than half of all workers paid at or below the federal minimum wage were employed in the hospitality industry - the vast majority of them in food service settings and supplemented by gratuity-based income.
Meanwhile, the service industries (which includes restaurants of any caliber) account for a staggering 68% of the U.S. GDP and four out of five U.S. jobs, according to the Office of the U.S. Trade Representative.
Guidara and Rudolf want to find the middle ground between institutions that project a stuffy air of the diners being the lucky ones and those that seem as if the staff would rather be anywhere else - like a casting call.
"It feels good to be taken care of," Guidara says.
He notes that the dining room often gets blamed for things that are out of their control, but they also get honored with things they had nothing to do with. But getting feedback is one part of a server's role.
"You learn to be confident enough to humble yourself and subordinate yourself to another person. And to have someone yell at you and not take it personally and just take it in, learn what you can and respond with graciousness," Guidara says.
Rudolf paraphrases Charles Masson, formerly of New York's decades-old La Grenouille and one of the speakers at the conference, on the importance of bottom-of-the-totem-pole roles.
"In America, there is a struggle with being an insubordinate - but that's where all the leverage is. From the physics standpoint, it's easier to push someone up when you're below them than it is to pull them up if you're above them."
"It's one of the very few places where expectations of being a human to another human are not only expected, but compensated for," Rudolf says.
"Hospitality is a choice," he adds.
No matter which side of the table you're on.