America's Test Kitchen is a real 2,500 square foot test kitchen located just outside of Boston that is home to more than three dozen full¬time cooks and product testers. Our mission is simple: to develop the absolute best recipes for all of your favorite foods. To do this, we test each recipe 30, 40, sometimes as many as 70 times, until we arrive at the combination of ingredients, technique, temperature, cooking time, and equipment that yields the best, most¬ foolproof recipe. America's Test Kitchen's online cooking school is based on nearly 20 years of test kitchen work in our own facility, on the recipes created for Cook's Illustrated magazine, and on our two public television cooking shows.
Vinaigrette may be the most useful sauce in any cook's repertoire, because in addition to dressing greens, it can be used as sauce for chicken, fish, and vegetables that have been grilled, poached, or steamed.
The ingredient list is short and method is simple. So what's the problem? Basic vinaigrette doesn't stay together. By the time you pour it over greens and get the salad to the table, this emulsified sauce has broken and you end up with overly vinegary and oily bites of salad. Which is where our recipe for a foolproof dressing that won't break comes in.

This vinaigrette works with nearly any type of greens but is especially well suited to mild, tender lettuces. For a hint of garlic flavor, rub the inside of the salad bowl with a clove of garlic before assembling the salad. And the best part? Once you master this technique you can play around with the types of vinegars, oils, and seasonings you use to make dozens of different dressings. So get whisking; the world is your salad bowl.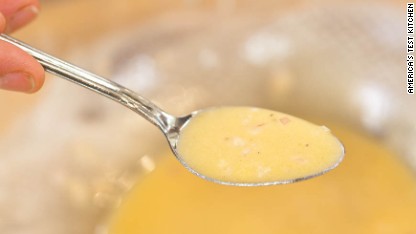 Foolproof Vinaigrette
Ingredients:
1 Tablespoon wine vinegar (red, white, or champagne)
1 1/2 Teaspoons very finely minced shallots
1/2 Teaspoon regular or light mayonnaise
1/2 Teaspoon Dijon mustard
1/8 Teaspoon table salt
Ground black pepper
3 Tablespoons extra-virgin olive oil
Instructions:
1. Mince 1 shallot to yield 1 1/2 teaspoons.
2. Combine 1 tablespoon vinegar, shallot, 1/2 teaspoon mayonnaise, 1/2 teaspoon Dijon mustard, 1/8 teaspoon salt, and pepper to taste in small nonreactive bowl.
3. Whisk until mixture is milky in appearance and no lumps of mayonnaise remain.
4. Place 3 tablespoons extra-virgin olive oil in small measuring cup so that it is easy to pour. (You can also use a small bowl.)
5. Whisking constantly, very slowly drizzle oil into vinegar mixture.
6. If pools of oil are gathering on surface as you whisk, stop addition of oil and whisk mixture well to combine, then resume whisking in oil in slow stream.
7. Vinaigrette should be glossy and lightly thickened, with no pools of oil on its surface.
More from America's Test Kitchen:
Caesar Salad
Chopped Caprese Salad
Massage Kale for Tender Greens (VIDEO)
What Is An Emulsion? (VIDEO)
Our Favorite Salad Spinner
Previously:
What to sip with your salad
Spouse vs Spouse: summer salad smackdown
The only salad that matters right now