World-renowned chef, author and Emmy-winning television personality Anthony Bourdain visits Bahia, Brazil, in the season finale of "Anthony Bourdain: Parts Unknown," airing Sunday, June 8, at 9 p.m. ET. Follow the show on Twitter and Facebook.
Residents of Bahia, Brazil, may be getting ready to play host to many of the 2014 FIFA World Cup matches, but their lively Afro-Brazilian culture is proudly on display in the streets and on the beaches year-round.
Amid the state's intoxicating samba rhythms, colorful art scene and vibrant lifestyle is an equally intoxicating cocktail of lime, sugar and cachaça - the caipirinha, which just happens to be Brazil's national drink.
"What's magical about this cocktail is the first taste, it's like, 'I don't know man. It's a little too something.' And then that second sip, it's like, 'aw, that's kinda good.' Then the third sip, it's 'where are my pants?'" host Anthony Bourdain says as he guzzles one in the streets of the capital city of Salvador.
For the season finale of "Parts Unknown," muddle up this refreshing drink at home and let your cares slip away to the beat of the drums.
Caipirinha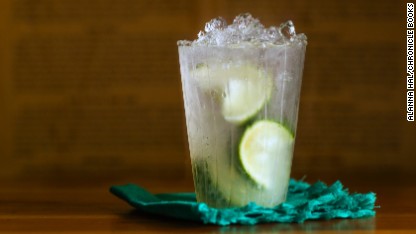 Makes 1 drink
Reprinted with permission from "The Bar Book" (Chronicle Books) by Jeffrey Morganthaler.
Morgenthaler: "Cachaça is one of the most rustic spirits in the world. The national liquor of Brazil, cachaça is made from the juice of fresh-pressed sugarcane, which is then fermented and distilled. Unlike rum, which is usually made from molasses, cachaça retains the fresh, grassy, vegetal flavors of the cane juice.
It would be tough for cachaça to claim its position as the third-most-consumed spirit in the world if it weren't for the simple, peasant-like preparation of a drink known as a caipirinha. With nothing more than a little sugar and lime to ameliorate the rough edges found in many cachaças, this is one drink that's more than the sum of its parts."
1/2 lime, quartered lengthwise, and white membrane removed
Heaping 2 tsp sugar
2 oz/60 ml cachaça
Crushed or cracked ice
For ideal serving: Chilled Old Fashioned glass
Combine the 4 lime wedges and sugar in the bottom of the Old Fashioned glass. Muddle the lime wedges with the sugar to release their juices and grind their oils from the peel. Add the cachaça.
Fill the glass with crushed or cracked ice and serve.
Previously on "Parts Unknown":
– Northern Thailand
A tuk-tuk tour of Chiang Mai's cuisine
10 essential Chiang Mai experiences
– Mississippi Delta
Hot on the tamale trail in the Mississippi Delta
10 things to know about the Mississippi Delta
– Russia
In Russia, vodka wishes and caviar dreams
– Mexico
In Mexico, a complex cuisine for a complex country
– Lyon
In Lyon, a hearty serving of tradition
– Las Vegas
10 things you didn't know about Las Vegas
7 sure bets for Las Vegas dining
– Punjab
Bourdain strikes vegetarian gold in Punjab
6 secrets of Punjab
– Detroit
The dog-eat-dog turf of Detroit's classic coneys
– Tokyo
Tasting Tokyo's treasures
– South Africa
Taste the Rainbow Nation
– Sicily
Sicilian food to soothe the soul
10 things to know before visiting Sicily
– Copenhagen
A sense of place in Copenhagen cuisine
– New Mexico
In New Mexico, choose a side: red or green
Bourdain cops to mistake on Frito pie canned chili claim
10 things to know before visiting New Mexico
– Granada, Spain
Traditional tapas in Granada
11 things to know before visiting Spain
– Israel, the West Bank and Gaza
In Jerusalem, even food origins are contentious
10 things to know before visiting Israel, the West Bank and Gaza
Bourdain has traditional Palestinian meal
– Congo
SPAM and coq au vin on the Congo River
– Peru
Peruvian food, from guinea pigs to pisco sours
Peruvian food is having a moment
Make perfect pisco sours and ceviche
South America's pisco enjoys North American revival
– Libya
Breakfast in Libya
Where fast food tastes like freedom
– Morocco
iReport: In Morocco, eating is the spice of life
Street snacking in Morocco
– Canada
O Canada! Our home and delicious land
Come for the strip bars, stay for the poutine
– Colombia
Colombian cuisine – from aguardiente to viche
Americans just don't understand the potato. Colombians do.
– Los Angeles Koreatown
The ever-changing flavor of L.A.'s Koreatown
Bridging generations and cultures, one blistering bowl of bibimbap at a time
Los Angeles food trucks are in it for the long haul
– Myanmar
Fall in love with Myanmar's cuisine
In Myanmar, drink your tea and eat it too