America's Test Kitchen  is a real 2,500 square foot test kitchen located just outside of Boston that is home to more than three dozen full¬time cooks and product testers. Our mission is simple: to develop the absolute best recipes for all of your favorite foods. To do this, we test each recipe 30, 40, sometimes as many as 70 times, until we arrive at the combination of ingredients, technique, temperature, cooking time, and equipment that yields the best, most foolproof recipe. America's Test Kitchen's online cooking school is based on nearly 20 years of test kitchen work in our own facility, on the recipes created for Cook's Illustrated magazine, and on our two public television cooking shows.
The secret to great barbecue in your own backyard isn't necessarily going out and buying all sorts of special equipment. You don't require a smoker, and you don't need the huge barbecue pits the pitmasters use in the South. All you need is a grill, some wood chips, and a disposable roasting pan filled with water to convert a charcoal kettle into a makeshift smoker.

For slow, steady, indirect heat, we bank all the coals to one side and pile lit coals on top of unlit coals to keep the fire going without opening the lid. Sprinkling soaked wood chips—rather than large chunks—over the coals introduces just enough smoke flavor, and a pan of water placed under the racks helps stabilize the air temperature and moisten the meat. (To replicate this method on a gas grill, we place the soaked wood chips and water in disposable aluminum pie plates and set them on the burners.)
These modifications are so successful that the ribs only need to spend 90 minutes on the grill to get the big, Memphis taste we were after.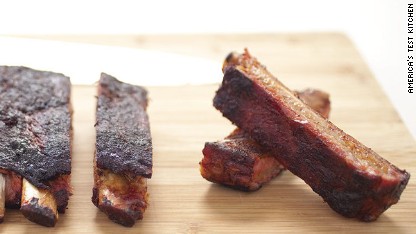 Memphis-Style Barbecued Spareribs
Serves 4-6
Note: Don't remove the membrane that runs along the bone side of the ribs; it prevents some of the fat from rendering out, leading to more tender results. Pouring lit briquettes over unlit briquettes provides the low, steady heat necessary for effective smoking. To maintain a constant temperature, manipulate the upper and lower vents of your grill and do not remove the lid any more often than necessary. For less spiciness, reduce the cayenne to 1/2 teaspoon.
Ingredients:
Rub
2 tablespoons sweet paprika
2 tablespoons light brown sugar
1 tablespoon table salt
2 teaspoons chili powder
1 1/2 teaspoons ground black pepper
1 1/2 teaspoons garlic powder
1 1/2 teaspoons onion powder
1 1/2 teaspoons cayenne pepper
1/2 teaspoon dried thyme
Ribs
2 racks St. Louis-style spareribs, 2 1/2 to 3 pounds each
1/2 cup apple juice
3 tablespoons apple cider vinegar
large disposable aluminum roasting pan
1/2 cup wood chips, soaked
Instructions:
1. Combine rub ingredients in small bowl. Place racks on rimmed baking sheet; sprinkle rub on both sides of each rack, rubbing and pressing to adhere. Set racks aside while preparing grill.
2. Combine apple juice and vinegar in small bowl; set aside. Open top and bottom grill vents halfway and arrange 15 unlit charcoal briquettes evenly on 1 side of grill. Place disposable pan filled with 1 inch water on other side of grill. Light large chimney starter filled one-third with charcoal (about 33 briquettes) and allow to burn until coals are half coated with thin layer of ash, about 15 minutes. Empty coals into grill on top of unlit briquettes to cover half of grill. Sprinkle soaked wood chips over coals. Position cooking grate over coals, cover grill, and heat grate until hot, about 5 minutes; scrape grate clean with grill brush.
3. Place ribs, meat side down, on grate over water pan. Cover grill, positioning top vent over ribs to draw smoke through grill. Cook ribs 45 minutes, adjusting vents to keep temperature inside grill around 250 to 275 degrees. Flip ribs meat side up, turn 180 degrees, and switch their positions so that rack that was nearer fire is on outside.
Brush each rack with 2 tablespoons apple juice mixture; cover grill and cook another 45 minutes. About 30 minutes before removing ribs from grill, adjust oven rack to middle position and heat oven to 300 degrees.
4. Transfer ribs, meat side up, to wire rack set in rimmed baking sheet. Brush top of each rib with 2 tablespoons apple juice mixture. Pour 1 1/2 cups water into bottom of baking sheet; roast 1 hour. Brush ribs with remaining apple juice mixture and continue to roast until meat is tender but not falling off bone (internal temperature should be 195 to 200 degrees), 1 to 2 hours.
Transfer ribs to cutting board, tent loosely with foil, and let rest 15 minutes. Cut ribs between bones to separate and serve.
More from America's Test Kitchen:
A tutorial on Memphis-Style Barbecued Spareribs from our Online Cooking School
Tasting Apple Cider Vinegar
Watch Bridget Lancaster Make Memphis Spareribs
Our favorite charcoal grill
Previously:
– Make a brilliant pork butt
– Five slices of barbecue wisdom
– Five tips for hot dog success
– How to smoke a brisket in your backyard
– Rack up on rib pointers
– Take a stab at a slab – an intro to ribs
– Five steps to steak supremacy
– Hearts afire! Liver, marrow, kidneys and more great offal for the grill
– Whole hog BBQ - the Mount Everest of Meat
– Five cuts of meat to buy and grill
– A prime rib primer
– Lobster roll 101
– What every carnivore should know