World-renowned chef, author and Emmy-winning television personality Anthony Bourdain visits Thailand in the next episode of "Anthony Bourdain: Parts Unknown," airing Sunday, June 1, at 9 p.m. ET. Follow the show on Twitter and Facebook.
In Thailand, a person might greet a friend with the phrase "kin khao reu yang?" to simply ask how things are going.
The more literal translation, however, is: "Have you eaten rice yet?"
"In this part of the world you live and die by the harvest," Anthony Bourdain says of Chiang Mai province's fertile fields and sticky-rice-filled tables.
In this week's episode of "Parts Unknown," Bourdain travels to the northern Thai city of Chiang Mai to eat, drink and sweat his way through every night market, roadside restaurant and karaoke bar he can handle in the country's second largest city.
"It was like discovering a color I never knew existed before," Bourdain recalls of his first trip to Thailand more than a decade ago.
The region's multi-dimensional flavor profile (simultaneously sweet, salty, spicy, bitter and herbaceous) is hard to replicate outside Northern Thailand due to the availability and hyper-locality of some ingredients, but one chef, Andy Ricker, has made it his mission to recreate the food stateside. He specializes in "the good stuff," Bourdain says - like the region's ubiquitous dish of khao soi, a coconut milk and curry paste noodle soup topped with a nest of fried noodles, lime wedges and cilantro.
Ricker is the chef and owner of the acclaimed Pok Pok family of restaurants in Portland, Oregon, and New York City. The name of the restaurant is an onomatopoeic ode to the sound the pestle makes when it pounds ingredients into pastes in a mortar.
Test out your own mortar and pestle skills with a variation of the chile paste naam phrik, preferably the Chiang Mai way, with motorbikes whizzing by and a ice-filled glass of beer close at hand.

Naam Phrik Num
(Makes about 1 cup, enough for 4 to 8 people as part of a meal)
Reprinted with permission from "Pok Pok: Food and Stories from the Streets, Homes and Roadside Restaurants of Thailand" by Andy Ricker.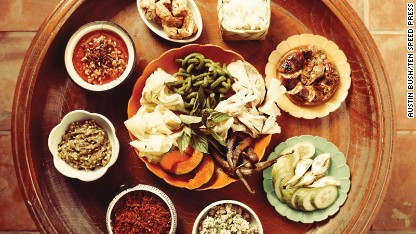 *A note from Ricker: "The primary flavor of this relish comes from its namesake phrik num, a long, moderately spicy green chile that, after much trial and error, I figured out could be reasonably replicated with Anaheim, Hungarian wax or goat horn chiles, plus some serrano chile, if necessary, for extra heat."
Special equipment:
A charcoal grill (highly recommended), grates oiled
2 or 3 wood skewers (but only if you're grilling), soaked in tepid water for 30 minutes
A Thai granite mortar and pestle
Ingredients:
2 ounces unpeeled Asian shallots
1 ounce unpeeled garlic cloves
Several fresh green Thai or serrano chiles (in case the other chiles are too mild)
8 ounces small whole green Anaheim, Hungarian wax or goat horn chiles
3 pickled gouramy fish fillets (available at local Asian markets or on the internet)
4 grams cilantro roots, thinly sliced
1 teaspoon Thai fish sauce (preferably Squid, Tiparos or another Thai brand)
To serve alongside:
Raw cucumber, unseasoned pork cracklings and assorted steamed mixed vegetables (such as long beans, cabbage, chayote or winter squash), for dipping
Instructions:
Prepare a grill, preferably charcoal so you have an area of high heat and another area of medium heat. Alternatively, you can heat two heavy pans on the stovetop, one over medium heat and one over high heat.
If you're grilling, skewer the shallots, garlic and Thai or serrano chiles (if you're using them) separately. There's no need to skewer the larger chiles. Put the gouramy fillets on a double layer of foil or banana leaf and fold to make a package.
Grill the chiles on the high heat area of the grill and the shallots, garlic and foil package on the medium heat area, transferring the items to a plate as they're finished. Cook the chiles, turning them over frequently and occasionally pressing them so they cook evenly, until they're completely blistered and almost completely blackened all over and the flesh is fully soft but not mushy, 5 to 8 minutes for the smaller chiles and 15 to 25 minutes for the larger ones. Cook the foil package, turning it over occasionally, just until you can smell the floral funk of the gouramy, about 15 minutes. Cook the garlic and shallots, turning them occasionally, until the skin is charred in spots and they're fully soft but still hold their shape, 15 to 20 minutes. Let the grilled chiles, shallots and garlic cool to room temperature.
Meanwhile, open the foil package, discard any large bones and fins (don't try to remove the small bones), and transfer the gouramy to a granite mortar. Firmly pound it to a fine paste and until the bones have fully broken down, about 45 seconds. Remove all but 1 teaspoon of the gouramy paste from the mortar, reserving it for another purpose.
Add the cilantro roots to the mortar with the 1 teaspoon of gouramy and pound to a coarse paste, about 30 seconds. Peel the shallots and garlic (but don't be obsessive about it). Add the garlic to the mortar and pound to a thick, fairly fine sludge, about 1 minute, then do the same with the shallots, about 2 minutes.
The finished naam phrik should be quite spicy, but of course, everyone has a different perception of what that means. So taste the cooked Anaheim or goat horn chiles. If the heat level is too high, remove some or all of the seeds. If the heat level is too low, gradually supplement the larger chiles with a few Thai or serrano chiles.
Use your fingers or a small knife to stem and peel the chiles. Add the chiles to the mortar and pestle and pound until they break down into long, thin strands (don't mash it to a fine paste), 1 to 2 minutes. Add the fish sauce, then pound gently and briefly to incorporate it.
You can store the naam phrik in an airtight container in the fridge for up to 3 days. Let it come to room temperature before serving.
Previously on "Parts Unknown":
– Mississippi Delta
Hot on the tamale trail in the Mississippi Delta
10 things to know about the Mississippi Delta
– Russia
In Russia, vodka wishes and caviar dreams
– Mexico
In Mexico, a complex cuisine for a complex country
– Lyon
In Lyon, a hearty serving of tradition
– Las Vegas
10 things you didn't know about Las Vegas
7 sure bets for Las Vegas dining
– Punjab
Bourdain strikes vegetarian gold in Punjab
6 secrets of Punjab
– Detroit
The dog-eat-dog turf of Detroit's classic coneys
– Tokyo
Tasting Tokyo's treasures
– South Africa
Taste the Rainbow Nation
– Sicily
Sicilian food to soothe the soul
10 things to know before visiting Sicily
– Copenhagen
A sense of place in Copenhagen cuisine
– New Mexico
In New Mexico, choose a side: red or green
Bourdain cops to mistake on Frito pie canned chili claim
10 things to know before visiting New Mexico
– Granada, Spain
Traditional tapas in Granada
11 things to know before visiting Spain
– Israel, the West Bank and Gaza
In Jerusalem, even food origins are contentious
10 things to know before visiting Israel, the West Bank and Gaza
Bourdain has traditional Palestinian meal
– Congo
SPAM and coq au vin on the Congo River
– Peru
Peruvian food, from guinea pigs to pisco sours
Peruvian food is having a moment
Make perfect pisco sours and ceviche
South America's pisco enjoys North American revival
– Libya
Breakfast in Libya
Where fast food tastes like freedom
– Morocco
iReport: In Morocco, eating is the spice of life
Street snacking in Morocco
– Canada
O Canada! Our home and delicious land
Come for the strip bars, stay for the poutine
– Colombia
Colombian cuisine – from aguardiente to viche
Americans just don't understand the potato. Colombians do.
– Los Angeles Koreatown
The ever-changing flavor of L.A.'s Koreatown
Bridging generations and cultures, one blistering bowl of bibimbap at a time
Los Angeles food trucks are in it for the long haul
– Myanmar
Fall in love with Myanmar's cuisine
In Myanmar, drink your tea and eat it too