5@5 is a food-related list from chefs, writers, political pundits, musicians, actors, and all manner of opinionated people from around the globe.
Editor's note: Brothers Matt Lee and Ted Lee recently both hosted and cooked at the James Beard Book, Broadcast, and Journalism Awards ceremony. Their latest book, "The Lee Bros. Charleston Kitchen" won an International Association of Culinary Professionals award in the American cookbooks category, and the duo are about to launch Cookbook Boot Camp, a two-day intensive workshop for professional chefs and others eager to publish cookbooks of quality.
Like many regions of the country, South Carolina's Lowcountry experienced a cold, hard winter that seemed like it would never end. And it wreaked more than a bit of havoc on the ingredients we forage for - and typically find abundant - come Spring. Something about their being less plentiful made us realize how much we love them and wish they had a bigger platform, a more prominent venue, leagues more supporters.
It's exciting to have farmers in the South digging deep into seed banks, finding heirloom grains and legumes that haven't been tasted for decades. But we'd also like to shine a light on these five naturalized plant ingredients that already grow in abundance and are often overlooked. So this is a call to action to chefs in the South - and elsewhere - to get hip to the brilliance of FREE FOOD.
5 practically free ingredients we wish more Southern chefs would use: Matt Lee and Ted Lee

1. Mulberries
Most folks think they're a nuisance: they splatter onto sidewalks, stick to your shoes, and get tracked in the house where they stain carpets and rugs. But they have a cool flavor, more mellow than a blackberry or a blueberry. They make a great syrup for glazing proteins; we add a bit of vinegar for a sour top note. We recently discovered that "green" mulberries - ones that have yet to turn purple - have a sweet-sour thing going on that we think could work in crudos.
2. Chainey briar
The tendril-like shoots of the vine Smilax bona-nox are pleasantly crisp like pea shoots and have a bright, refreshing flavor. We tend to treat them like the slenderest, tenderest asparagus, grilling or steaming them. But they're also great raw, in salads, especially with radishes and spring greens.
3. Fresh bay leaves
There are hundreds of varieties of laurel - or bay - and each produces leaves with its own beguiling aromas. These can range from bubblegum sweet to minty to downright eucalyptus-like and it can be harnessed.
In the 19th century, rice was stored in barrels with bay leaf to drive off bugs - an aging process that these days results in a cooked grains with an otherworldly flavor. There are sweet applications as well—infused syrups that can add layers of flavor to cocktails.
4. Loquat
http://www.youtube.com/watch?v=OWr7ua7q3fI?w=425
Home cooks make sweet preserves out of the fruit of Eriobotrya japonica (also known as "Japanese plums"). Their fresh, tart, cherry-meets-Granny-Smith flavor is overshadowed by the almond-like character imparted by the pits, when used in recipes like "Loquat Wine" - a vodka infusion that shows off the whole fruit.
5. Glasswort (aka Salicornia, Sea Beans, Sea Kale, etc.)
Glasswort grows abundantly in the drier, upper zone of the Lowcountry's salt marshes. This crunchy, sea-salty little succulent (picture a miniature asparagus spear, with branches) is a lovely complement to fish and shellfish, especially sweet crab - as in the dish we served Friday at the James Beard Media Awards.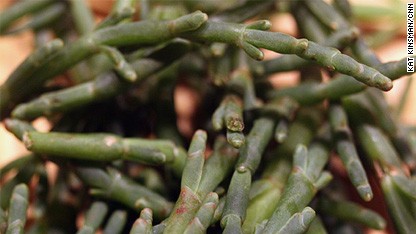 Previously:
Ramps, fiddleheads, fava beans and other spring vegetables about which people are freaking out
Travel the world from your cookbook shelf
Don't fear the vegan! Feed them.
Reclaiming the soul of Southern food
Scorpacciata – sea beans
A vegetarian may show up at your cookout. Do not be alarmed.
Is there someone you'd like to see in the hot seat? Let us know in the comments below and if we agree, we'll do our best to chase 'em down.