President Obama's first mission upon touching down in Tokyo: a fish expedition. Japanese prime minister Shinzo Abe joined Obama at Sukiyabashi Jiro, the three Michelin-starred restaurant made (even more) legendary by the 2011 documentary "Jiro Dreams of Sushi."
Jiro Ono, the 86-year-old chef/owner, still presides over every bite of the set menu. Obama seemingly approved, telling the pool of reporters assembled outside: "That's some good sushi right there."
Japan's first state visit by an American president in decades comes as the United States works to reassure Abe and other Asian leaders that the U.S. remains committed to turning foreign policy focus on them. The weeklong tour will also take Obama to South Korea, Malaysia and the Philippines.
CNN's Dan Shapiro dined at the three-Michelin-starred restaurant in 2012 and shared a dish-by-dish account of his extraordinary 39-minute, $375 dinner of a lifetime: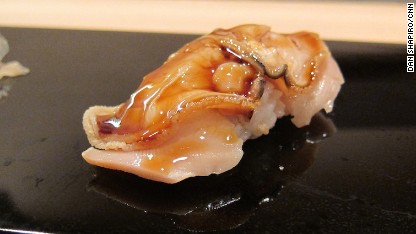 Hamaguri
7 p.m.
The staff wastes no time, quickly asking if I have any dietary restrictions, and when I answer no, Chef Jiro and his son Yoshikazu immediately present a menu detailing the 19-piece "Chef's Recommended Special Course," followed by the first dish, Karei (かれい), or sole.
A light, flat fish, the sole is expertly glazed with soy sauce and placed atop a two-inch bed of rice.
With a bit of hesitation, I forgo chopsticks, soy sauce and wasabi altogether for the traditional fingers-only approach and prepare to enjoy that very first taste of perfection.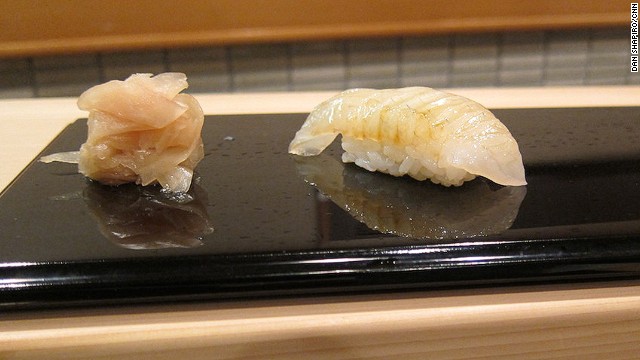 Karei
7:01 p.m.
The Karei cleanses my palate, offering a dose of fishiness without overpowering the taste buds right away. It is the perfect appetizer, and there's no doubt that Chef Jiro has designed tonight's custom menu to lead my sense of taste through a special gastronomic journey.
Read the rest of this gastronomic journey at CNN Travel
Previously:
Tasting Tokyo's treasures