Next Monday night, all over the world, people will gather to celebrate Passover - the holiday that commemorates the Jewish people's escape from slavery in Egypt. For seven or eight days (depending on where you live), families and friends come together for festive seder meals packed with ritual foods and a few dietary restrictions (for instance, no leavened grains).
And while many traditions remain the same the world over, favorite regional recipes can bring communities closer together. Here, families from Kyrgyzstan, Uzbekistan and Kazakhstan share a few of their favorites, courtesy of the American Jewish Joint Distribution Committee, to make your celebration a little larger in spirit.
Passover recipes from Israel, Estonia and India


Kazakhstan:
Chicken Kotletky ("A La Migdal")
Recipe courtesy of Svetlana Nezhinskaya
Svetlana Nezhinskaya is a very active member of the JDC-supported Hesed center in Almaty, Kazakhstan — participating in all of its events and volunteering at the library to lead the literature club. Her recipe for Passover is simple and delicious.
The recipe was brought by Svetlana from Israel more than 10 years ago and immediately became popular among her family members and the Almaty Jewish community.
Passover is very important to Svetlana; her mother was very religious, and she remembers cleaning the house and disposing of chametz (bread products, which are verboten during Passover) each year.
Her favorite part of the holiday is the Seder, when the family comes together to celebrate and remember the history of the Jewish people.
"For me, Pesach symbolizes freedom," Svetlana says. "And freedom is everything."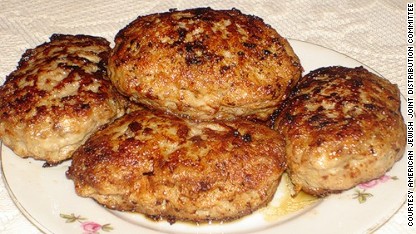 Ingredients:
Ground chicken (about 1 lb.)
1 onion (finely chopped)
2 Tbsp of potato starch
1 egg
2 Tbsp of mayonnaise
Salt, to taste
Pepper, to taste
Oil
Preparation:
Mix ground chicken with the finely chopped onion.
In a separate bowl, combine starch, egg, mayonnaise, salt and pepper, then stir.
Combine the mixture with chicken to make patties (kotletky).
Cook the patties in a frying pan with oil until golden brown.
Uzbekistan:
Mazurka
Recipe courtesy of Alla Krichevskaya
Born in 1933 in Ukraine, Alla Krichevskaya was evacuated to Tashkent, Uzbekistan, with her family when World War II began and remained in the city once the war ended.
Alla, 80, has been a client of Tashkent's JDC-supported Hesed center since 2001 and is a very active participant in the center's event especially culinary competitions, which she always wins.
This recipe — for Mazurka, a kosher-for-Passover cake — comes from Alla's mother.
Though she didn't know much about Jewish traditions and holidays before she joined the Hesed center, Alla has come to enjoy the lectures about the history of the Jewish people held at Hesed.
Passover has now become one of Alla's favorite holidays, she said.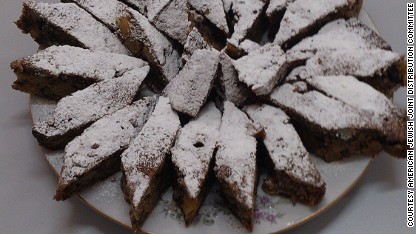 Ingredients:
6 eggs
2 cups of sugar
1 lb. walnuts
1 lb. black raisins
7 Tbsp butter, melted
1/2 cup of cinnamon
2 cups of matzah flour
1/2 tsp of baking soda
Preparation:
In a bowl, combine butter, eggs, sugar, and cinnamon. Then add matzah flour and baking soda and mix.
Next, chop the nuts and add to the dough. Also, add the black raisins to the dough.
Butter a baking pan and pour the dough into it.
Bake at 350°F for 40 to 45 minutes or until golden brown and a toothpick inserted near the center comes out clean.
Let the cake cool before cutting. Dust with powdered sugar.
Kyrgyzstan:
Green Borscht with Matzah
Recipe courtesy of Valeria Khaimov-Levitsky
Valeria learned this recipe from her late mother-in-law Batsheva Khaimov eight years ago, and it has become one of her family's favorites. Valeria loves family Seders at home; Passover for her is first and foremost about passing traditions from one generation to the next.
Valeria's family actively participates in the Dorot family club at JDC-supported Hesed Tikva center in Bishkek and always takes part in the community Seders organized by the Hesed in conjunction with the synagogue.
Ingredients:
Chicken, 2 lbs.
Vegetable oil
3 medium-size onions
4 large potatoes
3 eggs
Sorrel, one bunch
Green coriander (cilantro), one bunch chopped
1/4 tsp ground black pepper
Salt, to taste
Matzah, 5 to 10 pieces
Preparation:
Cut chicken into cubes and finely chop the onions. Add them into a pot with hot oil. Fry until slightly golden.
While meat is frying, cut potatoes into cubes.
Add eight and a half cups of water to the cooked chicken and onions, and bring to a boil. Boil for 30 minutes.
Add potatoes the pot and boil for another five minutes.
Cut sorrel and add to the pot. Add salt to taste and boil until potatoes are done.
Beat eggs.
Add beaten eggs into the boiling soup while stirring thoroughly, then add coriander and turn off the heat.
Serve with small pieces of broken matzah.
Got a favorite family Passover recipe or tradition? Be a mensch and share it in the comments below.
Previously:
Passover horseradish – rooted in tradition
Add the flavor of barbecue to Bubbe's brisket
5 ways to modernize your seder
Passover recipes from Israel, Estonia and India
Stephanie Izard's favorite matzoh toppers
Seder meal 101: From matzo to lamb bones
Read more about Passover on CNN Belief