America's Test Kitchen is a real 2,500 square foot test kitchen located just outside of Boston that is home to more than three dozen full¬time cooks and product testers. Our mission is simple: to develop the absolute best recipes for all of your favorite foods. To do this, we test each recipe 30, 40, sometimes as many as 70 times, until we arrive at the combination of ingredients, technique, temperature, cooking time, and equipment that yields the best, most foolproof recipe. America's Test Kitchen's online cooking school is based on nearly 20 years of test kitchen work in our own facility, on the recipes created for Cook's Illustrated magazine, and on our two public television cooking shows.
There are few things worse than running out of pizza. But, if you're making homemade pizza (it's far superior to delivery and a lot of fun, especially with kids) and you're feeding a lot of people, it can happen.
Say goodbye to the days of not-enough-'za with our recipe for Sheet Pan Pizza; it makes enough for a crowd and tastes like a deeply savory, flavor-packed piece of Italy with stay-put, cheesy toppings and a crispy but chewy crust.

Also known as Sicilian or Cafeteria-Style Pizza, this dish of dough, olive oil, thick tomato sauce and melted cheese is way less fussy to make than traditional pizzas. The first step is to create a dense, sturdy dough by giving it a quick knead in the stand mixer and a double rise - once in the bowl and then again on the baking sheet. Sugar and olive oil make for a rich, well-seasoned crust, and more oil on the pan produces a browned bottom for extra crispiness. Parbaking the crust with a layer of Parmesan cheese before adding the sauce creates a barrier that prevents the crust from turning soggy. Giving the baked pizza a bit of a rest before slicing (if you can control yourself!) lets it finish setting up.
Our winning sheet pan is a rimmed baking sheet, the Vollrath Wear-Ever Half-Size Sheet Pan, (available on Amazon). We tested 8 different models to find this gold medalist, a kitchen workhorse that can't be twisted and doesn't warp.
Sheet Pan Pizza
Serves 12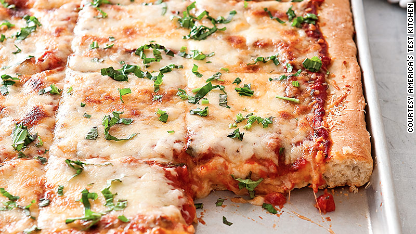 After it's mixed in step 1, the dough will be very sticky, so coat your hands with flour before you move it to the greased bowl. The test kitchen's favorite brand of tomato paste is Goya. The fresh basil is important here; if all you have is dried, skip the basil altogether.
For the dough:
1 3/4 cups warm water (110 degrees)
1/2 cup plus 1 tablespoon extra-virgin olive oil
1 tablespoon sugar
5 cups (25 ounces) all-purpose flour
4 1/2 teaspoons instant or rapid-rise yeast
2 teaspoons salt
For the sauce and toppings:
1 tablespoon extra-virgin olive oil
3 garlic cloves, minced
1 1/2 teaspoons dried oregano
1/4 teaspoon red pepper flakes
2 tablespoons tomato paste
1 (28-ounce) can crushed tomatoes
Salt
3 ounces Parmesan cheese, grated (1 1/2 cups)
12 ounces mozzarella cheese, shredded (3 cups)
2 tablespoons chopped fresh basil
Instructions:
1. For the dough: Grease large bowl. Combine water, 1/4 cup oil and sugar in 2-cup liquid measuring cup. Using stand mixer fitted with dough hook, mix flour, yeast and salt on low speed until combined, about 30 seconds. Increase speed to medium-low, add water mixture, and knead until dough is uniform in texture, about 3 minutes. Transfer dough to prepared bowl, cover with plastic wrap, and let rise at room temperature until doubled in size, 1 to 1 1/2 hours.
2. Evenly coat rimmed baking sheet with 1/4 cup oil. On lightly floured work surface, use rolling pin to roll dough into 16- by 12-inch rectangle. Transfer dough to prepared sheet and stretch dough to cover sheet, pressing dough into corners. Brush dough evenly with remaining 1 tablespoon oil and cover with plastic. Set in warm spot (not oven) until slightly risen, about 20 minutes.
3. For the sauce and toppings: While dough rises, heat oil in large saucepan over medium heat until shimmering. Cook garlic, oregano and pepper flakes until fragrant, about 30 seconds. Stir in tomato paste and cook until just beginning to brown, about 2 minutes. Add tomatoes and simmer until reduced to 3 cups, about 10 minutes. Off heat, season with salt to taste.
4. Adjust oven rack to lowest position and heat oven to 450 degrees. Remove plastic and, using your fingers, make indentations all over dough. Sprinkle dough with 1 cup Parmesan and bake until cheese begins to melt, 7 to 10 minutes. Remove sheet from oven and spoon sauce over pizza, leaving 1-inch border. Bake until sauce is deep red and steaming, 7 to 10 minutes.
5. Sprinkle mozzarella and remaining 1/2 cup Parmesan evenly over sauce and bake until cheese is golden brown, about 12 minutes. Remove pizza from oven and let rest for 5 minutes. Sprinkle with basil. Serve.
And now, our twelve key steps to making a big slab of pizza perfection:
1. Make the dough: Mix warm water, oil, sugar, flour, yeast and salt in a mixer fitted with a dough hook; knead briefly in the machine.
WHY? Kneading builds gluten, which gives dough its structure. For a tender crust, knead for just 3 minutes or so.
2. Let the dough rise: Move the dough to a greased bowl, cover it with plastic wrap and let it rise at room temperature until it has doubled in size, 1 to 1 1/2 hours.
WHY? All yeast doughs need time to create carbon dioxide, which causes the dough to rise.
3. Oil the baking sheet: Coat the baking sheet with 1/4 cup of olive oil.
WHY? This oil, combined with the oil that's in the dough, helps the bottom of the pizza brown and crisp as it bakes.
4. Roll it and press it: Roll the dough into a rectangle, and place it on the baking sheet. Stretch and press the dough into the corners.
WHY? This dough is stiff so it requires rolling out before stretching the corners to fully line the baking sheet.
5. Let the dough rise again: Brush the dough with oil to keep it moist, cover it with plastic and let it sit for 20 minutes.
WHY? This waiting period allows the gluten in the dough to relax, which prevents the dough from shrinking and helps optimize a nice, fast rise in the oven.
6. Start the sauce: Sauté garlic, oregano and red pepper flakes in hot oil for 30 seconds.
WHY? By "blooming" the aromatics, we bring out their full flavor - and with a thick crust like this one, the sauce needs to be potent.
7. Brown the paste: Stir in tomato paste and brown it lightly, about 2 minutes.
WHY? Browning deepens the flavor of the tomato paste.
8. Simmer the sauce: Add the canned crushed tomatoes and simmer for 10 minutes.
WHY? Simmering evaporates moisture, in turn thickening the sauce and concentrating its flavor. A thicker sauce reduces the chances of a soggy crust.
9. Bake the crust with Parmesan: Dimple the dough, sprinkle it with Parmesan and bake it at 450 degrees Fahrenheit for 7 to 10 minutes.
WHY? This thick crust needs parbaking. Baking the Parmesan onto the crust creates a ragged surface the sauce can stick to.
10. Bake the pizza with sauce: Remove the pizza from the oven and spoon on the sauce, leaving the edges bare. Bake for 7 to 10 minutes longer.
WHY? The crust needs more parbaking time; for this stretch, we top it with the sauce so it can concentrate even further.
11. Add the cheese: Top with mozzarella and more Parmesan and bake until done, about 12 more minutes.
WHY? Now that parbaking has firmed up the crust and the sauce has further reduced, it's time to load on the cheese and cook the pizza through.
12. Rest, then eat up: Wait 5 minutes before you slice and serve the pizza.
WHY? This oversized pizza needs time to set up and cool slightly so that you can serve tidy squares: If it's too hot when you slice it, the toppings will slide off.
More from America's Test Kitchen:
Our Online Cooking School Course on Authentic Pizza
Cook's Country Magazine's Grandma Pizza
Thin-Crust White Pizza from Cook's Illustrated Magazine
How to Shop for a Pizza Stone
Our Winning Pizza Wheel, Available on Amazon
Pizza Gadgets That Are Worth It