America's Test Kitchen is a real 2,500 square foot test kitchen located just outside of Boston that is home to more than three dozen full­time cooks and product testers. Our mission is simple: to develop the absolute best recipes for all of your favorite foods. To do this, we test each recipe 30, 40, sometimes as many as 70 times, until we arrive at the combination of ingredients, technique, temperature, cooking time, and equipment that yields the best, most­ foolproof recipe. America's Test Kitchen's online cooking school is based on nearly 20 years of test kitchen work in our own facility, on the recipes created for Cook's Illustrated magazine, and on our two public television cooking shows.
Nobody feels good about their culinary skills after baking up a batch of lumpy, leaden, lopsided biscuits. We're here to help you put those sad, squat, doughy days behind you with our recipe for unfailingly light, fluffy, tender, flavorful and perfectly shaped biscuits. We have a few helpful hints and 12 key steps that will guarantee you success.

Essential equipment:
As great as our recipe is, you'll also need the right tools for the jobs to achieve biscuit perfection.
Biscuit Cutters: Makeshift cutters such as juice glasses produce rounds that rise unevenly (the rounded lip compresses the edges of the cut biscuits). Use biscuit cutters. Our favorite? In our testing of biscuit cutters, we liked this $15 stainless steel set from Ateco the best (available on Amazon).
A Rolling Pin: A tapered wooden rolling pin offers more control than other pins. We tested 9 rolling pins to find our favorite: the J.K. Adams Plain Maple Rolling Dowel (available on Amazon).
Important techniques:
Mixing: Combine the dry ingredients with the butter and shortening in the food processor. Otherwise, your warm hands can melt the fat, which results in greasy biscuits. Gently stir in the buttermilk by hand, however. That way the food processor won't overwork the dough and leave you with tough biscuits.
Kneading: Old cookbooks, "The Fannie Farmer Baking Book" among them, instruct cooks to knead biscuit dough. This activates the gluten in the flour and helps the biscuits rise. Many modern baking books stress that kneading makes for tough biscuits. We say knead gently: Don't overdo it, but definitely do it.
Don't forget:
To Test the Powder: Baking powder begins to lose potency after six months. Put 2 teaspoons into a cup of water: If it foams and fizzes immediately, you're good to go. If the reaction is delayed or weak, buy a new can.
To Preheat the Oven: Don't neglect this. Biscuits need an initial blast of high heat to rise properly, and it takes most ovens 15 minutes to get up to temperature (you might also check your oven temperature using an inexpensive oven thermometer).
To Measure the Flour Properly: Use the dip-and-sweep method for accuracy: Dip a measuring cup into the flour, scoop up the flour and level it with the flat side of a knife. If you pack flour into the cup using the side of the container or spoon it in, you could end up with significantly more or less flour than called for. One cup all-purpose flour correctly measured weighs 5 ounces. Spooned into the cup, it weighs just 4.5 ounces, and packed in, it can weigh as much as 5.75 ounces.
Making the biscuits:
And now, without further ado, our 12 steps to perfect biscuits:
1. Chill the fat
Chill the butter and shortening for 30 minutes. They will chill faster cut into pieces.
WHY? So the cold fat will melt in the oven (not in the mixing bowl), creating flaky biscuits.
2. Prep the pan and oven
Heat the oven to 450 degrees. Meanwhile, line a baking sheet with parchment paper.
WHY? To keep the biscuits from sticking to the sheet.
3. Mix the dry ingredients
To distribute the dry ingredients evenly, pulse them in the food processor.
WHY? So you can then mix in the fat quickly, keeping it cold until the biscuits bake.
4. Add the fat gradually
Scatter the fat over the dry ingredients and pulse until the mix resembles coarse meal.
WHY? So the pats of fat melt in the oven, creating pockets of steam, which make for flaky biscuits.
5. Stir in the liquid by hand
Dump the mixture into a bowl and stir in the buttermilk by hand. Stop when the dough forms a uniform texture.
WHY? A food processor would over-mix the dough and produce tough biscuits.
6. Knead the dough briefly
Turn the dough out onto a lightly floured surface and knead gently.
WHY? Done with a light hand, kneading develops the gluten. Result? Tall biscuits.
7. Roll the dough out evenly
Using a rolling pin, evenly roll the dough into a 9-inch round that's about 3/4-inch thick.
WHY? You do want uniform biscuits, don't you?
8. Use a floured cutter
Dip the biscuit cutter into flour before stamping out each biscuit.
WHY? So that the dough won't stick to the cutter, creating lopsided biscuits.
9. Handle the scraps gently
Gather dough scraps and pat into a circle. Careful - don't overwork the dough. Stamp out the remaining biscuits.
WHY? Because rough hands make tough biscuits.
10. Flip the biscuits
Place the biscuits upside down on the baking sheet and put in the oven.
WHY? With the flat underside now on top, the biscuits will rise evenly.
11. Rotate the pan and reduce the heat
Bake the biscuits for five minutes and then rotate pan and turn the oven down.
WHY? In the cooler oven, the biscuits will cook through before they over-brown.
12. Eat 'em hot
Cool the biscuits on a wire rack for five minutes, but not much more. Enjoy them warm, preferably with a pat of butter.
WHY? Because they'll beat a cold biscuit any day.
Light and Fluffy Biscuits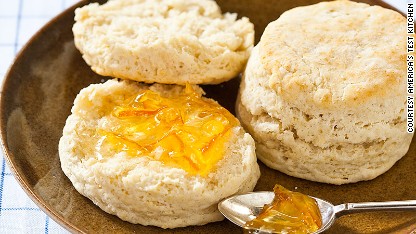 (Makes 12 biscuits)
Note: If you don't have buttermilk, there's no need to run to the store. Make a substitute by stirring 1 tablespoon plus 3/4 teaspoon lemon juice or white vinegar into 1 1/4 cups milk. Let the mixture stand at room temperature for 10 minutes until thickened.
Ingredients:
8 tablespoons (1 stick) unsalted butter
4 tablespoons vegetable shortening
3 cups all-purpose flour
1 tablespoon sugar
1 tablespoon baking powder
1 teaspoon salt
1/2 teaspoon baking soda
1 1/4 cups buttermilk
Instructions:
1. Cut butter and shortening into 1/2-inch pieces and refrigerate until chilled, about 30 minutes.
2. Adjust oven rack to middle position and heat oven to 450 degrees. Line baking sheet with parchment paper. Pulse flour, sugar, baking powder, salt and baking soda in food processor until combined. Add chilled butter and shortening and pulse until mixture resembles coarse meal.
3. Transfer flour mixture to large bowl. Stir in buttermilk until combined. Turn dough onto lightly floured surface and knead briefly, 8 to 10 times, to form smooth, cohesive ball. Roll dough into 9-inch circle, about 3/4-inch thick.
4. Using 2 1/2-inch biscuit cutter dipped in flour, cut out rounds and arrange upside down on prepared baking sheet. Gather remaining dough and pat gently into 3/4-inch-thick circle. Cut rounds from dough and transfer to baking sheet.
5. Bake until biscuits begin to rise, about 5 minutes, then rotate pan and reduce oven temperature to 400 degrees. Bake until golden brown, 10 to 12 minutes more. Transfer to wire rack and let cool 5 minutes. Serve warm.
To make ahead: Cut rounds can be refrigerated, covered with plastic wrap, for 1 day. To finish, heat oven to 450 degrees and proceed with step 5.
More from America's Test Kitchen:
The Cook's Illustrated Baking Book
Cook's Country TV: Fried Chicken Episode
5 Buttermilk Questions You Were Too Embarrassed to Ask
More Baked Goods: Sticky Buns with Pecans
Taste-Testing Strawberry Preserves
More from Eatocracy:
The biscuit recipe that can't be beat
5@5 – It's all (biscuits) and gravy, baby
Biscuit shops roll out across the country