This is the nineteenth installment of "Eat This List" - a regularly recurring list of things chefs, farmers, writers and other food experts think you ought to know about.
Brooke Baldwin left Atlanta behind last week for a trip to the Big Apple to fill in as a co-host on New Day. Saying goodbye to her 2 p.m. slot hosting CNN Newsroom also meant saying hello to a brand new (much earlier) work schedule.
"I mean my hotel laughs at me when I call for a wake up at 2:45," Baldwin said. "I kind of feel like I'm allowed extra guilty stuff in my life."
Baldwin, who's been with CNN since 2008 in a variety of roles, generally tries to eat healthy - preferring egg white omelets with vegetables for breakfast and salads with protein for lunch.
However, she says when her routine changes so vastly sometimes she's got to indulge in the "extra guilty stuff." 
Working for a morning show takes serious preparation.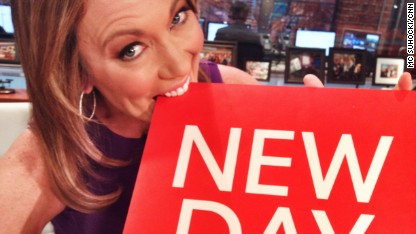 1. Pop Tart Pre-Game
What does the anchor eat before the show?
"I always try to have some snacky stuff in my hotel room. I buy some dried fruit, nuts, some water, but then I definitely went in for the Strawberry Frosted Pop Tarts," said Baldwin.
When it comes to Pop Tarts, some people eat one pastry from the pack and others prefer to go all out.
"Obviously, I am not a girl that does things halfway, so I don't just eat one, I have to eat both," admitted Baldwin. "I did have a guilty moment though yesterday morning because as I was sitting in makeup, I realized how much sugar I was actually ingesting, so I chucked the second half of my second Pop Part."
2. Pass the Donuts
On Wednesday, New Day staffers treated themselves to three boxes of Dunkin' Donuts glazed goodness. Donuts are essentially the light at the end of the morning shift tunnel and bring joy to the newsroom.
"I was a little too excited. I mean, I never ever go buy donuts for myself, but if they're there, obviously you have to have one. So I took a good long look, there were some Oreo covered, some special for St. Patrick's Day. But I went for the extra sugar, full chocolate donut - not just with icing but the chocolate frosted donut," Baldwin said.
 
She compromised, "I did cut it in half and only had half of that."
3. Supersize That Coffee
When she's required to wake up before the sun, is it any surprise Baldwin's drinking more coffee too? 
Anchoring three straight hours of live morning television requires a good amount of stamina - and an upgraded Starbucks order.
She said she drinks no more than two cups a day on her normal life schedule, but for "New Day" she upgrades to a Venti to sip throughout the three hours of the show.
"I just need that extra kick to stay awake and deal with the likes of Chris Cuomo."
Brooke's order: Blonde roast with cold soy, no sugar.
4. Poppin' Bottles: Wine Vs. Champagne
After a day of interviewing multiple guests and covering the top stories of the day, what better way to unwind than with a bit of bubbly?
The anchor says in Atlanta she'll typically unwind with a glass of wine.
"Since I go to bed early, I'm not really having any alcohol while I'm here," Baldwin said.
However, her plans changed on Wednesday after breaking news led Baldwin to pull double duty and required her to host her regular show too.
"I did treat myself to a glass of Moet Chandon last night while I was eating room service, that was my big treat," she said.
5. Two Meals a Day, the New Norm
Baldwin sees changes in what she's been eating to survive and also when she stops to eat. Rather than the usual three meals a day, she has two.
"I just haven't been eating dinner really," she admitted. "Honestly, I've never said this in my life: it's like when you get to 8 o clock, I'm too tired to eat."
As the week drew to a close, Baldwin offered advice for anyone else who may join a morning shift in the near future: get as much sleep as you possibly can and work out.
She concluded: "I do get out and try to sweat in the afternoons so that will make you at least a little bit more tired and sleep harder and make you feel better when you eat Pop Tarts and Champagne."
Postcript: At the end of her New Day hosting stint, Baldwin fell ill with an nasty virus and had to miss her final day, and her colleagues were kind enough to take care of her. She's on the mend now, so send her a get well Tweet @BrookeBCNN.
Previously in Eat This List:
5 bad excuses for not cooking
6 kitchen skills I have yet to master
5 Reasons you shouldn't blame the waiter