America's Test Kitchen is a real 2,500 square foot test kitchen located just outside of Boston that is home to more than three dozen full-time cooks and product testers. Our mission is simple: to develop the absolute best recipes for all of your favorite foods. To do this, we test each recipe 30, 40, sometimes as many as 70 times, until we arrive at the combination of ingredients, technique, temperature, cooking time, and equipment that yields the best, most-foolproof recipe. America's Test Kitchen's online cooking school is based on nearly 20 years of test kitchen work in our own facility, on the recipes created for Cook's Illustrated magazine, and on our two public television cooking shows.
Homemade chicken broth can improve your cooking by leaps and bounds. But the traditional method for making chicken broth requires a whole chicken, leeks, carrots, celery, parsley sprigs, thyme, bay leaves, salt, and peppercorns - not to mention at least 2 1/2 hours of simmering.
We prefer to keep it short and simple and found a faster way to a rich, flavorful broth. We use only chicken legs, onion, bay leaves, and salt in our Quicker Chicken Broth, which only takes 60 minutes to cook.

You may be asking...
Why not just use canned broth?
Storebought broth is fine for many recipes, but homemade is so much better. To prove it, we held a blind taste test for 15 cooks, pitting our Quicker Chicken Broth against our favorite storebought broth. The "rich," "meaty" homemade broth won in a landslide.
Is there a difference between broth and stock?
It depends whom you ask. These days, many sources use these terms interchangeably. But technically, stock is more concentrated and has more body. It's made from meaty bones, which are sometimes roasted before they are simmered to extract even more flavor. Broth is lighter: A whole chicken or chicken parts are simmered until the chicken is done. Recipes for the home cook that call for broth or stock to make, say, rice pilaf rarely distinguish between the two.
Why simmer the broth? Can't I boil it so it's ready even quicker?
No. It's important to simmer, not boil, or the grease will blend into the broth. At that point, it's less likely to separate, making the broth difficult to defat.
What if I don't own a fat separator?
A fat separator makes quick work of defatting hot broth, but you can use these three tools instead: time, your refrigerator, and a spoon. When you let the broth chill for several hours, the fat solidifies on top and can be easily removed.
What can I do with the chicken fat?
Chicken fat is loaded with flavor. If you're making soup, use the fat (called schmaltz in Yiddish and used with abandon in Jewish cooking) instead of oil to sauté the aromatics. You can also use it in place of butter when making a roux for gravy or stew. Chicken fat will keep in the refrigerator for three days; it also freezes well.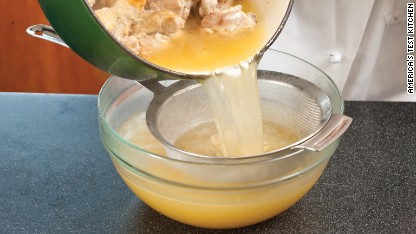 Quicker Chicken Broth
Recipe from Cook's Country
Makes 2 1/2 quarts broth and 3 cups meat
A cleaver is the best tool for hacking through the chicken legs. If you don't have one, use the thick heel end of a heavy-bladed chef's knife or leave the legs whole and double the simmering time. If you're not making soup and don't need meat, you can use any combination of chicken backs and/or wingtips in place of the legs.
1 tablespoon vegetable oil
4 pounds chicken leg quarters, cut into 2-inch pieces
1 onion, chopped
2 quarts water
2 teaspoons salt
2 bay leaves
1. Heat oil in Dutch oven over medium-high heat until just smoking. Add half of chicken and cook until browned all over, about 10 minutes. Transfer to bowl and repeat with remaining chicken. Transfer chicken to bowl with first batch; carefully remove fat from pot and save for another use.
2. Return chicken to pot along with onion, cover, and cook over low heat until chicken releases its juices, about 20 minutes. Add water, salt, and bay leaves, and bring to boil over high heat.
3. Reduce heat to medium-low and simmer, covered, until broth is rich and flavorful, about 20 minutes. Strain broth into large bowl and let stand for 10 minutes before defatting. Remove meat from bones, discarding skin and bones, and reserve meat for another use.
More from America's Test Kitchen:
Cheddar Beer Soup is as Good as It Sounds
Do You Recognize These 6 Vintage Kitchen Gadgets?
TV's Bridget Lancaster Shows Every Step to Chicken Noodle Soup
Previously:
Chicken soup recipe for the banged-up soul
Black chicken stew for the ill and adventurous soul
How to make chicken stock
Healthy green soup to fight the funk
Cooped up with the flu