This snack is on fire. As team rivalries heat up, make sure your game-day spread keeps pace.
This spicy snack stacks all the flavor of Buffalo wings into a cheesy jalapeño pepper filling.

Buffalo Jalapeño Poppers
Makes 20 poppers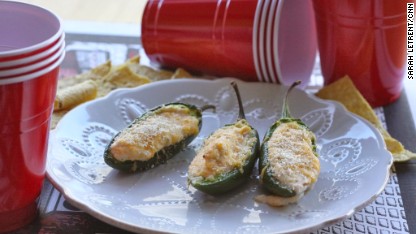 10 fresh jalapeño peppers
1/2 cup cream cheese, softened (approximately 1/2 of the standard 8-oz packet)
1/4 cup chicken, cooked and finely shredded (you can use breast, wing, leg or thigh meat - basically whatever you have on hand)
Hot sauce to taste (we used about 1/4 cup)
1/4 cup grated cheddar cheese
Optional: Bacon, tortilla chip crumbs
Preheat the oven to 350 degrees Fahrenheit. Line a baking sheet with aluminum foil and set aside.
Halve the jalapeño peppers lengthwise and remove stems, seeds and membranes with a spoon. (Be sure to wash your hands after handling the peppers. Or, if you're particularly sensitive, wear latex or plastic gloves or slip your hand into a resealable plastic bag and wear it like a glove.)
In a small bowl, combine the cream cheese, shredded chicken and hot sauce. Spoon the mixture into the jalapeño halves and place on the prepared baking sheet. Sprinkle each half with cheese. (If you opt for bacon, cut the slices into thirds and then wrap each pepper with 1/3 slice. You can either secure the bacon with a toothpick or make sure the seam is on the bottom of the pepper.)
Place the peppers, filling side up, on the baking sheet and bake until the top is golden and bubbly - about 20 minutes. (If you opt for tortilla chips, sprinkle crumbs from the bottom of the bag on the top of each popper for some crunch.)
Make these delicious things for the Super Bowl:
Slow cooker chicken wings
Slow cooker chili con queso
Sausage
Nachos
Homemade tortilla chips
Salsa
Pizza dip
Other dips including guacamole, artichoke dip and pimento cheese