5@5 is a food-related list from chefs, writers, political pundits, musicians, actors, and all manner of opinionated people from around the globe.
A while back, chef John Currence stopped by Eatocracy to share his list of five Southern dishes that deserve a comeback. Thing is, when a cuisine's bench is that wide and that deep, there are plenty more options to be put into play.
Levon Wallace is the Executive Chef at Proof on Main in Louisville, Kentucky. While he was Born in East Los Angeles, as his Twitter bio declares, "My heart belongs to the South."
This devotion extends to the region's dishes.
"These recipes are classics: they're the people's recipes," Wallace says. "Southern food as a whole is the people's food, really basic, satisfying stuff. There is no reason why these recipes shouldn't be something we're doing all the time. They're not some big, crazy, complicated undertaking with hundreds of ingredients; they're classics, with little updates to really up the ante on your Southern food game."
Lay 'em on us, Levon.
Five more Southern dishes that deserve a comeback: Levon Wallace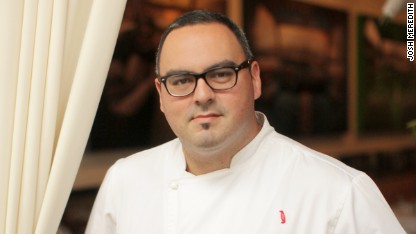 (Note: recipes are included at the bottom. Except for fried bologna, which you can probably figure out how to do for yourself.)
1. Ambrosia Salad
In my opinion, this is the food of the gods. This dish often gets a bad rap, thanks to decades of consumers searching for convenient instant pudding recipes. Although it's a little-known fact, ambrosia was once a simple salad of oranges and coconut, dressed only with the nectar of its ingredients. It's a far cry from the canned fruit/whipped topping/Jell-O-based "frankensalad" served at church potlucks.
Let's be honest, while most of us have fond memories of those saccharine salad stand-ins tucked away, I personally enjoy a hybrid of the two, ditching the not-so-cool whipped topping for Greek yogurt and subbing the marshmallows for a homemade fluff of Italian meringue. All that, paired with fresh fruit and toasted pecans, has converted many ambrosia nonbelievers that I've encountered. Amen!
2. Fried Bologna Sandwiches
Also known as "Mississippi prime rib," or a "Bullitt County steak sandwich," this is a working man's (or woman's) champion. It's culinary glory born of necessity. Even as a bologna believer, I never thought I'd see this sandwich at a fancy downtown restaurant until I put one on the menu at Proof on Main last year. I haven't been able to take it off since.
We make ours from our own bison and heritage hogs and serve it on a buttered brioche bun, with a thin schmear of pimento cheese and an unctuous sunny side up egg.
3. Bread and Butter Anything
Cucumbers, sure, but also okra, peppers, cabbage, watermelon rind, little green tomatoes (perfect in a Bloody Mary,) and even hard boiled eggs are fair game. Bread and butter pickles are a staple of any Southern table, and as a newly adopted "stepson of the South," I'm obsessed with the possibilities.
The best, for me, was a sweet potato version that chef Vivian Howard served at this year's Southern Foodways Alliance Symposium. Delicious on its own or as a co-star to cured meats, I like to call it "hillbilly giardiniera."
4. Benedictine Spread
This classic spread is a creamy blend of cucumber, cream cheese, and herbs traditionally served on white bread as a finger sandwich. I first heard of this tea-time treat when I moved to its hometown, Louisville, Kentucky. Curious, I sought out the best recipe (according to State Fair authorities), and soon found myself wanting to put it on everything from sesame crackers to falafel. It also pairs beautifully with smoked salmon.
There is a delicate balance between the richness of the cream cheese and the brightness from the cucumbers, lemon, and parsley that reminds me of tzatziki, and makes the spread highly addictive.
5. Alabama White Sauce
This is the oft-forgotten player in the lineup of Southern barbecue sauces. It may seem cliché for a mayo-based sauce to make this list, but if you've never had Alabama barbecued chicken, you must.
It is slowly smoked over hickory wood for at least three hours until completely tender with a deep, reddish-brown crust and a generous slathering of this surprisingly sharp, creamy condiment. Miss Myra's Pit Bar-B-Q in Birmingham makes the best, in my opinion, but just north in Nolensville Tennessee, the smoked chicken wings tossed in Alabama white from Martin's Bar-B-Que Joint have earned a place on my "last meal" list. (Editor's note: the plate pictured above is from Saw's BBQ in Birmingham, Alabama.)
On to the recipes!
Ambrosia Salad
Ingredients
1 cup cold heavy cream
1 cup "marshmallow fluff" (Italian Meringue: recipe below, or store-bought)
1 cup Greek style yogurt
4 seedless tangerines or 3 seedless oranges pith removed with a small paring knife and cut into segments.
2 cups fresh pineapple, cut into 1-inch pieces
3 each tart apples (such as Pink Lady), peeled and cut into 1-inch pieces
2 cups seedless grapes, sliced in half
1 cup toasted pecan pieces
Directions
Place cream in a medium sized mixing bowl and whisk until soft peaks form, about 3 minutes. Add meringue and whisk quickly for another minute until stiff peaks form. Add yogurt and gently whisk just to combine. Place in the refrigerator until needed.
Combine tangerines or oranges, pineapple, apples, grapes, and pecan pieces in a large mixing bowl and toss to combine. Using a rubber spatula or large spoon, gently fold the "fluff" mixture in to the fruit. Place in the refrigerator for one hour.
Place your Ambrosia salad in your finest serving bowl (trifle bowls look nice too!) and choose your favorite garnish. Some suggestions: freshly torn mint leaves, 1 cup fresh raspberries, or 1/2 cup shredded coconut, toasted
- Italian Meringue ("Marshmallow Fluff")
Ingredients
3/4 cup sugar
1/4 cup water
2 tablespoons light corn syrup
3 large egg whites, room temperature
Pinch of salt and cream of tartar
Directions
Bring sugar, water, and corn syrup to a boil in a small saucepan, stirring until sugar dissolves. Cook this, undisturbed, until syrup registers 248 degrees on a candy thermometer.
While that's happening, whip egg whites in a mixer on low speed until frothy. Add salt and cream of tartar. Increase speed to medium, and whisk until soft peaks form, about 8 minutes.
Reduce speed to low, and carefully pour hot syrup down side of bowl in a slow, steady stream. Increase speed to high, and whip until mixture stops steaming and you have glossy, stiff peaks, about 3 minutes.
Bread and Butter Pickle "Giardinera"
Ingredients
6 small pickling cucumbers, washed and sliced into 1/2 inch thick slices
1 small yellow onion, sliced thin
1 Fresno chili, thinly sliced, seeds and all (or a small red bell pepper for less heat)
1 cup cauliflower, cut into small florets
I cup sweet potato, peeled and sliced into 1/2 inch cubes
1 rib of celery, washed and sliced into 1/2 inch thick slices
1/2 cup kosher salt
Water as needed
1 cup apple cider vinegar
2 cups white distilled vinegar
2 cups sugar
2 Tablespoons pickling spice
1 Tablespoon mustard seeds
4-6 allspice berries
3-4 whole cloves
1 bay leaf
2 teaspoons ground turmeric (optional)
Directions
Toss vegetables with salt in a non-reactive mixing bowl to combine. Add enough cold water to cover, and place in the refrigerator for 2 hours.
After 2 hours, drain vegetables and rinse well. (Vegetables should still taste of salt), and transfer to a heat-safe mixing bowl. Set aside.
Meanwhile, Bring vinegars, sugar and spices to a boil for 3 minutes. Remove from heat and strain over your salted vegetables. Stir well to combine and allow them to cool on your countertop to room temperature.
When cool enough to handle, transfer to a tightly-lidded container and refrigerate for 8 hours.
Benedictine Spread
Ingredients
8 ounces cream cheese, softened
1 cup peeled, seeded cucumber, chopped fine
2 Tablespoons grated yellow onion
One rasp of lemon zest
Juice of half a lemon
1 tablespoon fresh chopped parsley
Pinch of sugar
1 teaspoon fresh cracked pepper
2 teaspoons kosher salt
Directions
Combine all ingredients in a small mixing bowl and mix together with a spoon until well combined. Adjust seasoning if needed, and use on sandwiches, as a dip, or however you please.
Alabama White Sauce
Ingredients
2 cups Duke's mayonnaise
1/4 cup apple cider vinegar
1/2 cup distilled white vinegar
Juice of half a lemon
pinch of cayenne pepper
2 teaspoons fresh ground black pepper
2 teaspoons kosher salt
Directions
Whisk all ingredients together and enjoy on anything you can think of.
Previously:
5 Southern Dishes That Deserve a Comeback: John Currence
Is there someone you'd like to see in the hot seat? Let us know in the comments below and if we agree, we'll do our best to chase 'em down. And if you haven't gotten enough of Levon Wallace or our previous 5@5 subjects Andy Ticer and Michael Hudman, they'll all be cooking together on November 14 at the Hog & Barrel dinner in Louisville, Kentucky.