All Michael Randolph needs right now is a pair of tweezers. The small implement is a far cry from the firepower the former Marine used to pack, but he needs them to put the shredded cabbage finish on his elegant canapé of duck foie gras on toasted brioche with Dijon vinaigrette.
"Can I borrow your tweezers real quick, like for four minutes?" Randolph, a student at the Culinary Institute of America in Hyde Park, New York, asks a colleague across the way from his prep station.
Time is of the essence. A full slate of lunch reservations is about to fill the dining room and Randolph has only few minutes to get his creations to the front of the kitchen. They will be the first bite eager diners take before the start of their three-course meal.
"I never really thought I'd be using tweezers in the kitchen," blurts out Randolph, borrowed tweezers now in hand, as he delicately sets the last few cabbage shreds on the nickel-sized starters. Eight years ago, The Bocuse Restaurant's kitchen was probably the last place he thought he'd wind up.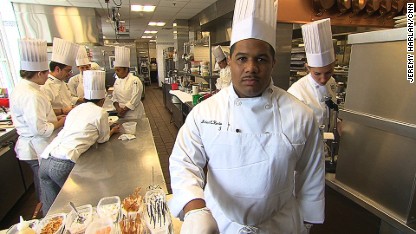 "I literally knew nothing about the culinary field," he recalls.
In September 2006, his tool of trade wasn't a chef's knife or measly pair of tweezers. It was a M16 assault rifle and the Pennsylvania native was on his way to his first tour of duty in Fallujah, Iraq, as a United State Marine Corps machine gunner. He did two tours in the war-torn country before leaving the Marine Corps and starting a new career.
"It was a close call between reenlisting or getting out and trying to find a job. I ended up choosing the passion over what I planned to do temporarily," explains Randolph. That passion led him into the kitchen.
"As a kid I saw a lot of cooking by my grandparents and on TV. I would watch cooking shows or record it and replay it again and again," remembers Randolph. "It just seemed very interesting ... the different stuff that they were creating."
After a few years of doing food service at a small hotel, Randolph applied to the Culinary Institute of America in hopes of vastly expanding his knowledge of professional cooking.
"I always had it in the back of my mind to come to the school even prior to doing the four years active in the Marine Corps."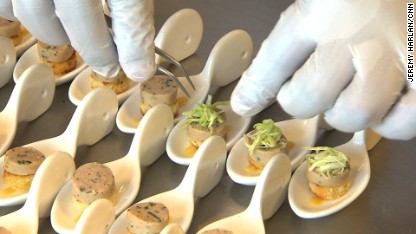 This is an increasingly well-trod career path for many veterans leaving military service for new careers. The CIA has roughly 130 veterans out of almost 2900 students on its Hyde Park campus. Veteran enrollment has tripled since 2008.
"In the years since the conflicts of the Iraq and Afghanistan wars, we have seen a significant increase in the enrollments of returning veterans on our campuses," says Cynthia Keller, the school's Associate Dean of Culinary Fundamentals.
"We have a broad variety of students that have done many different things in the military service. We've had folks in weapons disposal and we've had folks that were medics. And on campus right now we have a rather high proportion of submariners."
Veterans trading in their fatigues for crisp white chef jackets is nothing new for this culinary school. In fact, it was created for that very purpose.
In 1946, a Connecticut attorney Frances Roth and her friend Katharine Angell wanted to create a "culinary center of the nation" and help returning World War II veterans find a new vocation. Roth (who lost her eldest son in the war) and Angell opened the first institute on Yale University's campus where Angell's husband served as university president.
Over time, the school's enrollment grew beyond the capacity of the small New Haven, Connecticut, campus. In 1972, the CIA moved to its majestic riverside location in the Hudson Valley. Since then, US campuses have been added in the Napa Valley and, most recently, San Antonio, Texas.
But as the school has expanded and explored new innovations in cooking, the original ideal of helping veterans has never wavered.
"We've continued for all these years to honor this tradition and keep this value going," says Keller. "We continue to provide them with the bachelor's degree which is supported through the GI Bill and Yellow Ribbon Program."
The Yellow Ribbon Program is a Department of Veterans Affairs program that bridges the gap between the Post-9/11 GI Bill contribution and the school's tutition and fees.
"It definitely took a lot of pressure off me," says Randolph, who graduated just last week with his associate's degree in culinary arts. Soon he'll begin classes for his bachelor's degree in culinary arts management with hopes of eventually becoming a food and beverage manager.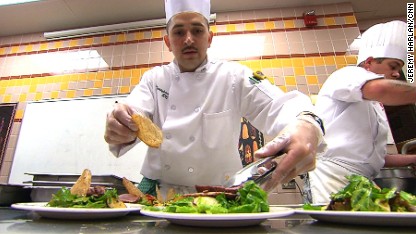 Keller believes incoming veterans, thanks to their military service, hold many other advantages in the culinary field.
"In the military, obviously they're trained to follow directives in order to be successful," explains Keller. "It's the hierarchy you see in both professional kitchens and in the military."
"The discipline from the Marine Corps that veterans have is a slight advantage over your standard 18, 19, 20, even 22-year old coming from high school or home. Being able to wake up early, to me that's easy even though it's hard for some people to get up at four or five o'clock in the morning," says Randolph.
Keller wholeheartedly agrees. "Discipline does translate very well to the kitchen. It is very important that you show up on time, that you are prepared and ready to work and that you are in professional uniform."
She adds, "I'm incredibly proud of what we're able to do and working with service men and women. It's an honor and responsibility that we've been given and an honor when we do see our students on graduation day or hear about them later and hear about the wonderful things that they're doing as they continue on in their lives. It is just an enormous privilege for us to be able to give back."
For Randolph, he's paying it forward today with that first offering of foie gras.
"People will judge this restaurant by the first bite. You are putting your trust in me so when you leave the restaurant or establishment, hopefully it will be with a smile on your face. I'm hoping what I can do later on in my career is treat you through food."
Previously:
Grenades and gravy – cooking in the Korean War
Raise a glass to U.S. veterans
Lifting faraway soldiers' spirits, one bite at a time
For troops, a happy meal is relative
Army: Hot breakfasts in Afghanistan cut due to logistics, not budget