5@5 is a food-related list from chefs, writers, political pundits, musicians, actors, and all manner of opinionated people from around the globe. If  you need to get into the biscuit-making mood, head on over to our handy-dandy biscuit tutorial: The biscuit recipe that can't be beat.
Biscuits are a way to transport Southerners and non-Southerners alike back into a, if not their, memaw's kitchen. And, a good biscuit needs little more than some butter or jam.
That's definitely the case at Tupelo Honey Cafe in Asheville, North Carolina, where executive chef Brian Sonoskus puts biscuits on every table - no matter the time of day.
Below, Chef Sonoskus smothers the home cook with bells and whistles for the flaky staple.

Five Ways to Build a Better Biscuit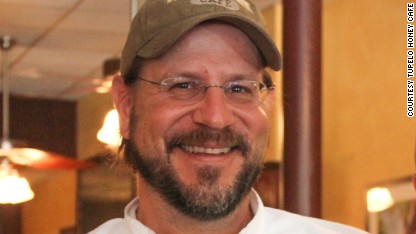 1. Sop it up
While biscuits are filling and warm for breakfast on a cold morning or a perfect snack in any season with a pat of butter, don't forget they serve a utilitarian purpose: sopping. The flakier the biscuit, the better it absorbs the taste of whatever topping you pick. Seriously, what is better than savoring every ounce of a delicious gravy with a warm biscuit?
Tupelo Honey Ginormous Biscuits
Makes 6 biscuits
2 cups bread flour
1 tablespoon baking power
1/4 teaspoon baking soda
2 tablespoons sour cream
1 1/2 teaspoons salt
3/4 cup unsalted butter, frozen
1/2 to 3/4 cup buttermilk
1 tablespoon butter, melted
Preheat the oven to 450 degrees. Combine the flour, baking powder, baking soda, sour cream and salt in a large bowl.
With a cheese grater, grate the frozen butter using the largest holes; quickly cut the butter into the flour mixture with a pastry cutter or fork until the mixture resembles coarse meal.
Add the buttermilk to the flour mixture a little at a time. Stir just enough so it clumps together and is no longer crumbly. Do not overmix.
On a floured surface, turn out the dough and roll out to a one-inch thickness. Using a three-inch biscuit cutter, cut the biscuits and place on a sheet pan. Cook on the top rack of the oven for 20 minutes or until light brown. Remove from the oven. Brush the melted butter on top of each biscuit and return to the oven for about five minutes longer or until the biscuits are golden brown.
2. Traditional gravy
You can start with a milk gravy: flour, butter, salt, pepper and whole milk and go from there. Add in ground pork for the popular sausage gravy, or take on a few Southern twists. There's creamy red-eye gravy with a punch from leftover coffee, or serve our Low Country Gravy that mixes in quality bacon and fresh sage. Topping a biscuit with any of these traditional creamy gravies offers a taste of home, even if it's a treat you did not grow up eating.
Low Country Gravy
Makes approximately two cups
2 slices bacon, chopped into small pieces
4 1/2 teaspoons all-purpose flour
2 cups heavy cream
1/8 teaspoon cayenne pepper
1 teaspoon minced fresh sage
1/2 teaspoon sea salt
1/4 teaspoon freshly ground black pepper
In a thick-bottomed saucepan, brown the bacon on high heat, stirring occasionally. Reduce the heat to medium and add the flour, stirring constantly for four minutes to make a roux.
Add the cream, cayenne, sage, salt and black pepper and continue cooking over medium to low heat for five to seven minutes, stirring often until thick and creamy. Serve immediately or store in an airtight container in the refrigerator for up to seven days.
3. Forget the cream, focus on veggies
Mushrooms and onions add an earthiness to gravies that eliminate the milk and cream. One of the best combinations is cremini mushroom and Vidalia onions. The robust flavors of the cremini pair perfectly with the sweetness of the Vidalia - and the two together cannot be matched with other varieties.
Cremini Sweet Onion Gravy
Makes 1 1/2 cups
1 1/2 cups cremini mushrooms, sliced thick (about 4 ounces)
1 large Vidalia onion, thinly sliced
2 tablespoons olive oil
2 cups demi-glace
1/2 teaspoon sea salt
1/2 teaspoon freshly ground black pepper
In a heavy saucepan, sauté the mushrooms and onion in olive oil over medium heat for about seven minutes or until the onion is translucent. Add the demi-glace and salt. Bring to a boil and then lower to simmer. Leave uncovered and simmer for about 20 minutes or until the liquid has reduced by about one-third. Add the pepper and serve immediately, or store in an airtight container in the refrigerator for up to seven days. This may also be frozen for up to six months.
4. Sweet and fruity
You can't go wrong with simple. A biscuit topped with preserves, jam or jelly turn it into more of a snack than a meal. It's also a great way to enjoy the wonderful flavors of the fresh fruits from your backyard or farmers market all year round.
While making preserves yourself can take time, there's always the option of a skillet jam. Mix sugar, pectin, blackberries (my favorite) and lemon juice together in a skillet and in 10 minutes you have the perfect sweet berry topping for your biscuit.
5. Preserving
Of course the biscuits should always be fresh, but the best part about gravies, jams and preserves is the access. Many keep at least a week in an airtight container in the fridge, but some, like the Cremini Sweet Onion Gravy, can be frozen for months offering that filling, homemade enjoyment long after the dishes are done.
Is there someone you'd like to see in the hot seat? Let us know in the comments below and if we agree, we'll do our best to chase 'em down.