World-renowned chef, author and Emmy-winning television personality Anthony Bourdain visits Copenhagen, Denmark, in the next episode of "Anthony Bourdain: Parts Unknown," airing Sunday, October 6, at 9 p.m. ET. Follow the show on Twitter and Facebook.
Denmark was named the world's happiest country in the 2013 World Happiness Report, and Noma, the 45-seat restaurant in the capital city of Copenhagen, was crowned number one on the annual "World's 50 Best Restaurants" list in 2010, 2011 and 2012.
But, the Danish people will be hesitant to tell you of such achievements given their Law of Jante, a Scandinavian mentality that essentially promotes the principle that one person is no better than anyone else.
Chef René Redzepi is the chef and owner of the much celebrated Noma.
"I've even been told that I have fascist tendencies in me. There have been op-eds written in Danish papers," he says, after garnering worldwide attention for his naturalist culinary style. He sources all of his ingredients from the Nordic region, the majority of them within 60 miles.


"Our eating traditions are not that big here," Redzepi tells host Anthony Bourdain. "Historically, we've eaten for survival."
There are, of course, the traditional Danish foods - pickled herring, rye bread, smoked eel, smørrebrød (open-faced sandwiches) - but Redzepi forages for wild ingredients, like reindeer moss, sorrel, flowers and beach cabbage, to connect diners with where they are in the world.
"If I were looking at this at home I would very much be thinking, come on man, it's grass. ...It's green stuff. It all tastes the same," Bourdain says. "It totally doesn't!"
For Redzepi, it's not just about pushing the envelope, it's about discovering what is already out there and presenting it in a novel, thoughtful and delicious way.
If you're feeling ambitious, try one of Redzepi's recipes at home:
Potato Chips and Chicken Liver
Printed with permission from "René Redzepi: A Work in Progress" (Out on November 11, 2013)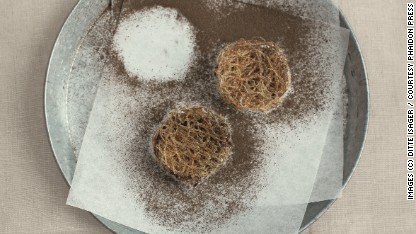 Note: This recipe requires advanced techniques, accurate measurements using the metric system and special equipment to achieve good results.
Ingredients:
Potato Discs
1 baking potato, peeled
grapeseed oil
salt
Chicken Liver Mousse
450g chicken livers
grapeseed oil
5g lemon thyme leaves, plus extra
85g apple balsamic vinegar, plus extra
12 verbena leaves, plus extra
10 dried black trumpet mushrooms
175g butter
salt
20g crème fraiche
apple cider vinegar
Black Trumpet Powder
100g dried black trumpet mushrooms
Instructions:
Potato Discs
Cut the potato into thin long ribbons on a turning vegetable slicer. Soak the ribbons to remove the starch. Dry and weigh into 5g portions. Put four 5.3 cm ring molds into the base of a large pan. Add oil and heat to 145°C (290°F). Place a portion of potato into each ring mold and deep-fry to create crispy discs. Repeat. Keep on wax paper. Season with salt.
Chicken Liver Mousse
Wipe the chicken livers. Heat a little oil and sauté the chicken livers on both sides, until cooked but still pink inside. Sprinkle with lemon thyme leaves. Deglaze with a little apple balsamic vinegar and transfer the livers onto a tray to cool. Blend the livers with the verbena leaves, dried black trumpet mushrooms and butter until smooth. Season the mousse with salt and apple balsamic vinegar.  Chop a few verbena and lemon thyme leaves and mix with the crème fraiche and 100g of the mousse. Season with salt and apple cider vinegar. Transfer to a pastry bag and keep at room temperature.
Black Trumpet Powder
Blend the dried mushrooms to a fine powder and strain. Keep in an airtight container.
Serving
Pipe a little chicken liver mousse along the edge of 4 crispy potato discs. Place a second disc on top. Sprinkle with black trumpet powder and serve.
Related:
10 things to know before visiting Copenhagen
Previously on "Parts Unknown":
– New Mexico
In New Mexico, choose a side: red or green
Bourdain cops to mistake on Frito pie canned chili claim
10 things to know before visiting New Mexico
– Granada, Spain
Traditional tapas in Granada
11 things to know before visiting Spain
– Israel, the West Bank and Gaza
In Jerusalem, even food origins are contentious
10 things to know before visiting Israel, the West Bank and Gaza
Bourdain has traditional Palestinian meal
– Congo
SPAM and coq au vin on the Congo River
– Peru
Peruvian food, from guinea pigs to pisco sours
Peruvian food is having a moment
Make perfect pisco sours and ceviche
South America's pisco enjoys North American revival
– Libya
Breakfast in Libya
Where fast food tastes like freedom
– Morocco
iReport: In Morocco, eating is the spice of life
Street snacking in Morocco
– Canada
O Canada! Our home and delicious land
Come for the strip bars, stay for the poutine
– Colombia
Colombian cuisine – from aguardiente to viche
Americans just don't understand the potato. Colombians do.
– Los Angeles Koreatown
The ever-changing flavor of L.A.'s Koreatown
Bridging generations and cultures, one blistering bowl of bibimbap at a time
Los Angeles food trucks are in it for the long haul
– Myanmar
Fall in love with Myanmar's cuisine
In Myanmar, drink your tea and eat it too