5@5 is a food-related list from chefs, writers, political pundits, musicians, actors, and all manner of opinionated people from around the globe.
Whether you go with pulled pork, brisket or ribs, every fall barbecue is going to need some complementary side dishes.
Christopher Kostow from the acclaimed The Restaurant at Meadowood in St. Helena, California, offers all the fixins' - with a little extra flair.
How to Elevate Barbecue Side Dishes: Christopher Kostow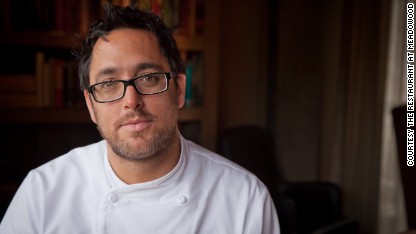 1. Those beans are smokin'
Instead of baked beans, try smoking the beans on a smoker or wood-burning grill, and then finishing with a bit of brown sugar and puréed fresh tomatoes. You will get all of the sticky, smoky sweetness in a fresher, lighter form. The tomatoes add another layer of acid.
You can easily smoke beans (or almost any type of vegetable for that matter) on the grill by adding wet wood chips to the hot coals. Then, place the beans in grill-safe cookware on the grill, cover and cook slowly on a low heat.
2. Make grilled corn more appealing
Grilling corn with the husk on will impart a hay-like earthiness into it. This also helps to retain moisture through the cooking process. When it's done, just pull the husk down to use as a handle, smother the cob in butter and season with your favorite salt.
3. Keep the cole slaw classic
I always prefer a very acidic and straightforward slaw to cut through the smoky fattiness of barbecue - cabbage, onion, apple cider vinegar, just call it a Southern sauerkraut. Use all different kinds of vinegars at a ratio of 90% cabbage and/or other vegetables to 10% vinegar. Season it with a nice oil and celery seed and let sit about 20-30 minutes before serving.
4. Pickle perfection
Pickle everything- - okra, onion, beans turnips, fruit (apples especially!). Salt is the key to pickling and what actually aids in preservation. With a good amount of salt, you can pickle in any liquid. Try thinking outside the box to fermenting rather than a straight vinegar pickle, like with a fruit juice.
There are lots of recipes out there for quick and long-term pickling, but if you've got the patience, commit the time. A good friend once told me, "If it's not in a jar for at least a year, it's not a pickle." Let time do its thing. Harvest and pickle now, and enjoy them later.
5. A grittier cornbread
Use a cooked, coarsely ground grit as a base for your cornbread - like the Geechie Boy Mill variety in the recipe below. Samp grits are a special type of grit - I prefer those produced by Geechie Boy Mill in Edisto Island, South Carolina. Sean Brock serves them at his Charleston restaurant Husk, and when I tried them last year, I was hooked. We've had them on the menu in some shape or form ever since.
The grits add a chewier texture and creaminess without having to add extra fat, especially since the samp grits are handmade by delicately cracking the corn kernels and add a nice nuttiness to the recipe. The result is a moister, more dense cornbread that is better for sopping than its crumblier cousin.
Samp Grits Cornbread
Serves 4
For the grits:
1 1/2 tablespoons extra-virgin olive oil
1/8 cup onions, diced
1 cup Geechie Boy Mill samp grits
3 1/3 cups water
For the cornbread:
1 1/2 cups Geechie Boy Mill samp grits, cooked (recipe below)
1/2 cup rendered bacon fat, melted
2 eggs
1 cup buttermilk
2/3 cup sugar
3/4 teaspoon baking powder
3/4 cup white cornmeal
1 cup all purpose flour
1 1/2 kosher salt
For the cultured butter:
4 1/4 cups heavy cream
2 tablespoons yogurt
Maldon salt, to taste
To serve:
Local honey
To prepare the grits:
Pour the extra-virgin olive oil into a pot and place over medium heat. Add the onions and sweat until fragrant, about 3 minutes. Add the grits and begin to toast slightly, about an additional 4 minutes. Add the water in small amounts, while stirring, until the grits are tender and the water has fully absorbed, about 25-30 minutes. Cool to room temperature and store in sealed containers.
To prepare the cornbread:
Preheat the oven to 375°F. Combine the grits, bacon fat, eggs and buttermilk into the bowl of a stand mixer fitted with a paddle attachment. Mix until the grits are well incorporated into the liquid, about 4 minutes. Meanwhile, sift the sugar, baking powder, white cornmeal, all purpose flour and  salt through a strainer.
Add the dry ingredients in three stages over the course of about 2 minutes, making sure not to over mix the batter as it will become tough. Pour it into a large loaf pan that has been prepared with non-stick coating. Place in the oven for 25 minutes, at which point, turn the loaf pan a half turn in the oven and bake for an additional 20 -25 minutes, or until the top and sides are golden brown. Remove from the oven and let stand for 25 minutes before slicing.
To prepare the cultured butter:
Place the cream in a saucepan and heat gently over low heat. Monitor the temperature and once it reaches 180°F hold at this temperature for an hour. Allow the temperature to cool over time and once the cream cools to 110°F, add the yogurt with a whisk, pour into a plastic container and hold in an area with an ambient temperature of at least 100°F for 12 hours. At this point, cool the cream in the refrigerator until it is completely cold, at least 3 hours. Place in a stand mixer fitted with a whip attachment and whisk on medium speed until the cream breaks and butter forms. Press the buttermilk from the butter using cheesecloth and cool in an ice bath. Whip the butter and season with Maldon salt.
Is there someone you'd like to see in the hot seat? Let us know in the comments below and if we agree, we'll do our best to chase 'em down.