Kate Krader (@kkrader on Twitter) is Food & Wine's restaurant editor. When she tells us where to find our culinary heart's desire, we listen up.
Last year when barman extraordinaire Jim Meehan did his list of the Top 10 New Bars around the country, I said it was one of the best times in recent memory to be drinking great cocktails.
 
I was wrong. This is the best time in recent memory to be drinking great cocktails, whether it's a perfectly stirred Negroni or a Cosmopolitan that you ordered after putting on your best shoulder-padded jacket. Drinking is more fun than it's been in a long time.
Here to tell you more is Jim Meehan, the manager of Manhattan's outstanding bar PDT and the editor of F&W's cocktail books.
To see more about what he's drinking, follow him on Twitter and Instagram at @mixography.

The Dead Rabbit Grocery & Grog - New York City (pictured above)
Sean Muldoon and Jack McGarry spent years researching for the Dead Rabbit, a multilevel tavern that seems to have time traveled to the heart of Manhattan's Financial District straight from the 1850s. The downstairs Taproom is the place for beers and whiskeys. The second floor Parlor has a menu with dozens of über-classic cocktails and communal punches; when you sit down, you're served an "appetizer": a teacup of a featured punch. The assortment of cool old-school cups even includes ones with mustache guards.
Twitter: @deadrabbitNYC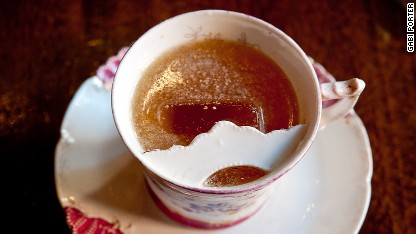 Pouring Ribbons - New York City
Over on Avenue B in Manhattan's East Village, Joaquín Simó, Troy Sidle and Toby Maloney opened this second-floor bar. The menu features 15 house drinks and 15 classics; they're arranged on a grid that lets you figure out your cocktail profile, from Refreshing to Spirituous and Comforting to Adventurous. The Two Trick Pony, made with whiskey, bourbon and the Champagne of beers is one of the more Adventurous drinks here.
Twitter: @pouringribbons
 
Range - Washington, D.C.
Chef Bryan Voltaggio's sprawling 300-seat restaurant has eight separate, fully functional kitchen stations that produce everything in-house for the adventurous menu. Barman Owen Thomson uses the restaurant's very cool resources to make the 25 house cocktails (he and his team choose spirits by blind tasting). Another thing I love about this place: It's one of the country's best new restaurants and best new bars. And it's in a mall.
Twitter: @volt_range
https://twitter.com/collins_jk/status/354009514665705474
Barmini - Washington, D.C.
For his first cocktail-centric spot, renowned chef José Andrés employs many of the avant-garde techniques that made his neighboring restaurant Minibar famous. (Don't forget he pioneered the Salt Air margarita, too.) Head bartender Juan Coronado scours the globe for antique glassware—some dates to the 1920s—for his classic and modern day concoctions. The table behind the bar, where bartenders work as chefs do, is genius. 
Twitter: @barminibyjose
Paper Plane - Decatur, Georgia
Behind Victory Sandwich Bar, a place that's known for it's Jack & Coke frozen slushies, is this sort-of hidden lounge with walnut veneer paneling and black vinyl booths. Local hero bartender Paul Calvert has a short, well-chosen cocktail list that ranges from sherry-based drinks to the Bottle of Smoke. It's a mix of mezcal, house-made raspberry syrup, lemon, Cynar and sparkling wine, and it's delicious with the wild striped bass panzanella, made with hunks of brioche seared in duck fat, from Paper Plane's food menu.
Facebook: facebook.com/paperplaneatl
No Vacancy - Los Angeles, California
Jonnie and Mark Houston spent three years restoring a century-old Victorian-era Hollywood house, then transformed it into an early 20th-century club that blends Wild West saloon with a gentlemen's club. The gin- and whiskey-forward cocktail list was curated by barman Sean Hamilton. He chose a dozen bartenders to contribute recipes for the opening menu. I gave them a white rum, lemon and ginger liqueur drink with a hit of curry. The entrance is the single greatest bar experience ever, but I won't ruin it for you. I will say that if you're going to have aerialist "dancers" at a bar, you might as well have it in L.A., where they know what they're doing.
Twitter: @NoVacancyLA
Trick Dog - San Francisco, Calfornia
In the Mission, San Francisco's hottest new bar shares the same space as a couple of the city's other cool spots, Sightglass Coffee and Central Kitchen. The two-story bar, the handiwork of Scott Baird and Josh Harris, features 25 house creations listed on a menu formatted like a 45 rpm record book (The Clash's "Bankrobber" is a Wild Turkey rye–based drink). Chef Chester Watson's concise bar menu—cracklins, shrimp cocktail with house Bloody Mary mix—is available late into the evening.
Twitter: @trickdogbar.com
Polite Provisions - San Diego, California
Behind the bar here is San Francisco drinks expert Erick Castro. The place is a craft cocktail bar with a beverage program modeled after an early 19th-century neighborhood soda fountain. The bar shares the same trendy address as Soda & Swine, a meat-focused concept by the Michelin-starred chef Jason McLeod. I'm not big on happy hours, but I'd hit this one, which runs from Monday through Thursdays.
Twitter: @politeSanDiego
Three Dots and a Dash - Chicago, Illinois
Guests entering the alley of this bar can follow a thin trail of blue lights to the entrance. Barman Paul McGee and chef Doug Psaltis headline the team behind this glammed up modern tiki bar, named after an old Don the Beachcomber cocktail. The beautifully illustrated menu features classic and modern tiki cocktails (including its namesake, made with aged rhum agricole, Guyanese rum, honey and falernum), along with large-format offerings that serve three to 12. A small food menu of island fare (luau chips, beef negimaki) is available, next to tikis gathered from former Trader Vic's outposts in Chicago. 
Twitter: @ThreeDotsCHI
Broken Shaker - Miami, Florida
Initially opened as a pop-up, Elad Zvi and Gabe Orta's Bar Lab team has made this South Beach's most soulful bar. Not that hard, but this is an all-time great bar. Located in the Freehand hostel, the Broken Shaker serves handcrafted cocktails prepared from ingredients grown in its own garden. The space is indoors/outdoors; you can sit by the pool and drink the Rhum and Funk, made with Cocoa Puffs–infused rhum agricole. 
Twitter: @FreehandMiami
More from Food & Wine:
Best Fried Chicken in the U.S.
Outrageous Bacon Burgers
Spectacular Ice Cream Spots
Best In-Store Restaurants
Best Summer Restaurants
© 2011 American Express Publishing Corporation. All rights reserved.