Cold brew coffee is hardly a new innovation and neither are pre-packaged options. Canned and bottled coffee just makes sense for convenience's sake. Shelves are increasingly stocked with java-based beverages including sweet, flavored Frappuccinos, no-nonsense Italian espressos and the wealth of Japanese canned coffees that have been distributed since the 1960s.
Now bottled cold brew coffee, made by a longer and more expensive process, is taking off.

Cold brew coffee is brewed in room temperature water, rather than hot. This results a concentrate that is then combined with cold water and ice. This is a more involved process than making "iced coffee," which is generally hot-brewed, cooled and poured over ice.
The brewing typically takes 12 or more hours to complete. Since extraction is simply the dissolving of coffee grounds, it makes sense that this different timing alters the final flavor. The longer extraction opens up new flavors that before, may have been masked by iced coffee's acidity. The process yields something lighter in color and taste, and it may even seem sweeter.
Stumptown Coffee Roasters has distributed bottled cold brew across the U.S. since 2011. Their "Stubbies" are available in Stumptown locations, as well as in other specialty stores and larger retailers like Whole Foods Market.
In the past year, brewers across the board, including Birch, La Colombe and others, have begun bottling their versions. On the ground of these larger companies' success, Ports Coffee & Tea Co. is barreling forward. This unassuming New York shop released their first bottled brew just last month and with it, a pre-packaged latte.
"We've been making cold brew since the beginning," said manager Urban Eisley, who has been with Ports since 2011. Eisley and his staff only select in-season coffees and fresh beans, and only produce enough bottles to keep their customers happy.
"It's a small operation. It's all hand-bottled, super small batches." So, while this week, you may get an Ethiopia Chelba, next week will be the fresher, tried and tested option.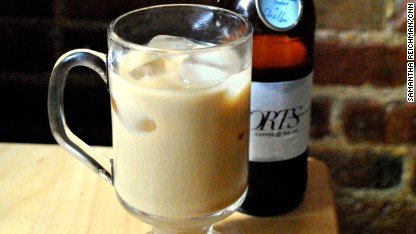 But it's the bottled "cold brew latte" - especially made with dairy milk, rather than nut milk - that has rarely been seen before. Reconstituting cold brew concentrate with milk, not water, produces an approachable, easy-to-drink latte.
"I see a cold brew latte becoming the standard," said Eisley. In line with Ports' observation that the bottling trend has picked up with surprising speed, they predict that the cold brew latte boom will inevitably follow, and they wanted to be there at the start.
Revolucion Coffee + Juice in San Antonio, Texas is also at the forefront of the nascent movement and recently introduced a cold brew latte, available with organic dairy and non-dairy options, as well as one sweetened with organic coconut palm sugar. A blog post touts the benefits of the lower-acid cold brew for people who have digestive issues, or just plain old drink a lot of coffee throughout the day.
And with easy-sipping cold brew lattes just a bottle top away, it's not hard to see why more coffee drinkers might crank up their consumption of this cool new caffè.
No cold brew shipping to you yet? Ross Beamish of Caffé Vita advised in this Eatocracy tutorial:
Start with a clean, dry French press (6 cup or larger) and add one half pound of coarsely ground coffee. (Conveniently, a French press grind works optimally.) Add 5 cups of cold, filtered water and stir gently. Cover the top of the press with a towel or plastic wrap and let it sit (brew) for 8 hours.

After the brew time has completed, plunge the French press as normal. You'll want to select a vessel to decant the coffee into, a mason jar with a lid works well. Pour the brewed coffee through a mesh strainer into the container and store in the fridge, the brew will keep well for up to a week.

To serve, dilute two parts cold filtered water to one part cold brew and serve on ice. You can dilute the cold brew with milk for a creamier product.
Previously:
Got a minute (or three or four)? Perfect your coffee pour-over
Want great coffee for less? Take matters into your own hands