Editor's note: Video by Jeremy Harlan, CNN photojournalist; text by Sarah LeTrent, Eatocracy editor.
Some residents of Grand Isle, Vermont, don't want to talk about what happened in that blue building on Pearl Street. Others have an awful lot to say on the matter.
A cattle trailer, spray-painted in red with the Animal Liberation Front's acronym "ALF," still sits out front of the complex now shrouded in overgrown weeds.
It's an eerie reminder of the events just four years ago that thrust this tiny town of fewer than 2,000 people into the national spotlight.
In October 2009, the now-deserted structure – which once housed the veal processing plant Bushway Packing Inc. - was permanently shut down by the U.S. Department of Agriculture after an animal protection organization, the Humane Society of the United States, revealed an undercover video showing plant workers kicking, dragging, stunning and skinning live calves that were less than a month old.
It was yet another blow to the U.S. veal industry, which has long been mired in conflict with animal welfare groups because of its use of crates to restrain the calves' movement.
According to the American Veterinary Medical Association, consumers seldom cite animal welfare as a concerning food issue but express it as "a matter of high concern" for veal.
But just 40 miles from where that horrifying video was filmed in Grand Isle, in the small town of Fairfield, Vermont, the folks behind Stony Pond Farm are among a number of smaller-scale dairy farmers trying to persuade consumers and fellow farmers alike to think outside the pen when it comes to veal – and they're aiming to make more humane rearing and slaughtering practices an industry standard.

By definition, veal is the flesh of young cattle. It stems from the Latin word vitellus, meaning small calf. Veal has always been viewed as a high-end product; in Roman times, the ability to slaughter an animal before it reached its full potential was a sign of wealth. It's a staple in Italian and French cuisines, but over the course of the past three decades, it's become almost taboo in the United States.
"I don't even know how many folks knew why they didn't eat veal," Stony Pond's Tyler Webb said of his first trip to the Burlington Farmers' Market to sell his veal cuts. "They just knew you weren't supposed to."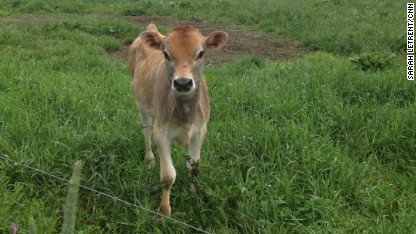 The answer isn't hard to come by: The crating system of commercial veal production has become a major point of contention for American consumers.
"When veal became popular at the end of World War II and as consumers became interested in what was a very popular food in Europe, farmers began to adopt new technologies to expand food production," said Beth Anne Mumford, spokeswoman for the American Veal Association.
"The individual stalls were designed to provide for individual care and would also limit the potential for disease transfer from one young calf to the next."
According to the American Veterinary Medical Association, individual pens for veal calves are the norm (the typical dimensions are 22 inches wide by 54 inches long). The cows are removed from their mothers within a few hours to a few days after birth and placed on a milk replacer of 40 essential vitamins and nutrients.
Calves are often tethered to prevent mobility for cross-sucking - when calves suck at each other's bodies or heads - an abnormal behavior that calves can develop when they're weaned off milk and need oral stimulation.
Because they are not typically fed mother's milk and don't graze, crate-raised calves lack iron and therefore produce a much paler, almost white meat when they're slaughtered between 18 and 20 weeks (PDF).
"Stalls that greatly restrict the behavior of calves are not an adequate housing system," wrote animal scientist Pierre Le Neindre in the Journal of Animal Science (PDF). "If the crates are small enough to prevent calves from lying in a comfortable position, they also impair the welfare of calves and lower their growth rate and disease resistance."
Such veal crates have been banned in England since 1990 and the European Union since 2007. Several U.S. states have also banned their use, including Rhode Island, California, Arizona, Michigan, Maine, Ohio and Colorado.
"Clearly, the veal crate has become the paradigm of factory farming and animal abuse for many decades," said Paul Shapiro, the vice president of farm animal protection for the Humane Society of the United States.
The Food Safety and Inspection Service rebuts that assertion, saying that individual stalls provide individual care so long as the calves can stand, stretch, lie down and groom themselves, but there are no federal regulations in place to dictate the size of the individual pens.
Veal's bad rap didn't stop Webb from entering the fray, but he's preaching a model of production that he contends is more humane.
Webb has operated Stony Pond with his wife, Melanie, since 2002. In 2004, he resigned from his job with the Natural Resources Conservation Service to focus full-time on the family-owned, certified organic farm. Organic certification means Webb's farm complies with USDA organic regulations and allows him to sell and label his products as organic.
When the economy turned sour at the height of the recession, organic milk sales suffered. Families looked to save money on groceries and opted out of organic products, while operating costs for producers continued to rise.
Webb's cooperative, Organic Valley, decided to send less of its milk into the consumer supply instead of lowering the price or culling the herd.
"One of the ways that we thought we could contribute to the benefit of the co-op as a whole was to figure out how to divert some of the milk of the fluid sales market and add some value to it," Webb said.
For Webb, the answer was to pasture-raise veal calves on a whole-milk diet, supplemented with a little organic grain. He raised 15 calves that first year to rave reviews and has been doing it ever since. This year, he has 15 more, ranging from 2 to 4 months old.
"Some chefs and farm partners really stepped up and said that 'if you guys are going to do it, we're going to buy it,' " Webb said. "There wasn't a lot of risk for us. Now, we're guaranteed to sell everything that we're going to raise."
For dairy farmers like Webb, pasture-raising veal is a two-fold solution: The method adds value to the male calf, typically perceived by the industry as a byproduct; and as a sustainable farmer, he can allow his calves to express their natural tendencies by freely grazing in the sun.
"It took an education on our part and an open invitation for folks to come see what we were doing and come see the animals running around," Webb said.
On dairy farms, female calves are typically preferred and groomed to join the milking herd, while male calves are either auctioned to veal houses or killed at birth; only a small number are reared as beef.
Nowadays, dairy farmers can even sort the X- from the Y-bearing sperm to guarantee a heifer. On farms that use sexed semen, 80% of calves born are female, said Diane Bothfeld, the deputy secretary of the Vermont Agency of Agriculture. The ratio used to be 50-50.
"We often say we're managing this ecological, ethical and economic balance," Webb said. "And we recognize that the veal calves are part of that and honor them by giving them the best life that we can for that four-month period that they're with us."
While optimistic about change, Webb understands consumer reluctance – not because of the age of the animals (noting that chickens, pigs and lamb are roughly the same age at slaughtering) but because of the way many veal calves are raised.
Things are only further complicated for the consumer because the USDA offers no clear definition of veal. The Food Safety and Inspection Service says "veal" can mean (PDF):
Calf: A calf is a young bovine of either sex that has not reached puberty (up to about 9 months of age) and has a maximum live weight of 750 pounds.
"Bob" veal: About 15% of veal calves are marketed up to 3 weeks of age or at a weight of 150 pounds. These are called bob calves.
"Special-fed" Veal: Special, milk-fed and formula fed veal calves usually are fed nutritionally balanced milk or soy based diets. These specially controlled diets contain iron and 40 other essential nutrients, including amino acids, carbohydrates, fats, minerals and vitamins. The majority of veal calves are special-fed.
Now, there are pasture-raised veal producers like Webb to add to the bullpen.
"We often use the tagline 'this isn't your grandmother's veal' as we're marketing the product," Webb said. "It's not fair for anything to be locked up in a dark space, unable to turn around. ... Food without a conscience is a sad, sad reality."
For the Humane Society's Shapiro, pastured veal is certainly moving in the right direction when it comes to animal welfare, but he wants to see the bar continue to rise. Another big concern, he says, is how soon the calves are taken from their dairy cow mothers.
According to the standards set by Humane Farm Animal Care, a nonprofit certification organization, a "humanely raised" calf must receive colostrum - nutrient-dense first milk - from its mother, a replacement heifer or a frozen source within six hours of birth.
Webb raises both his veal and the replacement heifers on bottles filled with whole raw milk, but they do get the colostrum from their own mothers right after birth.
Consumers have long been paying attention to controversial practices in the wider industry: Both production and consumption of veal have been rapidly dropping for nearly four decades, according to the USDA.
U.S. production of veal totaled 126 million pounds in 2012; compare that with a staggering 911 million pounds in 1975.
In 1944, veal consumption was at an all-time high of 8.6 pounds per person, but 1988 was the last year consumption was more than one pound per person. By 2008, Americans were consuming only about 0.3 pounds of veal per person yearly, according to the USDA's Economic Research Service.
Lisa Weeks is one of those meat eaters who has excluded veal from her diet. The 33-year-old New Yorker grew up with a European mother who did not agree with how commercial veal was raised.
"It stuck with me," she said.
"While I would not be against trying humanely raised veal, I think there are plenty of other options to cook and eat instead."
Unsurprisingly, the veal industry has started to recognize it has an image problem.
Jurian Bartelse, president of the American Veal Association, also processes about 3,000 veal calves each year at Provitello Farms in Elba, New York.
The board of the American Veal Association adopted a resolution in 2007 recommending that all veal producers in the United States convert to group housing by 2017. In group housing, the calves are still kept indoors but are allowed to interact with each other and roam freely within the pen. Bartelse says the association recommends about 20 square feet per calf.
In 2012, the association said that 70% of calves raised by its members had made the transition. The association represents four of the five leading packers/processors and three of the five leading producers, according to Mumford.
Small, independent farms might find making the changes cost-prohibitive, Mumford wrote in an e-mail.
The association also adopted a statement of ethical principles and code of conduct in 2010 to "confirm an industry commitment to 'veal raised right,' " according to an American Veal Association press release.
Bartelse says that despite popular perception, the mobility of the calf has no real influence on the tenderness of the meat. So why isn't every dairy farmer following the pasture-raised approach?
"I think that would change the whole product that we're producing," Bartelse said.
For smaller dairy farms, he said, it's easier to sell the male calves to an auction barn, which will in turn send them to a commercial veal operation, than to invest in them.
Bartelse considers Webb's veal "more of a niche product." According to USDA Market News, in May 2013, 750 non-formula-fed veal calves were slaughtered under federal inspection; this is compared with 27,323 bob calves and 26,233 formula-fed calves. And in 2012, 118 million pounds of commercial veal were in the supply, compared with 8 million pounds of farm veal.
Webb agrees. "We're lucky, but I think it's a challenging proposition," he said. "It's really going to take more awareness and more consumer demand to attract the entrepreneur who might be able to unite farms together into producing more sustainable humanely-treated veal."
Natural rearing methods can translate into a better product. Webb's veal is pinker in color than the commercial variety; pasture-raised veal is often referred to as rose veal for this very reason. The cuts are usually smaller and have a more delicate taste.
According to a study by the Center for Agricultural Development and Entrepreneurship (PDF), a New York nonprofit, pasture-raising livestock isn't free from its own challenges, like a 20% to 100% increase in the time it takes to raise an animal to market weight, fewer established distribution channels, increased pasture rotation, more fencing and fewer veterinarians who specialize in grass-based nutrition.
John Delpha, chef and owner of the Belted Cow Bistro in nearby Essex Junction, Vermont, said he became interested in humane veal during his travels in northern Italy, where he encountered a rosier-colored veal with a delicate flavor and creaminess.
Delpha met Webb at the Burlington Farmers Market and noticed the veal meat in a small cooler behind Webb's stand. Delpha took it back to his restaurant and cooked it; he's been hooked ever since.
"This veal is as tender as any veal you're ever going to know," Delpha said. "And this veal walks in fields; they kick at each other; they jump. They have a good time."
Delpha is having a hard time keeping up with demand, but for Webb, remaining small is a conscious decision.
"We want our farm to remain the size that we have, so that the level of integrity of what I'm putting on my family's plate is the same quality to hopefully get to your family's plate," Webb said.
Both men say they're optimistic that as more consumers get a taste for pasture-raised veal, more dairy farmers will be convinced to join the herd.
How do you feel about veal? Would you eat it if it was pasture-raised? Share your thoughts in the comments below, or weigh in on Facebook or Twitter with @Eatocracy using the hashtag #vealgood or #vealbad.