5@5 is a food-related list from chefs, writers, political pundits, musicians, actors, and all manner of opinionated people from around the globe.
Editor's Note: Christophe Hille and Chris Ronis are the chief operating officer and managing partner, respectively, of Northern Spy Food Co. in New York City. Follow them on Twitter @nothernspyfood.
Borrowing from that old saw, "If life gives you lemons, make lemonade," we say, "When the community board denies you a full liquor license, make aperitif cocktails."
We discovered a whole world of crafty and delightful drinks that are stronger and weirder than wine, perfect for creating cocktails or enjoying alone. Most are variations on a theme: a base of wine, fortified with grape spirits or brandy to reach 15-20% alcohol by volume and flavored with an array of complex and highly-guarded herbs, spices, fruits and aging regimes.
Some, such as sherries, are their own category of wine, with long-established rules governing grape varieties, region of production and classification. To find these beverages, wander to where your local liquor store keeps the bottles that seem to belong in your grandma's booze cupboard. Below are a few of our favorites and cocktail recipes to go with them.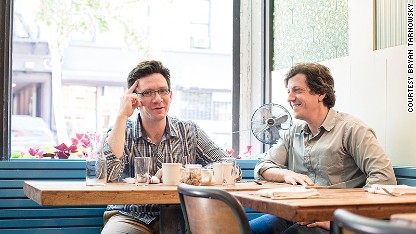 1. Lillet Blanc
We'll start with Lillet Blanc, one of the easiest to find bottles and, for some people, the "starter" aperitif wine. Snobs might turn their nose up at it and say that it's not what it used to be prior to 1986, when it was called Kina Lillet and was more alcoholic and bitter. Ignore them. People smart enough to order it are enjoying themselves just fine. It's perfectly sweetened, pleasantly boozy for an aperitif and marked by a unique bitter orange flavor. We use it throughout the year in our cocktails, as in this spicy watermelon drink we call the Salvadoran Fence (our restaurant space was once a Latin American nightclub that sold stolen electronics out of the basement):
Salvadoran Fence
2 ounces Lillet Blanc
1/2 ounce Punt e Mes Aperitif (Viable substitute: Carpano Antica)
1 ounce watermelon juice or a few big chunks of ripe watermelon
1/2 ounce simple syrup*
Sliced jalapeno
Torn basil leaves
Squeeze of lime juice
2 dashes Angostura bitters
*To make your own simple syrup, take equal parts sugar and water, and simmer until the sugar is completely dissolved.
Muddle the torn basil, a slice of jalapeno, a squeeze of lime juice and the chunks of watermelon in the bottom of a mixing glass. Add the rest of the ingredients and cracked ice, shake well, and strain over ice into a tall Collins glass. Garnish with a basil leaf and slice of watermelon, or some pieces of pickled watermelon rind if you want to win the local mixologist competition.
2. Manzanilla sherry
It is no exaggeration to say that if you enjoy great food - whether New American, regional Italian, Bengali, modern Spanish, old-fashioned German or Southern barbecue - and you're not considering sherry as a companion beverage, you're missing out. With the exception of the wonderful world of Rieslings, no other wine category exhibits such a range of aromas, styles and compatibility with food. But, sherry isn't just another hallowed wine variety for reverent sipping. The lighter and younger styles make terrific foundations for more party-oriented outings. The East River Defense is one of the original cocktails that our friend Erick Castro, the bartender and proprietor of Polite Provisions in San Diego, created for us. It's essentially sherry lemonade with a whiff of a salty sailor. We serve it year-round.
East River Defense
3 ounces Manzanilla sherry (recommended brand: Lustau)
1 ounce fresh lemon juice
1 ounce simple syrup
3 dashes grapefruit bitters (recommended brand: Scrappy's)
A dash of sea salt
Combine the first four ingredients in a mixing glass. Shake gently on ice (avoid diluting too much with long mixing). Fill a tall Collins glass with ice, sprinkle sea salt on the ice and strain the cocktail over it. Garnish with a grapefruit peel.
3. Cocchi Americano
Cocchi Americano is the advanced version of Lillet, what some aficionados (read: "booze geeks") say is a close approximation of the original Kina Lillet. Cocchi has complex, bitter flavors provided by gentian root, strange barks, orange peels and who knows what else. It provides great viscosity, which is sometimes a problem with aperitifs that don't have much more booze or body than normal wine. This simple cocktail is inspired by one of the finest beverages known to man, the gin and tonic. Our riff on that, with the addition of celery juice, yields something that is similarly thirst-quenching and fortifying, like a boozy and dry hybrid of Cel-Ray and Fresca, where the natural salinity of celery shines.
Celery Tonic
1 ounce Cocchi Americano
1 ounce dry vermouth (recommended brand: Dolin)
1 ounce celery juice (use any macerating, centripetal or Champion-type juicer)
Squeeze of lemon
Soda
Lemon twist
Pour the first four ingredients (chilled) into a rocks glass, top with a splash of soda and the lemon twist. Enjoy the waves of refreshment.
4. Ransom Dry Vermouth
Ransom, an Oregon wine and spirits producer probably best know for their Old Tom gin, is leading the charge in new American vermouths. Their version comes closest to achieving the delicate balance found in centuries-old recipes that is sometimes missing from more overtly spiced American vermouths. But it's no shrinking violet, with its strong notes of fennel, star anise and citrus peels. We use the Ransom in an interpretation of an absinthe drink called a Duchess, originally a mix of absinthe or related alcohol (e.g. Pastis) with one dry and one sweet vermouth. Out of respect to the classic, we call ours The Dutchess. A light and aromatic drink, it's a good example of a straight aperitif cocktail:
The Dutchess
2 ounces Ransom dry vermouth
1 ounce dry vermouth (recommended brand: Dolin)
1 ounce sweet vermouth (recommended brand: Dolin)
Stir on ice and strain into a coupe glass. Garnish with a lemon twist.
5. Vergano Americano Chinato
We'll wrap up with the most obscure aperitif of the bunch and the simplest of preparations. Vergano Americano perfectly sums up the mystique and esoteric appeal of these drinks. It's made by an old Italian chemist/oenologist, Mauro Vergano, who was fascinated with the 19th century Italian aperitivo-style called Chinato. The recipe is his own invention, no one else knows it and it may well die with him. The result of his peculiar genius is spiced and herbal, rich and bitter enough to be a digestif but light enough to work perfectly as an aperitif
Pour Vergano Americano over a glass of ice, and hit it with a splash of soda and an orange twist. Soak in the magic of controlled tinkering, an age-old tradition that we ought to toast to daily.
Previously:
Meet for a julep at gin o'clock
Rules of Pegu Club
Hop on the Punch Wagon
Master the Sazerac cocktail
Is there someone you'd like to see in the hot seat? Let us know in the comments below and if we agree, we'll do our best to chase 'em down.