Editor's Note: This evening Anthony Bourdain fills in for Piers Morgan, hosting a live show, at 9 p.m. ET on CNN.
The summer of 2013 will be remembered for a few things: Robin Thicke's "Blurred Lines," the birth of a royal baby and Cronuts.
Since Cronuts hit the market in May, dessert aficionados have lined up outside Dominique Ansel Bakery in New York City - even before sunrise - for their chance to snag two of the croissant-doughnut hybrids.
The Cronut even made its way through New York's other impossibly long line for the Museum of Modern Art's Rain Room.
But in spite of the year's great Cronut craze, Dominique Ansel wants you to know that he is more than just the "Cronut guy." Tonight, Ansel will set the record straight with guest host and Cronut virgin Anthony Bourdain on Piers Morgan Live, along with chef superstars Mario Batali and Eric Ripert.

For the record, Ripert, the Michelin-starred chef of Le Bernardin, is a loud and proud Cronut fan.
Cronuts may have made Ansel a household name, but the chef was already established in New York's pastry scene before he developed one of the food world's tastiest combination since peanut butter and jelly.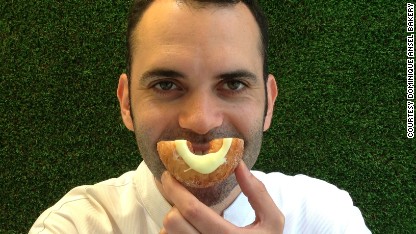 After working as the executive pastry chef at the flagship restaurant of chef Daniel Boulud, Ansel opened up his own bakery in 2011 and unveiled his own version of the kouign amann, a decadent butter cake from Brittany, France.
The DKA, short for Dominique's kouign amann, may not sound as sexy as the Cronut, but it quietly outsells the pastry hybrid.
While the Cronut has so much cachet, many are left wondering why Ansel continues to operate his business as usual. Production is still limited to only 250 Cronuts a day, with a sale limit of two per person. Bakers around the world want Ansel to share his wealth, and the Cronut has spawned copycats in cities like Miami and Las Vegas; even the residents of Sydney, Australia, can get their own Zonuts.
But for now, Ansel is happy to run his own bakery instead of globalizing the Cronut.
"I love Cronuts," he said. "I just don't only love Cronuts. The thought of not having any time to invent or create new desserts and to be in a factory all day just managing the production of Cronuts is not what I want as a life choice."
At the end of May, Kevin Roose of New York Magazine, wrote in a blog post that Ansel was making the wrong business moves: "What he needs to do is stop making other pastries immediately and focus on getting his Cronut business big, fast."
Ansel retorted: "As a chef, you want to be able to look at your fellow chefs and stand tall, not feeling like you sold out."
Ansel prides himself on his creativity over "stamping out as many Cronut shops as I can." That creativity even earned him a nomination for the James Beard Award for Outstanding Pastry Chef earlier this year.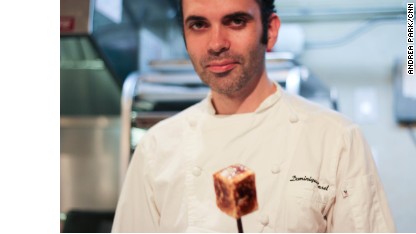 Just two weeks ago, Ansel debuted the frozen s'more - or what he calls a "chewy ice cream" - setting the food blogosphere on fire once more. Bloggers have crowned it the new Cronut, but doing so discounts what Ansel has for his next trick.
"[That] would kill the spirit that led us to invent the Cronut in the first place and prevent all our future creations from ever coming to life," Ansel said.
Watch Piers Morgan Live weeknights 9 p.m. ET. For the latest from Piers Morgan click here.