Kate Krader (@kkrader on Twitter) is Food & Wine's restaurant editor. When she tells us where to find our culinary heart's desire, we listen up.
Krispy Kremes are the iconic, yeasty, sweet doughnuts beloved around the country. Sloppy Joes are the retro, no-frills ketchupy ground beef sandwiches that are invariably served on hamburger buns.
It was only a matter of time before someone decided to combine the two.
Sadly, you've missed your chance to sample the Krispy Kreme Sloppy Joe Sandwich, at least in the way that its creator - Chicken Charlie's concession stand at the San Diego County Fair - intended it. The fair concluded on July 4. But you can dig into any number of other inspired dishes at other great state fairs around the country while you await Chicken Charlie's owner Charlie Boghosian's long-rumored cookbook.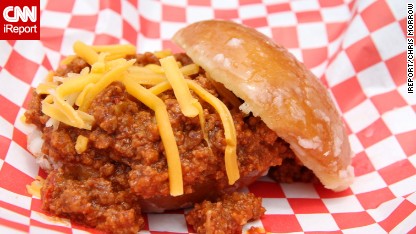 Craz-E Burger
The Big E: West Springfield, Massachusetts
At this point, a burger on a glazed doughnut sounds almost classic. One of the must-try dishes at this fair, which goes from September 13–29, is The Big E's Original Craz-E, a bacon cheeseburger served between a halved glazed doughnut. The Big E is also celebrating the sandwich's 250th birthday with 250 sandwich offerings, including Fried PB&Js, Alligator Cheeseburgers, Fried Bologna Sammies with Onions and Fried Fluffernutters.
Deep-Fried Butter
Iowa State Fair: Des Moines
The Iowa State Fair knows how to provide for its million-plus visitors. Their website helpfully provides a list of the 57 foods-on-a-stick that were offered at the 2012 fair. That list includes fried butter (a slab of frozen butter enclosed in funnel cake batter), deep-fried cupcakes and double-bacon corn dogs (a hot dog wrapped in bacon and deep-fried, then dipped in bacon-bits batter and deep fried. Again.). The Healthy Food Choices list is admittedly shorter than the foods-on-a-stick list, but it does include Salad on a Stick, a mix of iceberg lettuce, carrots and tomatoes on a stick, served with dressing.
World's Largest Popcorn Ball
Indiana State Fair: Indianapolis
On August 3, the Indiana State Fair will unveil what it claims is the biggest popcorn ball anyone has ever seen. Weighing in at 5,200 pounds, the ginormous corn ball will be on display through August 18, when the festivities end. The State Fair team has declared 2013 to be the Year of Popcorn, in honor of Indiana's ranking as the country's #2 popcorn producer. Look out for lots of popcorn snacks (Reese's Peanut Butter Cup popcorn was big last year) and a popcorn maze, too.
 
Picnic on a Stick
State Fair of Texas: Dallas
A Picnic on a Stick could be so many things. Here's what it is to the folks in Texas: Pieces of spicy fried chicken, tater tots and slices of dill pickle are skewered on a stick, and then the whole thing is dipped in batter, rolled in bread crumbs and fried, served with choice of barbecue sauce, ranch dressing or honey mustard. It was a 2012 Big Tex Choice Award Finalist last year, and it's back for this year's fair, which runs from September 27–October 20.
New to the fair this year are Fried Sugar Cubes, which are double-dipped in chocolate or vanilla batter (or both!), then deep-fried and topped with chocolate, caramel or fruit sauce.
Fried Kool-Aid Balls
San Diego County Fair: Del Mar, California
Chicken Charlie's concession stand has already distinguished itself by serving the Krispy Kreme Sloppy Joe Sandwich. This being California, it also offers Fried Avocados, as well as less "healthy" options, like Fried Klondike bars, Fried Twinkies and Fried Kool-Aid balls, which consist of balls of batter mixed with Kool-Aid powder and bathed in hot oil.
More from Food & Wine:
Outrageous Hot Dogs
Wacky Fair Foods
Best Burgers in the U.S.
Ultimate BBQ Cities
Best Ice Cream Spots in the U.S.
Read - The deep-fried belly of the fair food beast
© 2011 American Express Publishing Corporation. All rights reserved.