Editor's Note: In the midst of a record-breaking heat wave, we could all probably use a cold drink. Here to help us are Karl Injex and Navarro Carr, the owner and bar manager respectively of the Sound Table in Atlanta.Visual aids provided by Mark Hill, the Director of Photography for Turner Broadcasting.
You are probably acquainted with the mint julep, made with Kentucky bourbon and often enjoyed while sporting an elaborate chapeau at the Churchill Downs Racetrack.
The Genever julep is its lighter-spirited relative; substituting gin for the brown water. (Genever, sometimes referred to as Holland or Dutch gin, is oak-aged and less dry than the later styles like Old Tom gin.)
A heap of crushed ice keeps the drink frigid, while the mint adds a tongue-tingling sensation.  Fun fact: Menthol, the organic compound in mint, stimulates the same nerve receptors in your mouth that cold temperatures do - hence the cooling sensation.
Despite the urge to gulp down anything cold in a glistening arm's reach, sipping is advised.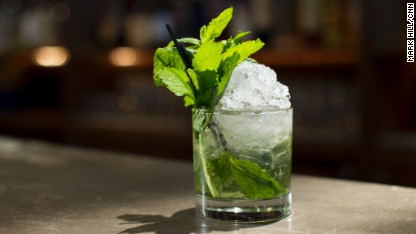 You'll need:
Equipment
Rocks glass (sometimes called a lowball or Old Fashioned glass)
Muddler
Crushed ice
Bar spoon
Jigger
Ingredients
1/4 oz simple syrup
10 mint leaves (plus a sprig for garnish)
2 oz Genever-style gin
Ice
Steps for success:
1. In a rocks glass, add 1/4 oz simple syrup.
2. Add 10 fresh mint leaves.
3. Gently muddle (or crush) the mint leaves and simple syrup. (If you do not have a muddler, you can use a wooden spoon or some other blunt kitchen tool).
4. Add the Genever-style gin.
5. Fill the glass halfway with crushed ice.
6. Stir with a bar spoon.
7. Top off with more crushed ice, garnish with a mint sprig.
8. Enjoy through a straw.
Previously:
Rules of Pegu Club
Hop on the Punch Wagon
Master the Sazerac cocktail