While Pat LaFrieda Jr.'s notable sandwich has cheese, steak and onions on toasted bread, it's definitely not a cheese steak. It's in a league of its own.
"This has nothing to do with Philly cheese steak," LaFrieda said, with an air of pumped-up regional pride.
The third-generation butcher conceived the sandwich as a hat tip to the Brooklyn sandwich shops he grew up visiting.
The sandwich features black Angus beef topped with Monterey Jack cheese and caramelized onions, and served au jus on a toasted baguette. It debuted at LaFrieda's concession stand in 2012 at the New York Mets' Citi Field, and hungry fans have formed a meaty, cheesy, greasy bond with it ever since.
While filet mignon (a very tender cut from the small end of the tenderloin) may seem extravagant, LaFrieda says it's a natural choice for the sandwich. If the beef is too tough, the whole piece of steak will pull out of the sandwich with one bite, so tenderness is key.
Here's how to make the heavy hitter at home.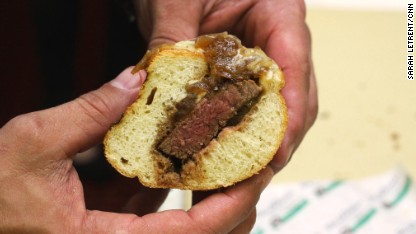 LaFrieda Filet Mignon Sandwich
Makes 1 sandwich
4 Tbsp olive oil
2 sweet onions, sliced
1/8 tsp turbinado sugar (you can substitute brown sugar if you don't have turbinado)
1 tsp kosher salt
6-ounce filet mignon (cut into three 2-oz portions)
2 slices Monterey Jack cheese
1/4 cup beef stock
1/8 tsp balsamic glaze*
1 6-inch baguette
*Store-bought balsamic glaze is available at most grocery and specialty stores. If you prefer to make your own, bring balsamic vinegar to a boil in a small saucepan. Reduce the heat to a simmer, and cook until thick and syrupy, about 10-12 minutes. Store excess at room temperature.
Cooking directions:
Heat 3 Tbsp olive oil in a large skillet over medium heat. Add the sliced onions and cook until they are golden-brown and caramelized - about 20 minutes. Be careful not to burn as this will impart a bitter taste. Set the onions aside.
For the jus: Heat up a rich beef stock. Finish with 1/8 tsp balsamic glaze. Reserve and keep hot.
Season the medallions with kosher salt and turbinado sugar.
On a flat skillet, heat the remaining oil and sear the filet mignon medallions - about 1 to 2 minutes per side. Set aside.
Take 4-5 ounces of the caramelized onions and place onto a pan to heat up. Cover the onions with 2 slices of Monterey Jack cheese and allow the cheese to melt over the onions.
Toast the baguette so that the outside is hot and crusty.
Slice the baguette lengthwise, leaving halves attached on one side (like a hinge).
Ladle 2 ounces balsamic jus on the inside of the top half of the baguette.
Place the filet mignon medallions on the bottom of the baguette.
Finish by topping the medallions with the caramelized onions and cheese.