5@5 is a food-related list from chefs, writers, political pundits, musicians, actors, and all manner of opinionated people from around the globe.
We're positively slab-happy it's summer. There's something inherently appropriate about spending the longer, sunnier days at a picnic table, unabashedly attacking a rack of smoky, pink-tinged ribs with the exhilaration of 300 Spartans.
Perhaps no one shares that sentiment more than Myron Mixon, champion pitmaster, cookbook author and chef/owner of the Pride & Joy Bar B Que restaurants in Miami and New York City.
His pointers for remarkable ribs will stick with you long after you've finished reading. Pro tip: Don't forget the wet naps.
Five Tips and Tricks for Mouthwatering Ribs: Myron Mixon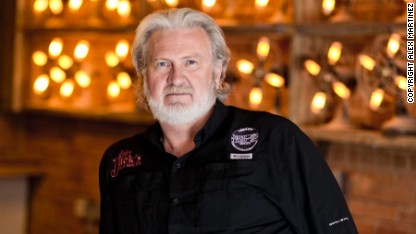 1. Rib novices should start with Kansas City-style ribs, which are the long bones from the lower part of the hog's belly behind its shoulder. They're an inexpensive, easy-to-find cut in any supermarket or butcher shop, and they have the breastbone and skirt already removed. This means they're trimmed already and come with no excess membranes or fat, making them extremely easy and less time-consuming to handle and cook.
2. To get that all-important glistening look on your ribs, smoke them for 30 minutes then spritz them with a simple solution of half water, half apple juice at 15-minute intervals for the duration of the cooking time. It keeps them sweet, moist and beautifully mahogany.
3. When you're cooking beef ribs, the large, so-called "dinosaur bones" of the barbecue world, you don't need to marinate them. They come from one of the most marbled areas of the cow, which means they're loaded with natural flavor already.
4. Cook your ribs uncovered, but aside from the 15-minute spritz intervals, do not open your smoker or oven if you don't have to. Every time you open it, you lower the temperature inside it by about 5 degrees or so. It'll take several additional minutes of cooking time to make up for that loss of heat. And when you're cooking barbecue, it's very important to maintain a consistent temperature.
5. Let those ribs rest gently covered with aluminum foil either in the pan you've smoked them in or on a cutting board for at least 20 minutes. If you do not let the meat rest, it's not going to be worth a damn. It has to rest after you cook it so that the flavor can come back into it.
You've got to let it rest right in its own juice, which allows the flavors to concentrate, the texture to solidify and the temperature to regulate throughout the rack. Never skip this step, no matter how much of a hurry you may be in to get your food on the table.
The Only Barbecue Rub You'll Ever Need
Makes just under 2 cups
1 cup packed light brown sugar
2 Tbsp chili powder
2 Tbsp mustard powder
2 Tbsp onion powder
2 Tbsp garlic powder
2 tsp cayenne pepper
2 Tbsp kosher salt
2 Tbsp freshly ground pepper
In a large bowl, combine all the ingredients. Stir thoroughly to combine. You can store this rub in an airtight container for up to one year.
The Only Barbecue Marinade You'll Ever Need
Makes 1 quart
3 cups apple juice
1 cup distilled white vinegar
3/4 cup sugar
3/4 cup kosher salt
In a large, heavy saucepan, combine the apple juice and vinegar and whisk over medium heat. Whisking continuously, pour in the sugar and salt. Continue whisking until the seasonings are completely dissolved, but do not allow the mixture to come to a boil. Remove the pan from the heat and cool completely. If reserving for a later use, use a funnel and pour the marinade into a large bottle or container. You can store this marinade in a tightly covered container in the refrigerator for up to one year.
Recipes excerpted from Everyday Barbecue: At Home with America's Favorite Pitmaster by Myron Mixon with Kelly Alexander (Ballantine Books). Copyright © 2013.
Is there someone you'd like to see in the hot seat? Let us know in the comments below and if we agree, we'll do our best to chase 'em down.
Psst! Check out the rest of Eatocracy's grilling advice.