5@5 is a food-related list from chefs, writers, political pundits, musicians, actors, and all manner of opinionated people from around the globe.
Say the name "Franny's" to any pizza-loving New Yorker, and they'll grow visibly excited. Francine Stephens and Andrew Feinberg, have developed a large and loyal following for their Brooklyn restaurant, due in large part to their commitment to using sustainable, in-season, locally-grown ingredients.
In their new book, "Franny's Simple Seasonal Italian," the duo, along with food writer Melissa Clark, celebrate the fundamental pleasure of fresh food gotten straight from the men and women who grow, raise and craft it.
Creating those trusting relationships is an essential and enjoyable part of the process. It can also be a little intimidating for people who aren't used to coming face-to-face with the people who produce their food, or fruits and vegetables that don't come shrink-wrapped from the grocery store.
Feinberg and Stephens are here to help your confidence bloom.
Five Ways to Maximize Your Farmers Market Visit: Andrew Feinberg and Francine Stephens

1. Know your farmer.
Visit your local market and find the farm that has most beautiful produce. Introduce yourself and talk to the farmer. Develop a relationship and then ask him or her what is best that week. What's coming out of the fields next week?
Every farmer has his or her specialties. Some farmers grow amazing tomatoes, some grow awesome lettuce, others have the best fruit. You need to visit your market regularly and find which farm has the best of each ingredient.
2. Come prepared.
We always bring our own tote bags along with us – it helps us use less plastic and ultimately, makes the walk home much easier. Bring an umbrella or sunscreen when appropriate, both of which will help you walk the market in full.
3. Use all your senses.
Look for vegetables that appear beautiful. Touch the produce. Is it firm? If it's got soft spots you probably don't want it. The vegetables should smell like what they are. Fruits should have some natural aroma.
4. Be willing to adapt.
Sometimes what you are looking for is not available. Or sometimes you'll go to the market for peppers but the eggplant is gorgeous and it's your favorite variety. You have to be flexible. Let the market plan your menu.
5. Shop for the week.
For example, there is such a variety of tomatoes at the market so you can purchase some that are crazy ripe, yielding to the touch and intense in color for that night's meal, and then you can choose unripe varieties that can ripen over the course of the week so you have delicious tomatoes all week long. (When the color is very intense and the appearance seemingly about to burst, that's when they are ready to eat.)
Additional Tip: Have fun at the market! Farmers markets are glorious places. They are stimulating and visually exciting. Make a day of it with your family! We usually start off the market at the apple farmer's stand. Not only do they have apple chips, which make me happy, but cider donuts for our kids, which makes them happy and gives them stamina to walk through the entire market with us.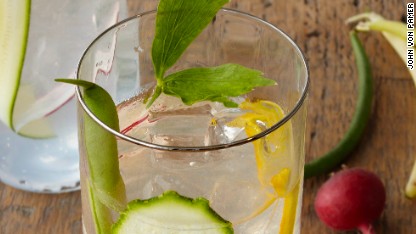 Greenmarket Gin and Tonic
Serves 1
An homage to the greenmarket, this cocktail is a way to feature all those pretty little vegetables that are so irresistible in the early summer. Baby carrots of every hue, sweet sugar snap peas, peppery radishes, and thinly sliced fragrant cucumber make for a festive gin and tonic garnish. Use as many veggies as you can get your hands on.
1 1⁄2 ounces gin (we prefer Junipero)
1⁄4 ounce triple sec (we prefer Luxardo)
1⁄4 ounce fresh lime juice
Club soda
Greenmarket vegetables for garnish (see the headnote)
Fill a highball glass with ice. Add the gin, triple sec, and lime juice and stir gently with a bar spoon. Top off with club soda and garnish with the vegetables.
Spaghetti with Herbs and Ricotta
Serves 4
When fresh herbs finally arrive at the farmers' market in the early summer, we rush home with fragrant bundles to make this creamy, light spaghetti. The ricotta acts as a vehicle for all the lovely herbs, allowing them to cling to the pasta without making the dish heavy.
This recipe calls for leafy, soft herbs—parsley, mint, and basil; woody, intensely flavored herbs such as rosemary or thyme would overpower the delicacy and sweetness of the cheese. If you're lucky enough to have some earth or a window box in which to plant an annual herb garden, this is a brilliant way to make use of that sudden surplus that seems to happen all at once.
1⁄2 cup extra-virgin olive oil, plus more for drizzling
4 garlic cloves, smashed and peeled
1⁄2 teaspoon chili flakes
1 pound spaghetti
1⁄2 cup fresh ricotta
1⁄4 teaspoon freshly cracked black pepper, plus more to taste
Kosher salt
1 tablespoon unsalted butter
1⁄2 cup coarsely chopped flat-leaf parsley
1⁄4 cup coarsely chopped basil
1⁄4 cup coarsely chopped mint
1⁄4 cup coarsely grated Parmigiano-Reggiano, plus more if desired
1. In a very large skillet (or a Dutch oven; see page 215 for tips), warm the olive oil over medium-high heat. Add the garlic and cook until fragrant and light golden, about 3 minutes. Add the chili flakes and cook for 30 seconds more. Add 2 tablespoons water to the pan. Remove from the heat.
2. In a large pot of well-salted boiling water, cook the pasta according to the package instructions until 2 minutes shy of al dente; drain and reserve a cup or two of the pasta water.
3. Season the ricotta with salt and pepper.
4. Toss the spaghetti into the skillet with the garlic, along with the butter and pepper. Cook over medium heat until the pasta is just al dente, 1 to 2 minutes. Then add the ricotta, herbs, and Parmigiano-Reggiano to the pasta and toss with tongs until the ricotta loosely coats the spaghetti, adding more pasta water as needed to smooth out the texture.
5. Divide the pasta among four individual serving plates or bowls. Finish each with a drizzle of olive oil and more Parmigiano-Reggiano, if desired.
Excerpted from Franny's Simple Seasonal Italian by Andrew Feinberg, Francine Stephens, and Melissa Clark (Artisan Books). Copyright © 2013. Photographs by John von Pamer.
Is there someone you'd like to see in the hot seat? Let us know in the comments below and if we agree, we'll do our best to chase 'em down.
Previously:
Here is how to cook vegetables