Editor's Note: Greg Drescher is the Vice President of Strategic Initiatives at The Culinary Institute of America. Drescher is also an inductee of the James Beard Foundation's Who's Who of Food & Beverage in America. He is a speaker at the Menus of Change summit in Cambridge, Massachusetts, from June 10-12. The conference is hosted by The Culinary Institute of America and the Harvard School of Public Health's Department of Nutrition.
If there's one group of people who are best positioned to reshape America's appetites, it's chefs.
At The Culinary Institute of America, we educate the next generation of the nation's culinary leaders about the techniques of their craft and the principles of flavor.
Increasingly though, our students must understand that, to be successful, they must also think about the health and wellness of their patrons - and that buzzword sustainability.
The food industry is changing across many dimensions, and chefs and culinary professionals must keep pace.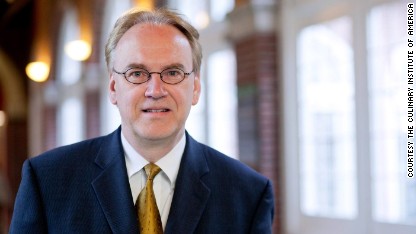 Consider these statistics from our annual report: In 1980, only 15% of a family's food budget went to food from outside the home. Restaurants were primarily for special occasions, and restaurant industry sales were just below $120 billion.
Today, 47% of American food dollars are being spent on restaurants and other foodservice operations; the industry's sales have soared to $660 billion.
With obesity, diabetes and other chronic diseases still gripping the national spotlight, consumers are seeking healthier, "everyday" cooking, not just special-occasion indulgence when they're eating out.
Diners are more concerned than ever about where their food comes from and how it is produced. They want to know: Is my food safe? Does it represent my values and ethics? Do my menu choices contribute to a greener world? What kind of food do I want to feed my children?
In order to build demand for healthier and more sustainable food choices, chefs must be educators, advocates and guides through the complexities of our food system. They must be informed about key issues so they, in turn, can inform and guide customers on what to buy and eat.
Of course, there are pitfalls along the road to change. Customers often don't follow through with what they say they want with respect to "better-for-you" foods. Many chefs have found that it's better to market flavor than healthy or sustainable attributes.
Big, bright flavors from the Mediterranean to Southeast Asia to Latin America have much to offer hungry Americans who don't want to trade taste for health or sustainability. These are foods and cooking traditions that often tip a menu balance more towards healthier, plant-based foods and away from meat.
As we become a nation of more adventurous eaters, chefs have a unique opportunity to leverage our new, collective culinary wanderlust on behalf of public health so that no one gets up from the table unsatisfied.
In the past, it was independent restaurants that pioneered a greater emphasis on fresh ingredients, seasonality and sustainability. Now multi-unit operators are joining this wave of change.
From Chipotle's focus on ethically raised pork to the produce-centric menus of the Seasons 52 chain, these volume operators are changing the art of the "possible." Even legacy brands like McDonald's, Subway, Dunkin' Donuts and Au Bon Pain are upping their game and plotting fresh, new menu directions.
Consumers also need to play a larger role in creating a next-generation restaurant industry. Eighty-four percent of Americans believe that it is increasingly important for chain restaurants to offer menu items that are fresh, local, organic and natural, yet only 20% consider nutrition when ordering a restaurant meal.
We are at a turning point in our culinary history - let's turn together.
In 2050, when the world's population is expected to swell to 9 billion, this year's bright, young culinary graduates will be firmly established in leadership positions in our industry.  Between now and then, these chefs will be working and building their careers against a backdrop of seismic changes: declining global resources, rising commodity prices and supply chain disruption due to climate change, among others.
By pairing the passion, creativity and entrepreneurial spirit of young, aspiring chefs with the increasingly informed customers, we have the opportunity to stride toward a brighter, more appetizing horizon for everyone at the table.