5@5 is a food-related list from chefs, writers, political pundits, musicians, actors, and all manner of opinionated people from around the globe.
Editor's Note: Sherri Brooks Vinton is the author of "Put 'em Up!" and "Put 'em Up! Fruit." When she's not at the stove, she's on the road teaching fellow eaters how to find, cook and preserve local, seasonal, farm friendly food. To find out more, visit sherribrooksvinton.com. 
"That was so EASY!"
It's the number one comment I hear at the end of my food preservation classes. Canning, fermenting, drying - there are a lot of ways to preserve your own food at home and the techniques are much simpler than you think. Getting started is probably the hardest part; the process is simple and the equipment needs are, in most cases, minimal.
So if you've been thinking about putting up a little something, let this be your season.
My Top Five Food Preserving Questions: Sherri Brooks Vinton

1. Will I kill my ____________(insert recipient of preserved product here)?
Of course not! Well, maybe. Preserving food at home has a reputation for being "dark arts" scary. This isn't kitchen voodoo, but you do have to follow the recipe. That's where eaters get into trouble. Methods such as water-bath canning rely on a careful balance of acid in the jar (a pH of 4.6 or less to be exact). You don't have to measure your pH, but you do need to know that "a little extra of this and a little less of that" can throw your acid balance off, sometimes into dangerous territory. So it's not a good idea to riff off of your recipe.
Always use the amount of produce called for and resist any urge to skimp on added acid such as vinegar or lemon juice - you need that pucker power to keep your goods on the up and up. Stick to the program and you can have safe and reliable results every time.
2. Ain't nobody got time for that!
While days-long sessions over steaming cauldrons of bubbling tomatoes is an option, and one that will give you and your friends a year's worth of tomatoes, not all home food preservation requires a truck load of produce and a weekend dedicated to the process. (Truth be told, though, it can be a pretty swell way to spend a chunk of time.)
You can put up a batch of quick pickles in about an hour from start to finish. While not "instant ramen" speedy, that's pretty doable. But if your schedule is too tight for even a limited stint at the stove, there are lots of other preserving options available that will have your food put by in a flash. Fermenting, drying, making infusions, and yes, even freezing all require very little time investment and yield delicious results.
3. Don't I need a lot of equipment/space/a really awesome stove?
Don't let visions of country kitchens and six-burner Garland stove tops fog your preserving dreams. I have lots of city friends with no space and stoves tinier than a kids' play kitchen getting on with it.
For canning, which requires the most space and firepower you need still only two burners that are strong enough to boil water and about a cookie-sheet's worth of work space. For other preserving methods, such as fermenting, drying and infusing, you need even less. Unless you are pressure-canning, which requires a specialized pressure-canner, the most complicated equipment you will need are a box of canning jars and a set of canning tongs. For fermenting, you only need a clean food-grade container - same with infusing.
I do all of my drying in my oven or on a piece of string, threaded through foods, such as chilies, that can be hung to do their job. Desire you need. Gadgets? Not so much.
4. How do I develop my own recipes?
You don't. At least for canning. Recipes that are developed for the canner rely on a specific acid balance and proper processing time - two things that are hard to eyeball in the home kitchen. If you have a favorite recipe that you want to start canning, contact your local ag extension. They can put you in touch with testing facilities that will make sure that your concoction comes up to canning snuff.
But keep in mind that not all preserved foods have to be canned. Refrigerator pickles and preserves are a great way to give your recipes your own personal stamp without worrying about the specifics of the canning process. The cool temps will keep them edible for a few weeks, which is plenty of time to enjoy a nice batch, created to suit your taste.
5. What's a good first recipe for the absolute beginner?
If you are looking to can for the first time, I would say start with pickles. They taste great and the recipe is very straightforward. Unlike jams, jellies and other sweet spreads, you don't need to worry about adding pectin or cooking them to the perfect consistency (also known as "the gel stage") to get the desired results. Just pack your jars with vegetables, ladle over some hot brine, and submerge them in boiling water for the amount of time indicated in the recipe.
Try this recipe on for size and see if you don't agree that canning is easy and fun and good food is for everybody!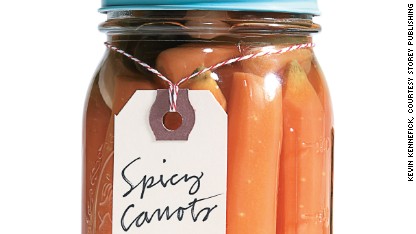 Spicy Carrots
Makes about 3 pints
This recipe was inspired by the lovely carrot pickles served at Bar Tartine in San Francisco. They're great alongside a sandwich or grilled cheese where the sweet/sour/spicy flavor of the pickles balances out the rich flavors of your meal. Great right out of the jar, too!
4-6 garlic cloves, sliced
1-2 jalapeno peppers, sliced, with seeds
1 teaspoon red pepper flakes (optional)
2 pounds carrots
4 cups distilled white vinegar
1 cup sugar
3 tablespoons salt
Divide the garlic, sliced jalapenos, and pepper flakes, if using, among three clean, hot, pint canning jars. Trim, peel, and cut the carrots 1 inch shorter than the jars. Pack the carrots into the jars.
Bring the vinegar to a boil in a large nonreactive saucepan. Add the sugar and salt and stir to dissolve. Pour the brine over the carrots, covering the vegetables by 1/2 inch with liquid. Leave 1/2 inch of headspace between the top of the liquid and the lid.
Can: Use the boiling-water method. Release trapped air by running a chopstick or plastic spoon around the inside of the filled jars. Wipe the rims clean. Center lids on the jars and screw on jar bands, just finger-tip tight.
Using canning tongs, submerge jars in a pot of boiling water, fitted with a false bottom to ensure good water circulation (can be a canning rack, cake cooling rack or layer of jar rings). Cover pot and process for 15 minutes. Turn off heat, remove lid, and let jars rest in the water for 5 minutes. Use canning tongs to remove jars and set aside for 24 hours.
Check seals by removing rings and gently pushing up on the lids. Store sealed jars in a cool, dark place for up to 1 year.
Got food preservation questions? Share 'em in the comments below.
Is there someone you'd like to see in the hot seat? Let us know in the comments below and if we agree, we'll do our best to chase 'em down.
Previously:
Five Myths About Canning: Sean Timberlake
National Canning Day