Editor's Note: It's Friday, and it's been a long week – we could all probably use a drink. Here to help us are Karl Injex and Navarro Carr, the owner and bar manager respectively of the Sound Table in Atlanta.Visual aids provided by Mark Hill, the Director of Photography for Turner Broadcasting.
The first rule of Pegu Club? Don't talk, drink.
In "The Savoy Cocktail Book," famed mixologist Harry Craddock wrote of the gin-based libation: "The favourite cocktail of the Pegu Club, Burma, and one that has traveled, and is asked for, around the world."
Rudyard Kipling also patronized the popular gentleman's social club in British colonial Rangoon. In his collection of travel letters entitled "From Sea to Sea," he wrote: "The Pegu Club seemed to be full of men on their way up or down, and the conversation was but an echo of the murmur of conquest far away to the north."
Now that the club is deserted and a derelict reminder of colonial rule, the only way to visit the Far East watering hole is by making its namesake cocktail at home.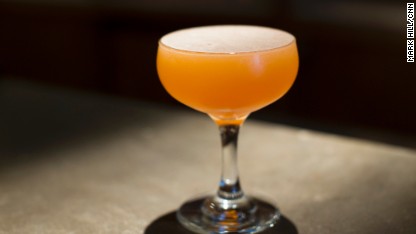 You'll need:
Equipment
Mixing glass (a pint glass with sloped sides)
Cocktail shaker
Coupe glass
Hawthorne strainer (this type is coil-rimmed and used to strain ice)
Fine mesh strainer
Jigger
Ingredients
1 dash of Angostura bitters
1 dash orange bitters
3/4 oz fresh lime juice
3/4 oz orange Curaçao
2 oz Old Tom gin
Ice
Steps for success:
1. In a mixing glass, add a dash of Angostura bitters and a dash of orange bitters.
2. Add the freshly squeezed lime juice.
3. Then, add the orange Curaçao.
4. Add the Old Tom gin (Injex and Carr prefer this sweeter style of gin for this cocktail, but you can play with different styles of gin according to your own preference).
5. Add ice to mixing glass; shake vigorously.
6. Double or "fine" strain the liquid using both a Hawthorne and a fine mesh strainer into a chilled coupe. (Double straining, while not necessary, reduces the amount of ice chips for a cleaner presentation.)
7. Sip.
Previously:
Hop on the Punch Wagon
Master the Sazerac cocktail