Editor's Note: Brian Scott farms with his father and grandfather on 2,300 acres of land in northwest Indiana. They grow corn, soybeans, popcorn and wheat. He blogs about it at The Farmer's Life.
If I'd met Mother Nature in 2012, I would have to assume at this point in 2013 that she is bipolar. Record high temperatures last March pushed us to planting time nearly a month ahead of an average start date. At the beginning of June 2012, we did not yet know that the rain wouldn't fall for another six weeks, and temperatures would hold steady in the triple digit zone.
I asked my sister to snap a picture of me standing in the corn we planted on April 2. I was surprised at how well the crops looked without more than a few tenths of precipitation since seed met soil, and wanted to show off our earliest planted corn blowing away that old "knee high by Fourth of July" saying.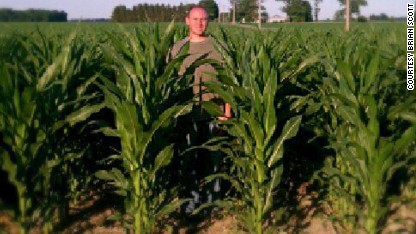 Brian Scott stands in his corn field in June 2012
So here we are in the first days of June and 2013 has been a wet one thus far. Although our first planting date of May 6 wasn't incredibly late from an agronomic standpoint, it definitely felt late by comparison. Our whole farm was planted by April 23 last year - a record early date for us.
The picture my sister took came to mind this year, and I thought another picture (above) of the earliest planted corn we have would be a good way to showcase just how much weather can affect a farm. One year we have corn about my height in early June, and twelve months later the new crop is only a foot tall.
The funny part is I'm just as optimistic about this crop now as I was about the 2012 crop at this time a year ago. One year we are praying for rain and the next we are waiting for the weather to clear up so we can get some work done. If there is one constant in farming it must be that each new season brings with it the potential to have your best crop.
I must say, I've had to bite my tongue in order not to complain about all the rain this season. I'd much rather be waiting for dry fields to work in than waiting for a rain that might not come. Rain makes grain right?
Want to know more about where your corn, beef and other foods are coming from? Here's your chance. Brian Scott and plenty of other farmers are listening, so post your question in the comments below and we'll do our best to get you an answer.
Previously:
Despite last year's drought, corn production is popping
Harvesting the lessons of Drought '12
Opinion: My family farm isn't under "corporate control"
Farmers aren't evil. Now can we have a civil conversation?
What should a 'local' farm (and farmer) look like?
Praying for rain in the Arkansas drought
What a farmer wants you to know about how beef gets to your plate
Start a conversation with a farmer
Farmer in the know: 5 easy ways you can help us help animals