For most people, a barbecue emergency would entail running out of buns or over-charring the chicken wings. For the men and women of Operation BBQ Relief, that means it's time to drive into a disaster zone, fire up their smokers and serve hot meals to people on worst day of their lives.
There is something about barbecue that brings out the best in humankind. It's an inherently generous undertaking. No one makes just enough for a couple of plates; the time and effort just wouldn't be worth it. A giant hunk of meat - a shoulder, brisket, slab or ribs or even a whole, delicious beast - is cause for celebration and camaraderie.
It also presents a built-in invitation in the form of a smoky, meaty scent that acts as a homing beacon to your backyard. If you 'cue it up, they will come.
But after tornadoes laid waste to the town of Moore, Oklahoma, earlier this week, many residents were left without a backyard to call their own - let alone a smoker, tongs or even a plate from which to eat. That's when Operation BBQ Relief rolled in.


Read AC360 411: Inside the Oklahoma Tornado Disaster Zone
The all-volunteer army of competitive barbecue teams and backyard enthusiasts banded together in May 2011 when similarly destructive tornadoes devastated the town of Joplin, Missouri, killing 140 people and injuring more than 1,000. Founders Stan Hays, Jeff Stith and Will Cleaver - all veterans of the competition scene - put out a call to their barbecue brethren: it's time to hit the road.
Competitive barbecuers are accustomed to spending their spare time, cash and passion on cooking food in quantity, many miles from home. Trophies, prizes and bragging rights are the common goal, but this time, the stakes were even higher.
Teams from eight states hauled their rigs, smokers and supplies to an empty parking lot in Joplin, set up camp and served over 120,000 hot meals to first responders, rescue workers and displaced families. If tornado victims couldn't get to them, the volunteers trucked food directly to wherever they were staying within the footprint of the storm.
It felt good. It felt right. And sadly, they've had to do it over and over again.
Under the leadership of Hays, Stith and Cleaver, the group officially formed as a 501(c)3 not-for-profit corporation across 50 states. With the help of cash and supplies donated by private citizens and businesses across the country and partnerships with local churches and disaster organizations like Red Cross and the Salvation Army, Operation BBQ Relief has mobilized to many other disaster zones like the Colorado wildfires, the paths of Hurricane Isaac and Superstorm Sandy and the site of the fertilizer plant explosion in West, Texas.
A "Founders Club" and "Grand Champion Club" of around 100 people provide yearly donations to cover administrative costs and the ground throws occasional fundraisers. All donations from the public go directly toward feeding victims and first responders.
Volunteers take vacation time from their day jobs to participate, and as soon as word goes out over the group's Facebook page and Twitter feed, they're ready to mobilize. Over 77 days of deployment, OBR has served up around 327,000 hearty, hand-crafted meals since the fateful decision to head toward the chaos in Joplin - and earned at least that many smiles, hugs and heartfelt thank-yous in return.
Amy Mills is the daughter of barbecue legend Mike Mills and co-author of "Peace, Love and Barbecue." She pitched in alongside the group's volunteers last year in the aftermath of tornadoes in Harrisburg, Illinois, and said that, "Operation BBQ Relief provides comfort in its most basic form: a lovingly prepared meal. I saw firsthand the profound impact a simple, delicious, hot meal can have during a time of overwhelming crisis."
That's what keeps Stith going. In addition to his competitive barbecue brothers and sisters, he has seen some familiar faces in the crowd. "What are also incredible to us are the storm victims themselves who often show up to volunteer so that they can pay it forward to others," he shared in an e-mail. "We have made some lifetime friends from some of these people."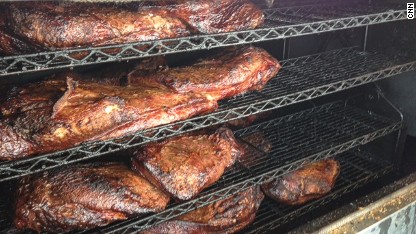 But man cannot live by barbecue alone (though surely many have tried). While pulled pork barbecue is usually at the center of the menu, volunteers try to add a starch and vegetables to every meal and fresh fruit when it's available. Cooks may also feel free to get creative with the ingredients at hand. In Joplin, volunteers took pre-sliced apples donated by a local Sam's Club, put them into foil pans with butter, brown sugar and cinnamon and crafted impromptu baked apples in their smokers.
On the ground in Moore, brisket, pork and vegetables are on the menu. While victims of the storm don't know what the future holds, at least tonight, they won't have to face it alone or on an empty stomach.
Learn more about Operation BBQ Relief and visit CNN Impact Your World for more ways to help.
More on food, grieving and comfort:
Chefs with Issues: 'People hurt, we feed."
Serving up comfort food after a tragedy
Boston restaurants suffer loss in wake of bombing
Serving up gratitude in troubled times
Bringing healing to Newtown, one pie at a time
Filling the void – eating after a funeral
Roasted chicken soup for the banged-up soul
Pouring whiskey in the wound – eating and drinking after 9/11
Watch Anderson Cooper 360° weeknights 8pm ET. For the latest from AC360° click here.