I ate bugs for lunch. This time it was on purpose.
By some experts' estimates, the average person inadvertently downs about one pound of insect parts a year, in foods as varied as chocolate (which can contain 60 insect components per 100 grams by law in the United States), peanut butter (30 insect parts per 100 grams) and fruit juice (up to five fruitfly eggs and one to two larvae for every 250 milliliters).
In light of the United Nations' recent plea for increased insect consumption, I decided to take the insects by the antennae and join the 2 billion people worldwide who deliberately make creepy, crawly creatures a part of their regular or special occasion diet.

According to the Food and Agriculture Organization's report released Monday at a press conference in Rome, the planet would be a lot better off environmentally speaking, not to mention more cheaply, safely and sustainably fed if more people incorporated locusts, beetles, crickets, grasshoppers, worms, grubs and the like into their meal routines.
The big problem as the researchers see it: the ick factor. As Americans, many of us are geographically separated from the source of our food. It's often much easier to accept lab-created, industrially-formed X-Treem Cheez-O Blasters or highly-preserved, artificially flavored, over-salted microwaveable entrees as viable snack and meal solutions, over creatures we're conditioned to swat away, zap with garden pesticides or crush with our shoes. Frankly, I wasn't entirely sure I could do it.
I'm an adventurous eater. I down cow heads, bull balls, and squirrel stew with great relish. But I can't pretend I didn't have a visceral, emotional resistance to the notion of consuming creatures I'd been conditioned to think of as dirty pests and would be unhappy to find inhabiting my kitchen.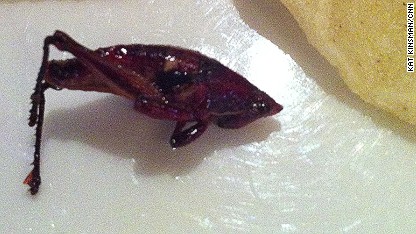 Boy, am I glad I sucked it up, because otherwise, I'd have missed out on the piquant and crunchy glory of grasshopper tacos. Chapulines (cleaned grasshoppers toasted with salt, lime and chile) are an ideal gateway bug for nervous, first-time insect eaters: their well-balanced, salty, spicy, tangy flavor is reminiscent of some of our nation's finest and most familiar snacking products, and fried or toasted exoskeleton makes for killer crunch.
The grasshoppers in the tacos I so mightily enjoyed at chef Julian Medina's Toloache restaurant in New York City had a minor, meaty pop after the initial bite, not unlike a well-crisped shrimp. Perhaps it's because I don't have any real metric against which to measure, but there was nothing discernibly "buggy" about the meal I enjoyed, and plan to again soon.
It's a small and silly victory over squeamishness, but one that's whet my appetite for the next insect adventure. Here's a handful of restaurants and vendors serving bug-based dished around the United States. Maybe I'll see you there, across a bowl of silkworm pupae soup or an ant egg omelet.
Where to eat insects in the U.S.:
Audubon Nature Institute – Bug Appétit
423 Canal St., New Orleans, Louisiana (504) 524-2847
– Bug buffet of exciting treats like six-legged salsa and chocolate chirp cookies
Dan Sung Sa
2775 Telegraph Ave, Oakland, California (510) 663-5927
– Spicy chrysalis soup (beondegi): vegetable soup with boiled silkworm pupae
Don Bugito Prehispanic Snacketeria
Food cart, San Francisco, California
– Wax moth larvae tacos, crispy toffee mealworms over ice cream, crispy mix of potatoes with wax moth larvae and agave worm salt
La Oaxaqueña
2128 Mission Street, San Francisco, California (415) 621-5446
– Jumbo Grasshopper (Chapulines) Tacos and chapulines by the bag
Mezcal
25 W. San Fernando St., San Jose, California (408) 283-9595
– Chapulines: sautéed grasshoppers, with garlic, lime and salt, served with a side of guacamole and tortilla chips
Mok Maru Jong Sul Jip
222 N. Western, Los Angeles, California (323) 465-6803
– Spicy silkworm cocoon soup
Oyamel
401 7th Street NW, Washington D.C. (202) 628-1005
– Chapulines: sautéed grasshoppers, shallots, tequila and guacamole
Pocha 32
15 W. 32nd St., New York City (212) 279-1876
– Bundaegi: silkworm pupa
Sake Bar Kirakuya
2 W. 32nd St., New York City (212) 695-7272
– Sauteed silkworm ("for beautiful skin")
Sticky Rice Thai
4018 North Western Avenue Chicago, Illinois (773) 588-0133
– Ant egg omelet and fried bamboo caterpillars
Toloache
251 W. 50th St., New York City (212) 581-1818 and 166 E. 82nd St. New York City (212) 861-4505
Chapulines tacos: Oaxacan-style dried grasshoppers, onions, jalapeño
Tu Y Yo
858 Broadway, Somerville, Massachusetts (617) 623-5411
– Tacos De Chapulines: deep fried mini tacos stuffed with grasshoppers and served with avocado sauce
– Empanadas De Chicharron De Chapulin: corn flour turnovers filled with fried grasshoppers
Typhoon
3221 Donald Douglas Loop, Santa Monica, California (310) 390-6565
– Silk Worm Larvae: stir-fried, soy, sugar, white pepper
– Singapore-Style Scorpions: shrimp toast
– Taiwanese Crickets: stir-fried, raw‍ garlic, chile pepper, Asian basil
Where to buy insects for home cooking and snacking:
Fluker Farms
Hotlix
Rainbow Mealworms
Thailand Unique
People who care an awful lot about entomophagy:
Girl Meets Bug
Insects Are Food
Mini Livestock
Did we miss your edible favorite bug vendor? Give them a shout out in the comments below.
Previously:
Eat insects, save the world says U.N.
The case for eating insects
Health department bugs out over grasshopper tacos
I scream, you scream, we all scream when there are cicadas in the ice cream