Plenty of traditional foods pack an emotional whallop, but few of them back it up with a sensory punch as strong as horseradish's. The pungent root is a key part of a Passover Seder plate (along with salt water-dipped vegetables, a shank bone, a hard boiled egg, a sweet paste of apples and nuts called charoset, and a bitter vegetable - often lettuce) and symbolizes the harsh lives of the Israelites before they were delivered from slavery in Egypt.

[soundcloud url="http://api.soundcloud.com/tracks/84456975" params="liking=false&show_artwork=false&show_comments=false" width="100%" height="166" iframe="true" /]
CNN Radio's Steve Kastenbaum and Eatocracy's Kat Kinsman took a trip to Schmitt Family Farm to see where the horseradish was grown, and then tried their hand at preparing some in a kitchen back at home. Listen to their journey in the player above and see more at the Soundwaves blog.
Growing horseradish is a tradition for the Schmitt family. Phillip Schmitt's grandfather moved the family's farming operation from New York's borough of Queens to the Eastern end of Long Island in 1929, under protest from his own father who couldn't believe that anyone would want to set up shop in that then-desolate region. Schmitt Family Farm found a permanent home in Riverhead, New York in the 1970s, and now Phillip and his son Matt grow 164 acres of greens (mostly spinach, collards and kale), herbs, beets and flowers - and a single acre of horseradish.
That acre yields around 5000 to 6000 pounds of roots a year - a comparatively small crop for the third and fourth generation farmers, but a weighty matter for loyal patrons who have come to rely on the farm for their yearly Passover or Easter fix. The bulk of what the Schmitts sell is in the form of 30-pound cases of large, cleaned roots, sold in the produce department of chains like King Cullen, America's first supermarket. (It's on special this week for $.99 a pound at the store nearest the farm.)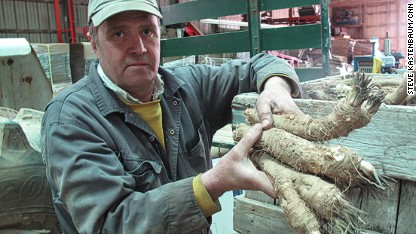 But there are also devoted fans who drive up to the packing shed in search of a Schmitt to sell them anywhere from a single root to a couple of hundred pounds. And would a person do with such a massive stash of brassicas? According to Phillip, they're prepping for a "horseradish party." He estimates that 10-15 customers a year buy in quantities at least that large (and make a side trip to a liquor store for a case or two of vodka) and gather friends and family together to make especially zesty Bloody Marys and prepare the roots for their Passover suppers.
The purpose of the vodka, Matt notes, is potentially twofold - raising the spirits of the revelers while dampening the sting of the plant. He's no stranger to the olfactory and ocular assault of horseradish; under the "Holy Schmitt's" label, the Pace business school graduate sells horseradish prepared according to his grandfather's recipes.
As a child, Matt watched as the elder Schmitt shared his home-jarred gifts with members of his Polish and German community who eagerly awaited the arrival of this springtime treat at their doorstep. Fearing that the craft would be lost to the ravages and conveniences of time, he researched the requirements for preparing a packaged product and began production in his garage. The cars that had previously occupied the space were driven out by his expanding business, and he now sells 8000 jars a year of original, beet, cranberry and hot pepper horseradishes as well as horseradish mustard via the family's farmstand, other markets, and online.
Though he won't give away his secret formula, Matt emphasizes that good ventilation is essential for withstanding horseradish's notorious sting. When they're grated, the roots release a compound called allyl isothiocyanate that travels into nasal passages and triggers a burning sensation in the eyes and nose.
The gnarled, unpeeled heaps in the farm's packing shed release a woody, earthy odor, but that's nothing compared to the unholy, acrid waft as the roots meet the teeth of a fine hand grater back in a CNN office kitchen. It's impossible not to cough and stream hot, salty tears over the growing mound of oyster-white shreds. Colleagues sitting down to a quiet afternoon snack wince and we apologize profusely.
But soon strands of sumptuous, burgundy beet, a dash each of sugar and salt and a kiss of vinegar tamp down the horseradish's fire enough to render the mixture edible. What was previously hellish is now merely purgatorial and upon repeated tastings, something close to heavenly.
It's impossible to stop eating it (even as we scrub down our Lady Macbeth beet-stained hands) and that's good news for the farmers. They've saved all the slim side roots to plant for next season's crop, and as long as loyal customers come flocking to them for the bitter herb, horseradish will be a sweet tradition for the Schmitt family.
Ingredients
1 cup finely grated fresh horseradish
1 cup finely grated raw, red beet
1/2 teaspoon kosher salt
Pinch sugar
2 to 3 Tablespoons white or cider vinegar
Instructions
Put the horseradish, beet, salt, and sugar in a medium, nonreactive bowl and stir to combine. Add vinegar to taste, and adjust salt and sugar as desired. Refrigerate in an airtight container for up to a week.
More Passover on Eatocracy
Add the flavor of barbecue to Bubbe's brisket
More Passover recipes from around the globe
5 ways to modernize your seder
Passover recipes from Israel, Estonia and India
Stephanie Izard's favorite matzoh toppers
Seder meal 101: From matzo to lamb bones
L'chaim! Israeli wines for Passover