5@5 is a daily, food-related list from chefs, writers, political pundits, musicians, actors, and all manner of opinionated people from around the globe.
Spring may have sprung (Ok Punxsutawney Phil, whatever you say), and that means outdoor party season is just around the corner.
Refreshing, tiki-inspired cocktails are in order, whether it actually feels like spring or you just want it to. Throw the ultimate tiki party with these tips and easy libations by mixologist Nate Howell of Cusp Dining & Drinks and Hiatus Lounge in La Jolla, California.
How to Throw a Tiki Party: Nate Howell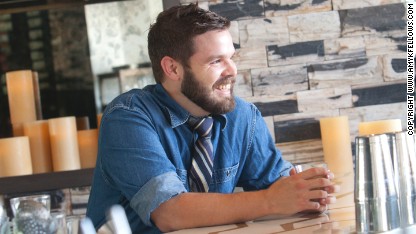 1. Start with quality products
This means going to the market the day of or day before the party and giving yourself time to really find fresh, seasonal produce. Tropical fruit, like pineapples, mango and bananas, and fresh herbs, like mint and basil, are great in the spring and perfect for tiki drinks. Pineapple brings such a sweet acidity to cocktails. Watermelon and cantaloupe, along with spices like cinnamon and black peppercorn, find their place in summertime.
This also relates to fresh juices. If I'm by myself or with a few friends, I squeeze juices to order. If hosting a party, prepping enough is crucial. In a time crunch, store-bought can be fine, but the difference in fresh-squeezed and store-bought is night and day.
2. Try something new
This is a chance to try some unique spirits. Jamaican or other island rums, and newer American gins can really add depth and unique flavors to your tiki drinks. The idea behind using different, quality rums is the natural depth that they provide. Being a distillate of sugar cane or molasses, this creates the refreshingly sweet quality that tikis are known for.
There are absolute differences in flavor from island to island as well. I prefer Jamaican rum, but Barbados, Trinidad and Tobago and other Caribbean islands all have qualities I enjoy.
Gin provides citrus and herbal qualities that vodka cannot. Don't keep buying the traditional "spiced rum" or some "flavored vodka." If you really want unique, try these options and taste test to your flavor.
3. Presentation is essential
When hosting your party, funky, themed glassware is a must. I would suggest investing in your own tiki glassware, which you can find online fairly easy.
If you are hosting a big party, there are some disposable cups along with some fun, edible glassware out there as well. Be sure to have fun with accessories and garnish as well. Get big, loopy straws, tiki umbrellas and make sure all your garnishes are fresh.
4. Ice makes all the difference
Getting some sort of shaved or pellet ice is ideal for tikis. You can call your local ice guy and see what they have. Yes, there are such things as "local ice guys."
If you can't get that particular ice, you can always wrap ice cubes in a towel and smash them with a rolling pin, frying pan or whatever you have to create small pieces. It's quite therapeutic.
5. Prep enough and enjoy YOUR libation
I say this all the time when I do at-home parties, but it is so true. Be conscious of the amount of people coming over, what they drink and eat, how long you expect them to stay, etc.
The last thing you want is for your friends to leave to go get more ingredients. Prep enough and be a good host. Tikis are meant to transport you to a far-off island somewhere that relaxes you - so relax!
Singapore Sling
1 1/2 oz. gin
1/2 oz. Heering Cherry (or another cherry liqueur)
1/2 oz. orange Curaçao
1/2 oz. Bénédictine (or another herbal liqueur like chartreuse)
1 oz. fresh lime juice
2 oz. pineapple juice
Add all ingredients to cocktail shaker filled with ice. Shake well. Strain over fresh ice in a Collins glass. Top with soda water. Garnish with a pineapple chunk and cherry.
Scorpion
1 1/2 oz. gold rum
1 oz. cognac
2 oz. fresh orange juice
3/4 oz. orgeat (almond) syrup
1 oz. fresh lemon juice
Add all ingredients to cocktail shaker filled with ice. Shake well. Strain over fresh pellet ice in a Collins glass. Garnish with an orange peel, expressed (squeeze or twist the peel to release the oils over the top of the drink) and dropped into the drink.
Is there someone you'd like to see in the hot seat? Let us know in the comments below and if we agree, we'll do our best to chase 'em down.