On a cold, rainy day, people lined up around the block for supplies from a FEMA Disaster Recovery Center in Far Rockaway, Queens, one of the areas hardest hit by Hurricane Sandy.
More than 100 days after Hurricane Sandy devastated the East Coast, leaving power lines, houses, family heirlooms and human lives decimated in its wake, it's a clear sign residents are still figuring out how to cope.
New York Governor Andrew Cuomo said the recent storm would cost New York State alone nearly $42 billion. Despite the odds, the recent reopening of small businesses, like a tiny, neighborhood bagel shop, indicates a new day is dawning.
From midtown Manhattan, the trip to Far Rockaway takes a little more than two hours. That's because there is still no subway service past John F. Kennedy Airport. To access the Rockaways, riders have to transfer to a shuttle bus, then back onto a fare free shuttle train, which only started service in late November. It's a couple more transfers than residents are used to, but it's better than the lack of transportation they were saddled with for quite some time.

An avenue away from the last stop on that final shuttle train, Rockaway Boulevard is strewn with the painful aftermath of the storm. Most pedestrians are construction workers; one store still has a generator outside of it. Even if people wanted to forget or move on, the reminders are everywhere: condemned houses, wind-torn American flags, wooden debris lingering in the road. Normalcy is abnormal around these parts.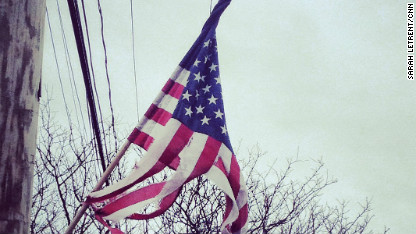 Yet on that same boulevard in Far Rockaway, the home of a once burgeoning surf scene and vacation area, two words shine through: We're open.
New York City firefighters Scott Edwards and Tim Kennan own Surfside Bagels. They opened the shop in April 2008, and on February 11, 2013, they opened once more after Hurricane Sandy.
Not only had the floodwater ravaged the small store, the shop had been broken into and looted - a common occurrence in areas without power.
"I got here on Wednesday, after working 24 hours at the firehouse in Brooklyn, and finally saw the neighborhood was completely devastated," Edwards said. "There was no gas, no electricity, it was very cold and the streets were covered with sand."
Surfside Bagels was rebuilt through an in-kind donation from FrontStreet Facility Solutions, a facility management and maintenance company.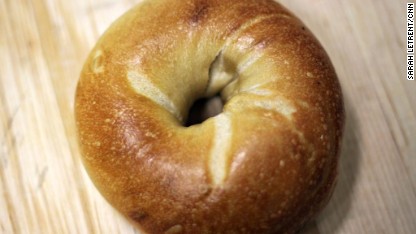 "They said, 'We're basically looking to do the rebuild for you for free.' My partner and I were completely skeptical," Edwards said.
After being denied flood insurance and still awaiting a response from FEMA, Edwards recalls asking Kennan: What did they have to lose?
"Once we heard about the devastation in the Rockaways we knew we had to help in some way, and who better to help than two firemen that constantly risk their lives for others," said Joseph Scaretta, the Chief Development Officer for FrontStreet, in a statement.
Edwards said without their angel investor, Surfside Bagels would be exactly where they were in early November - waiting for FEMA and insurance to come through.
At the top of the store, a sign still hangs pointing to the beach. Because of its height on the wall, the sign was one the few things the storm water didn't reach. And while Edwards voices concern that a storm of Sandy's nature might happen again, he and his business partner are looking toward the future, rather than the past.
"Life has been changed here in Rockaway forever. People will look at this area differently," Edwards said. "It's going to take time, but we think it'll come back bigger and better than it was."
Stay tuned for an upcoming bagel recipe and tutorial from Surfside.
Previously
Waiting out the storm: hourly workers feel Sandy's impact
Anthony Bourdain: Eat out and tip big to save NYC restaurants after Sandy
An ad-hoc army of volunteers feeds those still-powerless after Sandy