Police were sorely meth-taken when they swarmed onto a Southern Illinois family's property looking for a drug lab.
Instead of the methamphetamine manufacturing facility the Union County officers were expecting to find, Laura Benson led them to her husband's stash - of maple syrup.

KFVS reports that the family has been cooking up the sweet stuff for about five years, and alert neighbors had called in the tip after seeing suspicious buckets around the property.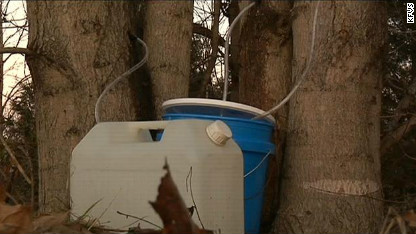 The Benson family thanked the neighbors for their vigilance and invited them over for a pancake meal, then sent the officers home with samples of the goods.
Previously in syrup-related crimes:
Millions of dollars in maple syrup stolen
Rhode Island man gets sticky sentence for phony syrup and MAPLE Act would sting syrup fakes