Emily Smith and Justin Lear are a food-loving couple who work for CNN and live in Atlanta.
Emily: This past Wednesday, I felt like I was in the middle of a drug deal. I nervously stood near the beer section of our local liquor store, waiting for a man wearing a green apron. When I saw him, I awkwardly confronted him and asked for what I'd come for: Hopslam. He told me to wait right there, and a wave of relief washed over me.
With my precious six-pack finally in hand, I begged for another. "You can only sell me one?"
I knew I was pressing my luck, but I had to after receiving a desperate text reading, "Come here to Greens and buy Hopslam. I can only buy one."
My boyfriend Justin's lack of the word "please" could only be excused by a life or death situation, otherwise known as running out of Hopslam.

Justin: I have to interject. Sure, I didn't say please, but I did buy her flowers to make up for it and it was well worth it. Hopslam, brewed by Bell's Brewery of Kalamazoo, Michigan, is a hot commodity. It's a double India Pale Ale (IPA) released in limited quantity in only 18 states once a year in January.
Double IPAs are basically beers on steroids. They're hoppy and often bitter. Hopslam is different, because at the end of the brewing process, honey is added. Hopslam weighs in at 10% alcohol, far ahead of the average beer. It's considered by some craft connoisseurs to be one of the best beers in America. Even the rabid fans on BeerAdvocate.com have gone so far to rate it 100 points out of a possible 100 with more than 5,000 ratings.
Emily: I didn't quite understand the hype until I tasted Hopslam at Justin's insistence last year. At the time, I wasn't a big beer drinker, and most of the IPAs - certainly the double IPAs - that Justin had introduced me to were way too bitter for my taste. Hopslam didn't have the finish I was expecting; it was sweet and smooth. Plus, it's nice to get caught up in the treasure hunt.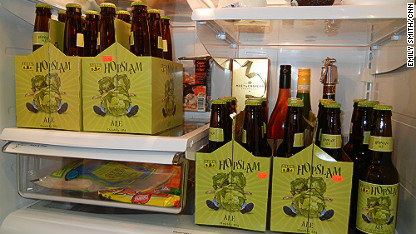 Justin: Most liquor stores only let you purchase a six pack of Hopslam at a time, while others go the extra step and only allow the sale of single bottles. But what exactly makes this beer so highly coveted? Is it the honey, the drinkability, or is it the fact that it's so hard to find in stores?
It's a marketing feat that a beer from Michigan with little to no advertising is in such high demand. Even the people behind it are baffled. Laura Bell, director of marketing and co-owner of Bell's Brewery, told me that they never expected Hopslam to catch on the way it did when they started brewing it in 2006. "We didn't have any intentions that it would be this way," she said.
Bell added that the brewery does no promotion for the beer besides announcing its release online, along with social media and launch parties where it's sold. Beer stores use social media to let fans know when and where new and rare beers like Hopslam are available. I know that saved me a lot of time and trouble, but the search isn't easy for everyone.
Kevin Spaulding of Stafford, Virginia spent two weeks anxiously on the phone calling local beer stores trying to score some Hopslam. He was told the same thing over and over again, "I think we are [getting some in]" or "I hope so." This wasn't very encouraging.
It took a phone call to a Virginia beer distributor to find out when the beer was arriving at stores. Spaulding was told to sit tight and be patient, which is tough when you're after something that's so rare. He made a lunchtime drive to a beer store 25 miles away to finally get his hands on what he was searching for all along: a measly six pack of Hopslam.
It may sound crazy, but to Spaulding, the effort was well worth it. So much so that he continues to search for more Hopslam, the beer he calls "dangerously smooth."
Emily: Why not just make more? Surely if they're making money from it and people love it so much it'd be easy to increase production. Bell's believes that doing so would take away from some of their other beers and they're not prepared to do that, at least for now. However, Bell's, recognizing the beer's popularity increased production of Hopslam this year.
We decided to ask our friend Andy Gonzales, chef and general manager of Steinbecks Ale House in Oakhurst, Atlanta, whether any other beers lived up to the hypeslam.
"This is a really great beer, it's delicious, but I'm not sure why it's got such a good following," he told us over a pint. "It's not just the popularity, it's the limited quantity."
Gonzales gets both a keg and bottles of Hopslam and finds himself fielding calls about when they'll be available. "People who don't drink beer, know this beer," he said.
He noticed an increase in the Hopslam fervor about four years ago. But he's puzzled that other double IPAs don't get the same love. Since Hopslam tends to sell out quickly, we asked Gonzales for five other IPAs worth trying out.
Gonzales' list:
Hoptimum Imperial IPA by Sierra Nevada
Palate Wrecker by Green Flash
471 Small Batch IPA by Breckenridge Brewery
90 Minute IPA by Dogfish Head
Ruination IPA by Stone
As for Gonzales' keg, he's saving it for an IPA dinner in March.
"I like to wait for everyone to pour their stuff off and then I have the only one left in Atlanta," he said with a grin.
So is Bell's Hopslam really this good or is it all hype? You'll have to decide for yourself. Next time you are walking into a liquor store and some stranger runs by you, don't be offended, they are probably just searching for that last six-pack of Hopslam.
Unfortunately for them, they are probably too late.