Sugar cookies in every seasonal shape - from snowflakes to Christmas trees, stars to Santa hats, snowmen to holly leaves - overcrowd the dessert table this time of year. Even Santa is crying "Uncle!" for a little variety by the time he reaches St. Louis.
This year, try adding a little New York attitude to the traditional cookie swap with black-and-white cookies, a staple of New York bakeries and deli counters.
More cake-like than cookie-like, this oversized sweet is downsized into a fantastically festive treat by pastry chef Stephanie Teekaram of Kutsher's Tribeca in, where else, New York City.
"Seinfeld" fans might remember the baked good being forever immortalized in the episode, "The Dinner Party."
"The thing about eating the black-and-white cookie, Elaine, is you want to get some black and some white in each bite," said Seinfeld. "Nothing mixes better than vanilla and chocolate, and yet, somehow racial harmony eludes us. If people would only look to the cookie all our problems would be solved."
In this season of good tidings, peace and goodwill toward all, harmony vis-à-vis a cookie is a welcome addition.
Black-and-White Cookies
(Makes about 40 three-inch cookies)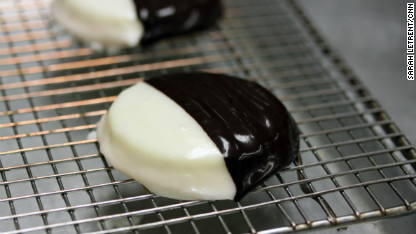 For the cookies

1 lb

butter

1 lb

sugar

9

eggs

1 lb

flour

1 tsp

vanilla

1/2 tsp

salt
For the chocolate glaze

1/2 lb

confectioners' sugar

1/2 lb

cocoa powder

1 cup

milk
For the vanilla glaze
1 lb

confectioners' sugar

1/4 cup

milk (can add up to 1/2 cup to reach the desired consistency)

Cooking Directions
Preheat oven to 300°F.
Cream together the butter and sugar until pale and fluffy. Add eggs one at a time, beating well after each addition.
Mix in flour, vanilla and salt. Mix until smooth.
Divide the batter among the muffin-top pan (approximately two tablespoons of batter per muffin-top cup), spreading evenly with an offset spatula. (Note: If you do not have a muffin-top pan, you can use a whoopie pie pan or spoon two tablespoons of batter two inches apart onto a parchment paper-lined baking sheet.)
Bake cookies until just pale golden, 15 to 20 minutes. Remove from oven, and let cool.
In the meantime, whisk together the ingredients for the chocolate glaze and the vanilla glaze (each glaze in a separate bowl) until smooth.
Transfer the cookies to a wire rack.
Using a spoon, coat 1/2 of each cookie in the white glaze. Allow to air dry for about 10 minutes.
Spread chocolate glaze on the other half of the cookie.
Let set for about one hour, and enjoy!