Yo mama's cinnamon is so old, its UPC code is "1."
Yo mama's thyme is so old, they used it to season the Last Supper.
Yo mama's cloves are so old, the bottle has a Brontosaurus steak recipe on the side.

I'm sure your mother (or father, aunt, cousin or relative at whose home you might be spending some quality eating time this holiday) is a warm, lovely and gracious host. I also have a sneaking suspicion, based on perusal of my own friends, family and in-laws' cabinets, that their spices are rather past their ideal use-by date or are poorly stored.
That doesn't render them harmful at all, but does increase the likelihood that your dishes will taste like the ghost of rosemary, bay or nutmeg past, rather than robustly of the spice itself. I mostly blame the manufacturers for packaging such ambitious quantities of spices that are meted out by the quarter teaspoon, pinch or dash, and often doing so in glass bottles. They're lovely to look at, but they let light in, and that's not at all nice for spice.
There's also a human factor at play. If they're not arranged into a wall-mounted, light-sucking rack, spices are often tossed wherever they happen to fit - even if that's perilously close to a heat or moisture source.
Both of those will sap spices of their full flavor, as does being jammed in the back of a cabinet behind the baking powder and cornstarch and forgotten. If you've never ended up with multiple tins of cinnamon because the several you had were out of sight, you are a better human than most of us.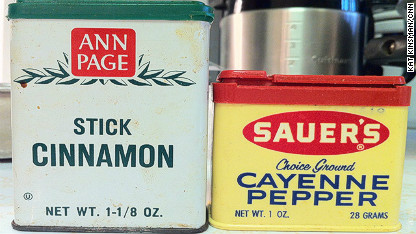 So I'm declaring December to be National Update Your Parents' Spice Rack Month to ensure that they are living an optimally delicious life, and not just sitting on a Smithsonian-worthy heap of kitchen clutter.
First, see and sniff the spices. If the color is faded or you have to work hard to catch a whiff when you rub a little into the palm of your hand, toss them out. The flavor diminishes along with those characteristics.
Next, check the dates on the containers. Roughly speaking, ground spices are good for 2-3 years, whole spices for 3-4 years, blends for 1-2 years and dried, leafy herbs for 1-3 years and extracts (except for vanilla, which stays potent) for 4 years. If it's beyond that - or even undated and smell-free - your trash can will eat semi-deliciously today.
Some major spice producers like McCormick, Durkee and Spice Island and Sauer's share brand-specific information about informational codes on their websites.
Once the exorcism is complete and you're ready to restock, look for those sold on air-tight tins, or consider buying from bulk bins where you can buy only the amount needed for the recipe at hand. Keep a few empty food-grade small, lidded tins on hand, or wash, thoroughly dry and re-label newly-emptied tins to reflect the new contents and the date on which they were purchased.
If you'd like, you can get all Pinteresty and cute about where and how to store them, but location is crucial. Avoid spots near the stove or radiator (too hot), in front of windows (too bright) and near sinks and dishwashers (too damp).
This will ensure that holiday treats back home will taste like Christmas present and future - and not like old spice.
See Eatocracy's board of cool spice storage solutions on Pinterest.
*The picture at the top is my mother-in-law's spice carousel and the one in middle is of strays from the back. These were taken in 2011, not the mid-70s.
**If this works out, we'll try for National Sharpen Your Parents' Knives Month and National Stay Calm While Your Dad Teaches You How to Load the Dishwasher Properly Day