Ask Joe Henderson any question and odds are he'll give you a very thorough answer. But ask him how to save one of the most endangered breeds in the world, the Randall Lineback, he'll give you a very short retort: You have to eat it.
Henderson, a Washington, D.C. real estate executive and farmer, raises around 250 Randall Linebacks on the rolling hills of his Chapel Hill Farm in Berryville, VA. And what exactly is a Randall Lineback?
"Well, we don't know what to call it," says Henderson.

First of all, it's a cow. Its ancestry dates back almost 400 years to colonial America.
After that, describing it has been a challenge. Attempts have included the "beluga of beef," "rose veal," or the "pandas of the cow world." Plus, there's a small debate over the name "Randall Lineback" as well.
But whatever you want to call it, one thing is for sure: the Randall Lineback cow is critically endangered, with roughly 500 head alive worldwide according to the American Livestock Breeds Conservancy. Several small herds are scattered around New England and the mid-Atlantic with some being used for minimal dairy production. The remainder, some 250 cows, live on Henderson's farm in the Shenandoah Valley.
Surprisingly, things were much more dire for the breed less than thirty years ago when only 15 Randall Linebacks were left in the world. That's a startling number considering the Randall Lineback was one of the most-popular all-purpose cows in New England during this country's infancy. George Washington used the breed as oxen to haul captured cannons from Ft. Ticondergoa to Boston where he liberated the city from British control.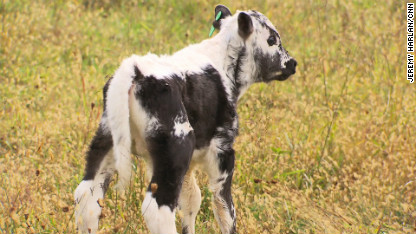 As time progressed, the cows slowly dwindled in number due to the introduction of cattle bred for specific purposes like dairy and meat. Eventually, the breed found its way onto Samuel Randall's Sunderland, Vermont farm in the early 1900s. This is where they became known as the Randall Linebacks, due to the distinct white line going down their backs.
When Samuel's son, Everett, died in 1985, many of the Linebacks were sent to slaughter. Those last 15 were saved by a woman named Cynthia Creech, and her fascination with the heritage breed. She took them back to her farm in Tennessee where they had a difficult time acclimating to the hot weather.
Eventually Creech brought them to Henderson's Chapel Hill Farm in Virginia. A short time later, Creech left the farm and Virginia for New England to pursue other opportunities. She sold a couple dozen Randall Linebacks to Henderson and took the rest with her.
Slowly his herd grew, but Henderson knew that in order for them to be prolific, the Randall Linebacks needed a job.
"Every endangered species must have a purpose to survive," says Henderson. "And this animal's job is [being] 520 lbs of meat to some of the greatest chefs in the world and ending up on your plate."
But Henderson refused to let his cows end up on just any plate. He meticulously sought out chefs and butchers who knew how to use the whole cow and prepare it at a very high standard.
"The taste is completely different and you got to cook them completely differently. It is extremely rare. We'll only sell about 200 or so calves this year and that's it in the whole world," explains Henderson.
One of the half-dozen chefs in D.C. Henderson trusts with Randall Lineback meat is Cathal Armstrong, co-owner of the Eat Good Food Group and executive chef of Restaurant Eve in Alexandria, Virginia.
"If we don't give it a purpose, it would disappear and that's such a sad tragedy when you look at them and see how beautiful they are. We need to keep things like this around," explains Armstrong.
Even he has difficulty trying to describe Randall Lineback meat. Because of its extremely lean muscle structure, it does not look or taste like typical angus beef. He's also reluctant to call it veal.
"We call it Randall Lineback on the menu," says Armstrong. It appears frequently on Restaurant Eve's ever-changing menu and is for sale at his upscale food market, Society Fair, just down the street.
He gets, on average, two whole animals a month from Henderson. The head and innards of the 8-month old calves are delivered the day after slaughter. The remainder of the animal is aged for two weeks before arriving on the butcher table at Armstrong's shop. And he knows he needs to use every bit of the cow.
"It's really important and part of our responsibility to make sure that when an animal dies for a person to consume it, that we consume the whole thing. That's as responsible as we can be with something like this," explains Armstrong.
The uniqueness of the meat requires chefs to cook it much differently than beef. The lack of fat, or "marbling", throughout the muscle tissue can cause the meat to be tough and hard to chew if overcooked at a high temperature. Henderson believes the ideal internal temperature for Randall Lineback meat is 130 degrees, which is slightly cooler than medium-rare.
"It's perfect," boasts Henderson. "You will love it, I guarantee it. If you try it, you will decree it is the best tasting meat you've ever had."
Armstrong agrees, "When you look at USDA Prime and it has that intramuscular fat bred into it, that melts in your mouth. This meat does not melt in your mouth. You have to chew it, make sure you cut it into smaller pieces than you typically would with a bigger steak. But it does have a long, long, lingering delicious flavor."
Is it a flavor will people around the country will come to enjoy? Henderson is working on that part. He knows full well that he cannot be the breed's only significant steward and in order for it to survive and flourish, the demand for Randall Lineback meat must extend beyond the Capital Beltway.
"We have some excellent chefs in Washington. We have some excellent chefs in Philadelphia. We need to go to New York and knock on some doors and find the right couple of chefs or the restaurateur that thinks this is important, that's it's important to keep a tradition of cooking alive and that you have a level of cuisine that is so far superior to the steakhouse routine. If you do that, you save the animal, you save the cuisine, you save it all," says Henderson.
He has already convinced chef Brad Spence of the Vetri restaurant group in Philadelphia to start buying Randall Lineback meat. And Henderson hopes a spark in demand creates a burning desire for other farmers to start raising the Linebacks.
"Ideally what you'd like to have is a satellite herd here, a satellite herd that serves New York, a satellite herd maybe up around Boston, Chicago, Los Angeles, five, six, seven herd and then you save the breed," explains Henderson.
Unfortunately, Henderson has been unable to supply demand down south in cities like New Orleans. The distance is too great for delivery and because the Randall Linebacks cannot handle hot climates, a satellite herd in the South would not work.
But, he says he has a friend in Alabama who raises Pineywoods cattle, another endangered breed, and sells that meat to chefs in Louisiana and other southern stops.
For now, though, Henderson will keep focus on sustaining his herd of rare Randall Linebacks…and maybe finding a better way to describe them.
"If you raise them right, you slaughter them right, you treat them right and you have chefs who are good chefs, they are the best tasting, 'we don't know what to call it' in the world."
Previously - 5 reasons to use endangered ingredients and Going to the ends of the earth to save food from extinction and 5 reasons to use heirloom ingredients