CNN photojournalist John Bodnar is a second-generation Slavic-American whose grandparents emigrated from Eastern Slovakia, and his mother's Carpatho-Rusyn ethnicity is the prominent influence for his cultural and family traditions. Previously, he wrote about haluski and paska.
When we were kids, stuck inside during a long, cold winter or seeking respite from the summer heat under a shade tree, my friends and I often played board games. These games could go on for quite a while, and we'd get to talking about sports and whatever else young boys think about. Eventually we'd get around to the topic of our favorite foods.
We all agreed that stuffed cabbage, known as holupki, was the best of all. Second to pizza, of course.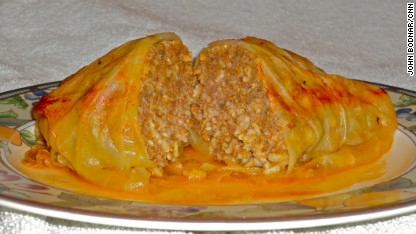 One of my friends claimed that his mother made the best holupki. Naturally, a frank discussion ensued, and since we were young boys, it was obvious to us that we had to defend our mothers' honor. There was some physical posturing, but no actual punches were thrown. The outcome was a uneasy stalemate.
Holupki is a meat and rice filled cabbage leaf. There are different names and spellings (halupki, holubky and holubki are common) as well as many methods of preparation and varieties of stuffing. Ground beef was my mother's choice, but ground pork, chicken and lamb can be used too.
Vegetarians aren't left out in the cold; mushrooms (or anything else you find appealing) can be used as a meat substitute. There is always room for modifications on the traditional recipe.
Holupki is usually served at our family gatherings. Depending on the size of the holupki you make, they can be the main course or a side dish. At traditional Slavic weddings, the holupki are smaller and served as sides.
My eighty-six year old mother still makes holupki for our family. Though her hands are getting quite arthritic, she always methodically mixes and rolls the holupki with love. She is sure to send frozen, uncooked holupki as part of a care package back home with me after my visits, and happily serves them to those who visit her.
My Mother's Holupki
Ingredients
1 head of cabbage
2 pounds of ground beef
1 1/2 cups of rice
1 Tablespoon of salt
1 Tablespoon of pepper
2 minced onions
1 6 oz can of tomato paste
1 teaspoon of parsley flakes
1 egg
1/2 cup of water
1 15 oz can of tomato sauce
Instructions
1. Steam the cabbage so the leaves can be separated from the head. After the leaves are removed, steam them again to make them more pliable for filling and rolling.
2. Place rice into boiling water for 2-3 minutes. Remove rice and strain water. The rice won't be cooked, but will be cooked later while it is mixed and rolled in the cabbage.
3. Add meat, rice, salt, pepper , tomato paste, parsley, onion, egg and water into a mixing bowl and hand-mix thoroughly. You can always add different seasonings to your taste. (I've even tried Cajun seasoning once and added curry to another batch.)
4. After mixing the ingredients, make a 1/4 pound ball, or handful of the mix, shape it into an oblong lump, then wrap it into the cabbage leaves. After the mixture is wrapped, gently poke your finger into each side of the wrap to ensure the leaf securely holds the mixture. My grandmother maintained that a properly rolled holupki can be tossed to another person across the room without losing a morsel to the floor.
5. Before you put holupki into the pot, place a few extra cabbage leaves on the bottom of the pot to protect the holupki from burning. Place the holupki into a pot , with a mixture of tomato sauce and water. The liquid mixture should come to the top of the holupki in the pot. You can add more water if the level isn't high enough.
6. Bring holupki to a slow boil, cover the pot, lower the heat and slowly simmer for 90 minutes.
Got a favorite family recipe you'd care to share, or some warm holupki memories of your own (or, gasp, a better recipe)? We'd love to hear about it in the comments below.