At 5:31 p.m. Eastern, raise a glass to the decades that have elapsed since the 21st Amendment to the Constitution was ratified, officially ending 13 years of Prohibition and re-legalizing the production, purchase and consumption of alcohol in the United States.
"What America needs now is a drink," quipped President Franklin D. Roosevelt when Ohio, Pennsylvania and Utah ratified the 21st Amendment on December 5, 1933.
Of course, numerous "speakeasies" - named because patrons often had to whisper a password through a locked door to gain admittance - sprung up in Prohibition's wake. Police Commissioner Grover Whalen estimated that New York alone had over 32,000 speakeasies, and the neo-speakeasy fad persists in cocktail bars. (You can also drink in bars that were speakeasies in the '20s and '30s and that are still serving today.)
Other things arose out of Prohibition, including the real creativity with which determined drinkers evaded the law. Popular songs of the era just before Prohibition included "What'll We Do On A Saturday Night (When The Town Goes Dry)," "Everybody Wants A Key To My Cellar" and even Irving Berlin's "You Cannot Make Your Shimmy Shake On Tea."

Prescriptions for alcohol for medicinal use skyrocketed. Owners of shuttered breweries and wineries winkingly sold malt syrup and other items for home alcohol production, such as the Vino Santo Grape Brick, described by historian Daniel Okrent as "a solid, dehydrated block of grape juice concentrate...it came in a printed wrapper instructing the purchaser to add water to make grape juice, but to be sure not to add yeast or sugar, or leave it in a dark place...because 'it might ferment and become wine.'"
An ad for the Grape Brick in the November 1931 issue of Popular Mechanics offered them in "Port, sherry, Champagne, claret, etc." flavors. Flasks were disguised as books ("The Four Swallows" by one J.B. Corn), and cocktail shakers masqueraded as trophies.
On the darker side, Prohibition also enabled bootleggers, corruption and violence, and enforcement cost the government staggering sums. Widespread public sentiment began to shift against Prohibition when a Michigan woman was sentenced to life in prison for selling two pints of moonshine, and cash-strapped governments hit hard by the Great Depression were desperate for the increased tax revenue that legalized alcohol would bring. In April 1933, Congress legalized low-alcohol 3.2% beer, and the Repeal Day would come eight months later.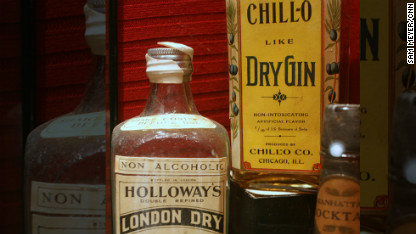 In his book, "Last Call: The Rise and Fall of Prohibition," Daniel Okrent writes that, "in almost every respect imaginable, Prohibition was a failure. It encouraged criminality and institutionalized hypocrisy. It deprived the government of revenue, stripped the gears of the political system, and imposed profound limitations on individual rights."
Okrent also points out that as a direct result of Prohibition, Americans consumed far less liquor after Repeal than they had before 1920. Repeal replaced "the almost-anything-goes ethos with a series of state-by-state codes, regulations, and enforcement procedures," he writes, and it was actually more difficult to get a drink after Prohibition than it had been during it.
The Distilled Spirits Council, a trade organization representing liquor producers, has produced ProhibitionRepeal.com to raise awareness of Prohibition. Ben Jenkins of the Council notes that, "12 states continue to ban Sunday spirits sales, and 6 states continue to ban spirits tastings. ...Prohibition-era laws make no sense in a modern economy, and that's why policymakers around the country are striking them down for good." Others link the government's ban on alcohol with its ban on marijuana, calling it a modern-day Prohibition that has similarly led to smuggling and organized crime.
The beverage alcohol industry in America is huge now, and it obviously owes its success to Repeal. As does NASCAR; today's stock cars are the descendants of bootleggers' souped-up rides used to outrun the revenuers. And even the drugstore business soared with the widespread prescription of "medical" alcohol - Walgreens went from 20 stores in 1920 to 525 in 1929. Soft drink sales rose as well as mixed drinks became more in vogue.
As cocktail historian David Wondrich writes, "Prohibition, in short, was not a good time for the discerning drinker. ...The bartender's art was directed toward covering the taste of bad liquor, not enhancing the taste of good."
How will you celebrate Repeal Day? Why not have a Prohibition-era cocktail? The Bee's Knees is easy, delicious and you're drinking history.
The Bee's Knees
1 1/2 oz. gin (bathtub or otherwise)
3/4 oz. honey syrup (made by mixing equal parts honey and hot water, stirring until dissolved)
1 tsp fresh-squeezed lemon juice
Shake all ingredients well over ice, strain into a chilled cocktail glass and garnish with a lemon twist.
Or, people who drank during Prohibition were called "scofflaws", a word coined in 1924 by a contest sponsored by the Anti-Saloon League. A few days after the word was first published, Harry's New York Bar in Paris debuted the Scofflaw Cocktail:
Scofflaw
1 oz. Canadian whisky
1 oz. dry vermouth
1/4 oz. lemon juice
1 dash grenadine
1 dash orange bitters
Stir all ingredients with ice, strain into a chilled cocktail glass, and garnish with a lemon wedge.