I am no Anthony Bourdain or Andrew Zimmern. I've never eaten, yet alone enjoyed, Rocky Mountain oysters, and I know not the joys of feasting on fried scorpion skewered on a stick or mopane worms fresh from the ground. And for good reason – my stomach turns at the thought.
How then did I find myself willing to attend a dinner where all of the courses I'd be served featured animal blood? Your guess is as good as mine. And as I stood in front of my bathroom mirror day of practicing my "No really, I love it!" face, the butterflies in my stomach feel more like giant moths begging to get out.
As a researcher, after I volunteered for this task, I wanted some information to help ease my mind (and stomach). Primarily, I needed to know, is this normal? Is it normal to consume the blood of other animals? And if so, why did it seem so foreign to me?

To the history books I went. And by history books I mean Google. "Is blood safe to eat?" and "blood as food" were the first two phrases I typed into the search engine. Most of the results focused on why one shouldn't eat an egg that has a blood spot on it, and the rest were about vampires. Not much help.
So instead I turned to people I knew I could trust: scholars. I came across Peggy Barlett, an anthropology professor at Emory University. She reassured me that while blood can carry disease, commercially sold blood is safe to eat. There went that excuse.
Bartlett also gave me some insight into the history of eating blood, and how in some parts of the world it's actually a necessity. Take the Maasai tribe in Kenya for example. Because of natural disasters like droughts and disease, having enough crops and animals isn't a viable option for the Maasai. So they maximize what they do have in order to survive.
"The Maasai have adapted where some people have grown crops but they trade animals," Bartlett explained. "Meat consumption is rare so to get the adequate protein, they would drink milk and blood" she said. The protein and minerals in the blood, along with the nutrients in the milk, is enough to sustain them.
I asked Bartlett if she thought I was crazy for going to the blood dinner. She assured me I wasn't. "People are afraid of using blood mainly because we're so out of touch of the whole process of growing, butchering and preserving meat."
Bartlett explained that our societal attitudes toward meat have changed. One hundred years ago instead of picking up neatly packaged meat from case in a super market we likely would've been raising, slaughtering and butchering that meat. "If the goal of the farmer is to use all parts of the animal, blood would have to be considered."
That is something Livingston Atlanta chef Zeb Stevenson can relate to. "There has been more focus now than before on responsible sourcing and usage of our food resources. There's more than just [offal]; there's another ingredient that makes up that animal" he told me over the phone. He was talking about blood.
Stevenson was one of four chefs behind the blood dinner. He's known as a bit of a risk taker and is no stranger to boundaries. He's also admittedly obsessive and had been thinking about the dinner ever since a vacation to England introduced him to blood pudding and blood sausage.
"I focus in on ideas and try to take them as far as I can," he said. "I started looking into the cultural significance of blood and the use of blood world wide and I looked around and thought 'We are the only nation in the world that doesn't use blood in a food way, how can I broaden people's horizons a little bit?'"
Earlier this year, Stevenson was approached by a food writer about hot and trendy ingredients in the culinary world and immediately told her about blood. Her response: Atlanta's not ready for blood. To Stevenson, that was a challenge begging to be accepted.
"The onus is on us," he realized. "Many people are ready for whatever chefs are ready to feed them. As long as it's really delicious and executed properly, there's no reason not to have fun and challenge palates."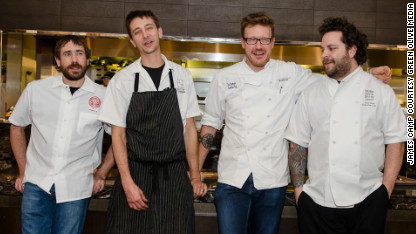 And that's how I found myself at a cocktail reception about to sit down to eight (8) courses of blood prepared by Stevenson, Tyler Williams of Abattoir, Ryan Smith of Empire State South and Josh Hopkins of STG Trattoria. Stevenson had told me to expect blood chocolate ganache, blood pasta and cured blood, along with the traditional blood sausage.
I kept Stevenson's words in mind as I sat down: "Blood is very high in protein, it's essentially pure protein. It's very mineral rich and low in fat. The Spartans made soup from raw blood which gave them power to go into battle." If the Spartans could handle this, so could I.
As I nervously inspected the first plate before me, I realized that my fears were unfounded. Instead of drops or pools of blood sitting on my plate, there were beautiful pieces of blood line hamachi with seasonal radishes and cured, shaved blood. The result was an interesting collaboration of texture and flavor.
The second course was almost too pretty to eat – not at all what I expected. Foie gras and blood torchon played nicely off a slow cooked egg with caramelized white chocolate and puffed faro. Beets added the color of blood, but otherwise at no point did I stop and think I was eating anything other than deliciousness.
Probably my favorite application of blood as a technique came in the third course. Eel blood was used instead of egg whites to make the most delicious consommé for eel dashi. And in case you were wondering, the blood tastes like the animal it came from. A bright red ring of eel blood around the rim of the bowl was probably the only time we really saw blood in its raw form.
The next few courses brought blood pasta, blood sausage and squab to the table. The evening was capped off with desserts, one of which featured blood Styrofoam. Yes, you read that right. This was the only point in the meal where my cheeks puckered from the tinge of iron and where my tongue felt like it was coated in blood. Even though it looked like chocolate, it was anything but.
While some of my fellow diners were slightly put off by the bait and switch, I found the experience to be exactly what I was looking for. That taste was what I had been dreading all night, and it wasn't nearly as bad as I had thought. In fact, like the whole meal, I actually liked it.
My fellow diners agreed. Tod Lawrence had come because he was a fan of offal and in particular one of the chefs who prepared our meal. At the end of the meal, Lawrence's companion Horace Hume found, "This was palate exploration for me. As much as I love blood sausage and organs, to me the meal was a different excursion."
Like Hume, most of the diners I spoke to either had an interest in offal or were fans of the collaborating chefs. The dinner was seemed to be a success, and no one gagged or fainted (that I saw). The conversation drifted from food to politics and back – it was a pretty normal dinner in that regard.
So, is Atlanta (and by proxy the rest of the country) ready for blood? Those that open up to the idea might be pleasantly surprised. I definitely was.
Previously - Andrew Zimmern's five foods that can change the world and Scary-sounding ingredients not to be scared of