5@5 is a daily, food-related list from chefs, writers, political pundits, musicians, actors, and all manner of opinionated people from around the globe.
As fall turns into winter, the produce aisle tends to mimic the slate gray sky - everything's a bit darker, duller and more somber. Knotted parsnips take over where crisp, red radishes once sat; tart cranberries replace sweet strawberries.
Yet, despite the season's best efforts, squash shines even brighter this time of year in a cornucopia of shapes, sizes and colors.
Justin Woodward of Castagna Restaurant in Portland, Oregon, wants to quash your notions of the winter doldrums. Behold the squash.
Five Fall Squashes Worth Trying: Justin Woodward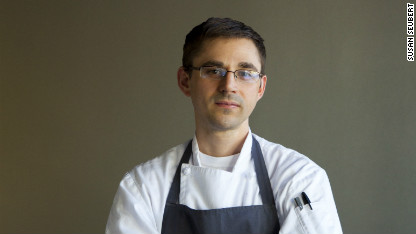 1. Musquee de Provence
This squash is a French heirloom variety that I love to use at the restaurant. We keep a few of them in the dining room as decoration because they are gorgeous.
I like to use this squash very fresh, unlike a lot of the other squashes that are typically stored for a few weeks or even months. The flesh of these is incredibly moist when first harvested and the color is unlike any other squash you have ever seen.
I really like juicing the flesh and using the juice like paint on plates. The flesh, when young, is a little stringy. If you plan on roasting these to eat plainly, I would advise on using a more mature Musquee de Provence.
2. Galeux d' Eysines
This wart-covered gourd is also decorating our dining room. The warts are caused by all the sugar under the skin of the flesh. It's another French variety, but very different from the Musquee de Provence. The flesh is fine-textured with a medium density - like a softer sweet potato.
This guy is great when roasted. Moist and soft, but not wet and mushy. This one is easy to enjoy: cut it into pieces or just roast it whole. It's also great for pies or purées too. The meat is easy to cut up into pieces and they stand up to pretty much any cooking technique.
It has a great depth of flavor - sweet, dense and rich. It's a good all-purpose squash with a medium water content and a really nice, textured flesh that stands up to roasting well.
3. Boston Marrow
A squash with a rich history. If I am going to make a pie filling or custard, I will grab one of these guys. The Boston Marrow is a Slow Food Ark of Taste variety, so eating one is good for the world. (All the foods in the Ark of Taste international catalog are in danger of extinction.)
Per Slow Food USA: "This lovely, mid-size winter squash has a custard-like, buttery flavor with almost 200 years of documented history, though possibly of prehistoric origin.  It reaches maturity in 90 to 100 days and has striking, reddish orange skin and an average weight of 10 to 20 pounds, though it can be larger in optimal growing conditions."
The skin is very thin and easily peeled away; again great for pie filling, custard or ice cream because it is just dense enough but has a good body and consistency. It's easy to work with and yields a good amount of meat. A noble squash!
4. Kabocha
A Japanese variety, the kabocha is a relatively small gourd and the meat is very dense and dry. I like to use the kabocha as a purée, especially when you need a thick purée. It's perfect for raviolis or agnolotti, as the purée will not burst out. It's also a great substitute for mashed potatoes. I like to serve kabocha puréed with mascarpone alongside braised short ribs and a big red wine.
The best bet for these is to roast them whole, let them cool down a bit, peel and seed then purée. The skin is very thick and the flesh is so dense that cutting up one of these raw can be dangerous, so it's much easier to just roast it whole. Plus, they are small enough that roasting one whole is not a huge investment of time, space or cost.
Traditionally, these are tempura-battered and fried. Look for one that is heavy for its size with soft skin. A light kabocha with tough skin may have lost too much water.
5. Pennsylvania Dutch crookneck butternut
Butternuts are the most commonly seen squash. This is because they are easy to grow, yield a great deal of meat and the seed pocket is so small. They are a great all-around squash and most recipes that call for winter squash will work out with a butternut.
Where the butternut misses the mark is in the flavor department. Most supermarket butternuts do not taste like anything. The Pennsylvania Dutch crookneck is the best tasting butternut. Also, the super long neck means you can cut nice rounds or other shapes when uniformity is an issue.
The meat is sweet, nutty and bright orange. These keep well, and they look super cool too.
Squash Quick Bread
This recipe for a squash quick bread is very simple and can be put together in less than 5 minutes as long as the squash purée is made ahead.
Ingredients
Cooking Directions
Add sugar, eggs and brown butter to the squash purée, and whisk until combined.
Sift together the flour, salt and baking powder.
Whisk the flour mixture into the squash mixture until just combined.
Spread onto a half sheet pan lined with oil and parchment paper, and bake for 10 minutes at 350 degrees F.
Previously - How to cook squash
Is there someone you'd like to see in the hot seat? Let us know in the comments below and if we agree, we'll do our best to chase 'em down.