The Southern Foodways Alliance has a pretty solid collection of community cookbooks in their office—and many more in their staffers' home libraries. And the holidays seem like the right time to whip them out and share some choice recipes with you, our readers. So fix yourself an eggnog, pull up a seat, and check back often between now and New Year's for their Holiday Throwback Recipes.
Today's Cookbook:
The NEW Lovin' Spoonfuls
By John and Ann Egerton and family
published in 1980; 1982; 1984; 2009
In 1980, Southern Foodways Alliance founder John Egerton and his wife, Ann, came up with a much better holiday dispatch than the much-mocked Christmas letter: a hand-typed, spiral-bound cookbook of some two dozen recipes from their family and friends. That was the first edition of The Lovin' Spoonfuls, and the Egertons published volumes 2 and 3 in 1982 and 1984, respectively.
Twenty-five years later, they bundled the original three Lovin' Spoonfuls with an all-new fourth edition. The NEW Lovin' Spoonfuls boasts some 100 recipes, from civil rights activist Rev. Will Campbell's "All-Purpose Sauce" to the late Hap Townes's famous stewed raisins.

We dig the charming, funny stories that accompany many of the recipes, but the best part of the whole thing is the introduction to the 1984 volume, which hints at the publication of the book that would become Southern Food: At Home, on the Road, in History: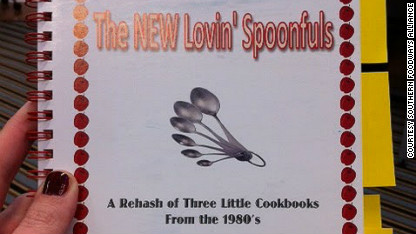 "This may be a good time to tell you about our grander plans for 1986. If all goes well, Alfred A. Knopf of New York will publish that fall or the next our volume of collected wisdom about food in the history and culture of the South. The working title is Southern Food: An Entertainment. We'd love for you to help us. If you know of any rare old cookbooks, magazine articles, recipes, great places to eat, memorable quotes, funny stories, wise people, etc., that we need to be acquainted with, send us word."
We think it's safe to say that all went well on that front! Now pass the cornbread dressing, please.
Grandmother White's Cornbread Dressing (from the 1980 Lovin' Spoonfuls)
There is no telling how far back this prize recipe goes; John has been eating it for over four decades, and it was a venerable specialty in his family long before he took his place at the table. Grandmother white, and after her Rebecca, John's mother, passed the recipe down in a cryptic shorthand that only wise cooks could understand. Here it is, with as much interpretation as we can add for clarity. Mix together:
2 cups white cornmeal
2 cups flour
1 1/2 tsp soda
1 tbsp salt
4 tsp baking powder
1 tsp pepper
2 eggs
Add enough buttermilk to give the mixture the consistency of cornbread batter; pour into a black skillet greased with hot bacon grease; bake in 400 degree oven for about 30 minutes, or until crispy brown—like cornbread (which, in fact, it is). When done, take out and dump on rack to cool.
When the bread is cold, crumble it up thoroughly. Then saute a little onion and celery (how much, you may wonder; enough to make their presence felt), add them to the bread, and sprinkle on a little sage to suit your taste. Moisten the mixture with turkey broth, making it sticky enough to shape by hand into patties about the size of large eggs. Lay these onto a cookie sheet and run into a 350 degree oven until they're piping hot, well-browned, and crusty (about 30 min).
(If you prefer, you can stuff the dressing into your turkey, but we seem to like it better served in patties alongside the sliced meat and mashed potatoes, where it can be generously doused with gravy.)
This recipe should make enough dressing to serve four hungry holiday diners. We routinely double it, and have been known to triple it. Whether fresh or left over, hot or cold, it is superb, and never in memory has a single crumb of it gone begging at any house or in any generation of our clan. We would consider a turkey without this dressing to be indecently exposed. Properly prepared, it is more to be sought and savored than the big bird itself. Grandmother White attained greatness with this one.
Okay, now it's YOUR turn. Tell us all about your stuffing and dressing traditions in the comments below and we'll share our favorites in an upcoming post.
More from the Southern Foodways Alliance and all our best Thanksgiving advice and recipes